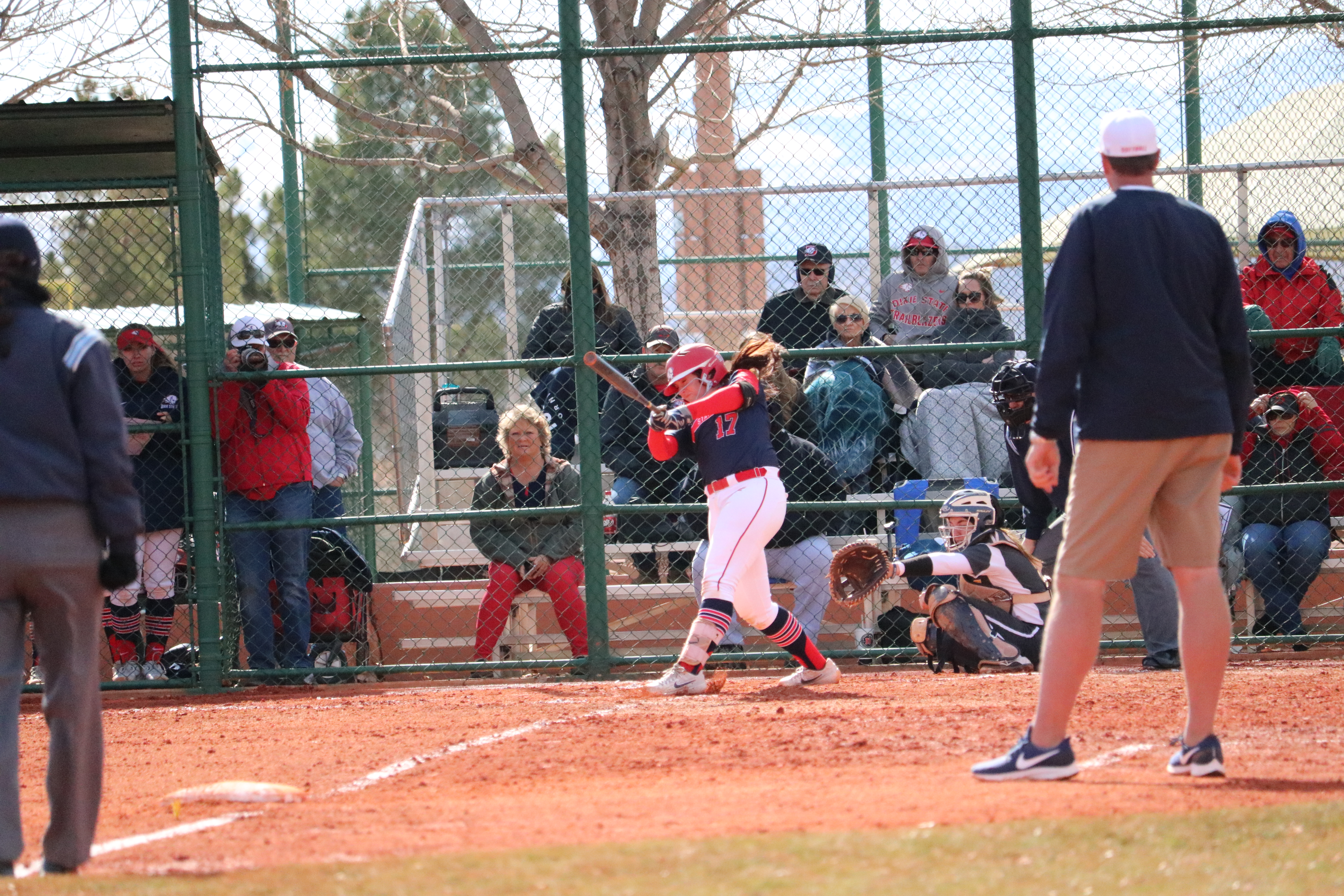 Photo by Madison Anderson.
---
The Dixie State University softball team ended the 2019 Courtyard Classic with a win to give the Trailblazers an overall record of 4-1.
The Trailblazers played in a total of five games in the 2019 Courtyard Classic. DSU won its first three games and outscored its opponents 33-10. The wins came against Western New Mexico University, Montana State University Billings and California State University East Bay.
DSU lost in the fourth game of the tournament to Hawaii Pacific University 2-6. This gave the Trailblazers their first loss of the 2019 season.
The Trailblazers were able to bounce back and defeat Western Washington University 10-7, concluding the Trailblazers' 2019 Courtyard Classic and improving DSU's record to 4-1.
The Trailblazers had two double headers in the Courtyard Classic. Jessica Gonzales, a senior business administration major from Kingsburg, California, said the team takes the energy from the previous game into the next game.
"If we have a really bad game, its a little bit harder to get the blood rushing and the adrenaline back up there," Gonzales said. "When we lost to HPU we came back a little bit mad, put it into the next game and came out with the win."
Head coach Randy Simkins said despite the cool temperatures the team would like, the team had a great time.
"There were a lot of really good games and great competition," Simkins said. "The city of St. George treats us like a million bucks out here. They help take care of our fields, provide us a venue and are excellent hosts."
Brenna Cornwall, a junior medical radiography major from Tremonton, said it was great to get on the field and see the things the team needs to work on but also seeing all of the good things.
"Communication can always be worked on no matter how good you are," Cornwall said. "And just scoring first and scoring early. If we start from the very beginning I think we'll be smoother sailing."
Despite the Trailblazers scoring a total of 45 runs in the five game span, Simkins said the team has been inconsistent in swinging the bat.
"Defensively, we've been pretty good," Simkins said. "But swinging the bat we've been pretty inconsistent and I say that after we score 10 runs, but we've got a chance to be pretty good. We have some young kids that have a chance to be pretty good. They need to understand how hard they need to play all the time and how important every pitch is."
The Trailblazers have a home double header on Feb. 11 against Northwest Nazarene University at noon and at 2 p.m.; both games will be played at Karl Brooks Field.