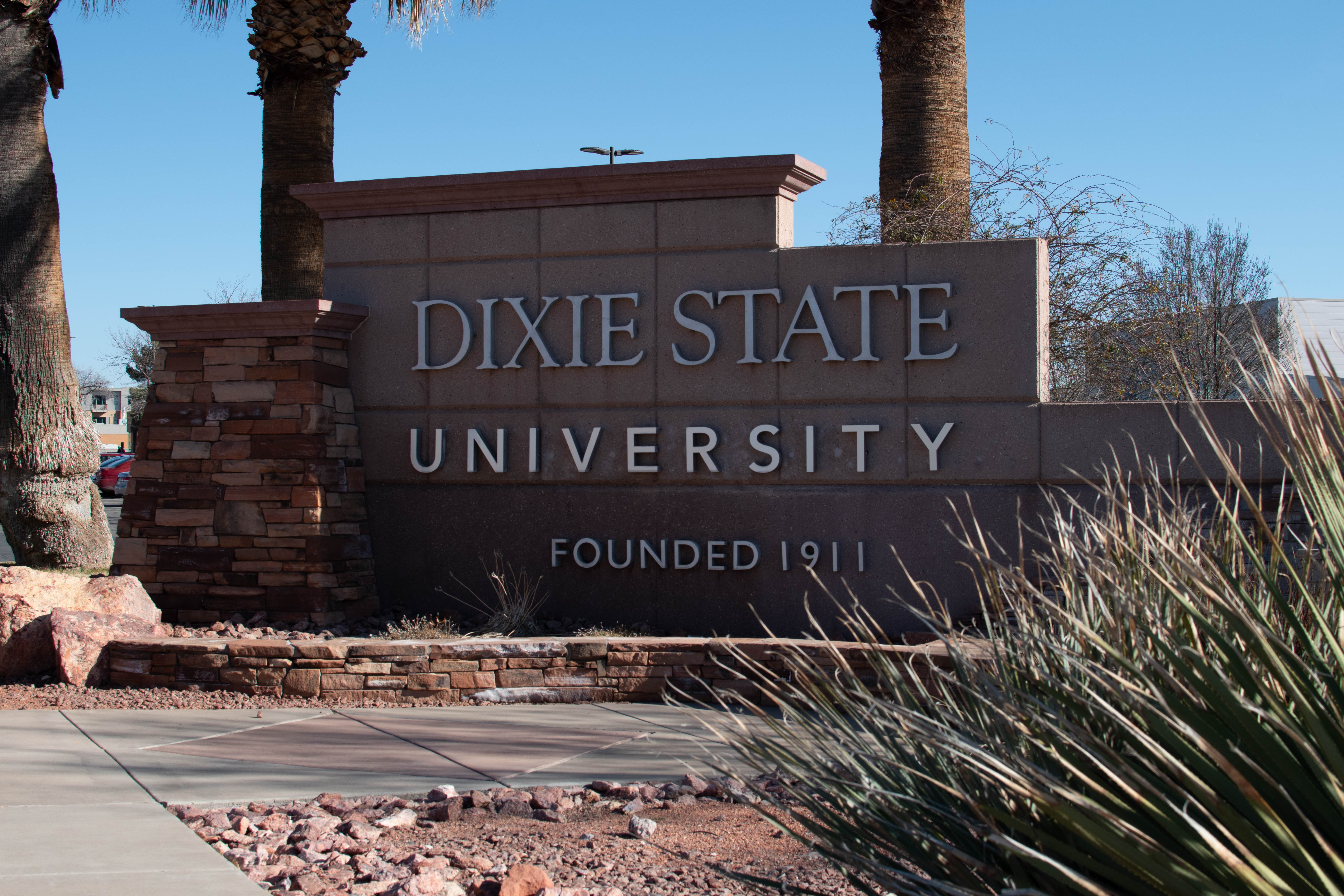 Photo by Tia Walker.
---
If you've been on any social media platform within the past month, chances are you've seen the trending hashtag #2009vs2019.
The trend follows two photos, one taken from 2009 and one from 2019, to show how much a person has changed within a decade. This trend, while mostly applicable toward teens hitting puberty, can also be applied to buildings, cities and schools. So how exactly has Dixie State University changed over the past 10 years? Let's take a closer look.
A breakdown of DSU stats
In 2009, Dixie State College of Utah was entering its 98th year of being a public institution, having just over 7,000 students attending, according to a report given by institutional research analyst Josh Vieira. Females made up 51 percent of the student body, with males at 48 percent, and just under 15 percent of all students fell under the minority label.
Comparing that to DSU today, we have increased our total student body by 54 percent, now at 9,950 students. Of that, 57 percent is female, and 24 percent are minorities.
Consistently known as "the most affordable school in Utah," in-state tuition prices have raised from $1,446.60 a semester to $4,620.
What was the community like?
According to paraprofessional Tracey O'Kelly, the community was much closer knit in 2009.
"Everybody knew everybody," O'Kelly said. "We were able to go out and do extraneous things then." 
Compared to now, she said staff and faculty are required to do a lot more, so it makes it more difficult to get out.
"We've grown like crazy since then," said men's basketball coach Jon Judkins. "But people are still just as friendly [as they were in 2009]."
O'Kelly said that DSU has become far more academic and institutional since 2009, as DSU has since transformed into a university and implemented a masters program.
Verl Anderson, professor of business management, recalls the university being much smaller with less buildings. Since 2009, several new structures, including the Holland building and Campus View Suites, have been built on and into the surrounding area.
"Dixie State [University] is in its own environment now," Anderson said. "The students are amazing and we could put ourselves against any university in Utah now and do really well."
What was new at DSU?
DSC was going through some major changes in 2009. The introduction of the Red Storm, its new mascot replacing the somewhat controversial Rebels, sparked some debate among the community regarding its implementation.
There were a few different options regarding the name and mascot change, Judkins said, including the Red Hawks, the Red Storm and the Red Raiders. The community voted, and the Red Storm was chosen as the new, official mascot to DSC, sparking some backlash.
"It didn't make any of sense to a lot of people," Judkins said. "We were kind of made fun of in that nickname that year."
With the implementation of the Trailblazer as DSU's new mascot in 2016, Judkins believes that the marketing and branding of Brooks the Bison was how they should have done it with the Red Storm.
"I believe we have a lot more respect for our mascot now," O'Kelly said. "[Red Storm] was awesome, but it just didn't really display our [DSU] spirit."
2009 was also the start of Raging Red, DSU's on campus song and dance performance team. Since its start, Raging Red has gone on to play in parts of Utah, Nevada, Arizona and at the 2010 world fair in China.
What was DSU news in February, 2009?
According to the Feb. 4, 2009 issue of the Dixie Sun News, The Mr. Dixie Pageant had wrapped up and determined its winner: Nolan Hanley.
DSC had also just lost in men's basketball 100-79 to BYU-Hawaii, who has since cancelled their sports program. They also played and lost in baseball 8-12 to the Azusa Pacific University Cougars.
Car accidents were down 21 percent from the previous decade, and former U.S. Senator Roland Burris had recently been sworn into office.
A look into the future
Judkins has high hopes for the future of DSU and its transition into D1 in the next 10 years.
"It's going to take some time…and there's stuff we're going to have to do for us to be able to compete at that level," Judkins said. "I think we're going to have to take baby steps.
Judkins believes that more masters degrees will be implemented in the future, providing more opportunities for students.
Anderson hopes the future of DSU will involve more growth and more on campus student housing.
"We're just going to get bigger," O'Kelly said. "I don't know exactly how D1 will affect us, but I have a feeling once we get our toes wet and figure everything out, it's going to be a huge benefit for us."