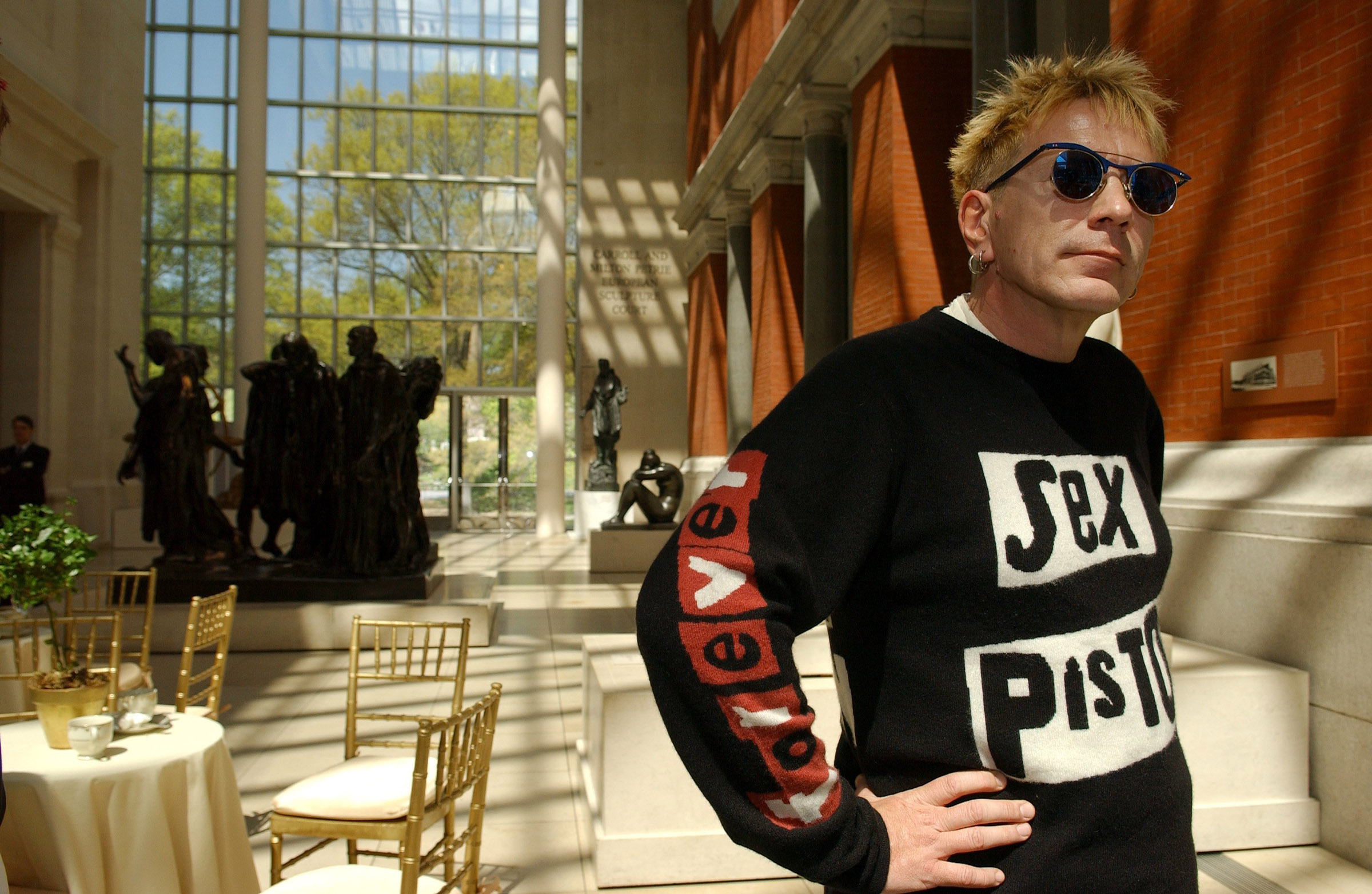 Sex Pistols lead singer Johnny Rotten poses during the preview of the "AngloMania" exhibition at the Metropolitan Museum of Arts in New York. (TNS)
---
By Stephen B. Armstrong
As lead guitarist and occasional singer for the English punk band the Sex Pistols, Steve Jones participated in the making of some of the most memorable — and influential — popular music ever.
He first picked up the guitar in 1967 after hearing the Jimi Hendrix Experience's "Purple Haze."
"There was a catchiness about [the single] as well as the power, and I loved the syncopation, the way Hendrix' guitar would kind of go 'Clunk' and 'Weeeoh!' I loved it so much," Jones recalled in his 2017 autobiography, "Lonely Boy: Tales from a Sex Pistol."
An autodidact, Jones taught himself to play guitar and write songs listening to rock and roll records. Early on, he emulated the pounding riffs of the Stooges' Ron Asheton and the gentler chord arrangements of David Bowie's axeman, Mick Ronson, during the singer's glam period. The influence of these musicians on Jones was immense, enabling him to develop an approach to playing that by turns could be menacing, bruising, hushed and lovely.
The songs that comprise the Sex Pistols' only studio album, "Never Mind the Bollocks, Here's the Sex Pistols (1977),"  are generally of the menacing, bruising sort, especially the anti-establishment anthems "Anarchy in the U.K." and "God Save the Queen."
But the Sex Pistols also had a softer side that was permitted to assert itself following the departure of the band's original singer, Johnny Rotten, most notably on a track called "Lonely Boy," which didn't see a release until 1979. The song is quite punk, shot through as it is with naughty language and thudding rhythms: Jones's guitar frequently sounds like a motorcycle revving its engine in an alley. But there is a detectable pathos in Jones' singing at the same time, a quality of yearning that counters and offsets the song's ruder moments, manifesting itself, for example, in the openings lines: "I'm left in misery / The girl I love's gone across the sea / I'm all alone / I ain't got no home."
Not long after the Sex Pistols' breakup, bass player Sid Vicious died from an overdose, and Johnny Rotten founded and started recording with a new band, Public Image Limited (PiL). Steve Jones and the Pistols' drummer, Paul Cook, though, stuck together and formed their own new outfit, the Professionals.
More power pop than punk, the Professionals recorded just about 30 songs altogether. The tracks tend to be fast, loud, snotty and fun. Yet themes of restlessness, personal crisis and disenchantment work themselves into the compositions, enriching them. Such is the case with "Kick Down the Doors," which has Jones's soaring voice cry out bitterly "Go get ready now, ready to lose."
In high school, my friend Hope and I had a chance to meet Steve Jones. He had come to our hometown, Annapolis, to promote his first solo record, "Mercy," on one of the local radio stations. The album had yielded a hit, a poppy number more reminiscent of the Psychedelic Furs than the Sex Pistols, called "With You or Without You." Much of the album's other material was richer, slower, more melodic. Critics were taking note of the album's relaxed, almost elegaic sound, too, and some even wondered if  Jones was going to get a second chance to radically change the way rock music is played.
When we approached Steve Jones that afternoon in the parking lot outside the station, he was very kind. He looked as a rock star in his prime should: tall, with thick golden hair that fell in curls over his shoulders. He gave each of us his autograph, smiling. It was a great moment.
I've been listening to Jones's music ever since. Sadly, there isn't a lot of it. He cut just one more solo record after "Mercy" called "Fire and Gasoline," which traded the earlier record's moody atmospherics for hard rock with heavy metal flourishes. And aside from session work, a reunion tour with the Sex Pistols in the mid-1990s and some novelty recordings with former members of Guns n' Roses, Jones has been mostly quiet over the past 30 years.
Incidentally, I asked Hope the other day what she thinks about Steve Jones and the "Mercy" LP. In an email she explained, "It's interesting hearing it now. [Yet] I'm wondering if its sound, which is so blues white rock, so glossily produced, is the thing for me at this moment."
Never once have I thought of Steve Jones's music as "blues white rock," a term that always reminds me of characters like Joe Bonamassa and Jeff Heally. But what if Hope is right? What if an album I've enjoyed for 30 years is guilty of corporate sellout and tacky cultural appropriation? As a matter of fact, Steve Jones these days is a radio personality in Los Angeles, a city that thrives on phoniness and pretense.
All the same, though, boy, can that guy play guitar! And my interest in his work only grows.
Stephen B. Armstrong co-hosts Maximum Rock 'n' Roll Thursdays at noon on  Radio Dixie 91.3 FM.