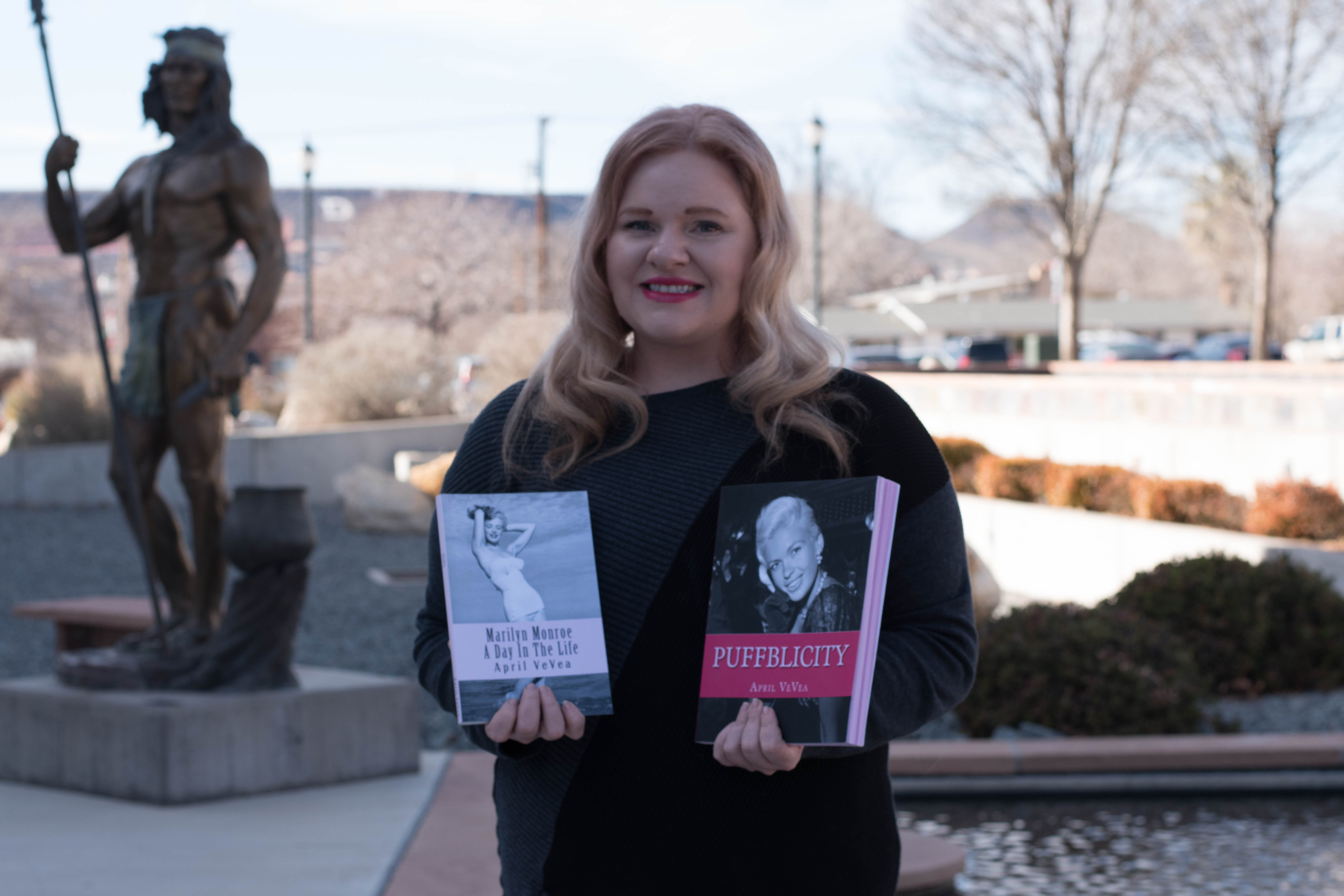 Photo by Tia Walker.
---
If you have heard of the book "Marilyn Monroe: A Day in The Life," it is possible you know the name April VeVea, the author behind the book who has turned her passion for the "golden era" of film into a promising career.
Since writing her book on Marilyn Monroe, the author from Bakersfield, California is busy turning her love of old Hollywood into more than a hobby. She appeared on Turner Classic Movies to talk about "She Done Him Wrong" during the channels appreciation of Mae West month.
"I have been doing stuff with old film now for over 10 years," Vevea said. "I started getting back into it again when I was 18."
VeVea said she stopped after her grandfather died because of the sentimental value the films brought her. She said that changed after she picked up "The Bombshell Manual of Style" by Laren Stover.
"It focused a lot on old Hollywood stars and it made me want to read about Marilyn Monroe," VeVea said. "So, I got Donald Spoto's Marilyn Monroe bio and it set off a chain of getting super involved with old Hollywood."
Melanie Smith, VeVea's mother, said she remembers April watching old movies with her grandfather when she was as young as 4 or 5 years old.
"The stuff she knows always amazes me," Smith said. "I can't believe how much she knows about these old actresses and actors as well, so she's very knowledgeable. She knows things that people wouldn't even think to ask about."
Brittany Bennett, writing center coordinator and a senior history and English major from Mesquite, Nevada, said obscure information about golden era icons­­ — such as the specific day when Marilyn Monroe purchased a washing machine — is her friend's life passion. She said her and VeVea first met in an American history class in which VeVea sat next to her. She remembers VeVea talking about the fall of society through chronicling the annual melt downs of Kanye West and Bennett knew she liked her.
They became friends in American culture and society where they bonded during study groups, Bennett said.
"I am always surprised," Bennett said. "Whenever I reference something and I think it's really backwards or obscure, she knows it immediately."
VeVea said she finds much of her information from books and magazines, but the more inconspicuous information she finds through collectors who own items sold when studios purged much of their inventory in the '70s.
If you are wondering how the rare information VeVea discovers about old Hollywood is relevant to our day, the answer is in the accessibility of celebrities today. Through social media, celebrities can connect with their fans, Smith said.
"I think now we are invested in everything that celebrities do," VeVea said. "We see what they eat, where they're vacationing and who they are dating within seconds. In the golden age it was a lot more discreet. Certain things weren't even published. Stars had an air of mystery and that's really lacking anymore."
VeVea's work bridges the gap between what we know from pop culture and the actual history of the era, Bennett said.
In her blog post "Race Relations" about Ella Fitzgerald, VeVea clears up a misconception on which club Monroe had encouraged Fitzgerald to perform at. In the article, VeVea points out that a picture of Monroe and Fitzgerald posted in a newspaper failed to specify the name of the club the two appeared at.
"The problem starts with this picture," Vevea said. "Instead of specifying where Marilyn was that night, it simply says a 'Hollywood Club'. People assume that it was the 'Mocambo,' but actually it was 'The Tiffany Club', another hot spot in Hollywood."
VeVea includes a photo of an ad the Tiffany Club ran in the newspaper on Nov. 17, 1954. The advertisement shows Ella Fitzgerald as the headlining performer.
"I think my books put old Hollywood in perspective," VeVea said. "This was the era that a lot of Dixie [State University] student's grandparents and great-grandparents grew up in, and I think it helps put a lot of things in perspective, like changing societal and cultural norms and the evolution of the cult of celebrity."
Students can connect with family members who grew up in the '40s and '50s through Vevea's books and learn more about films' "golden era." VeVea said they can ask someone older than 65 what their favorite movies are or they can also simply pick an old film, watch it and decide if they like it or not. 
Vevea is currently writing a new book and more of her blogs about actors and actresses are available on her website.