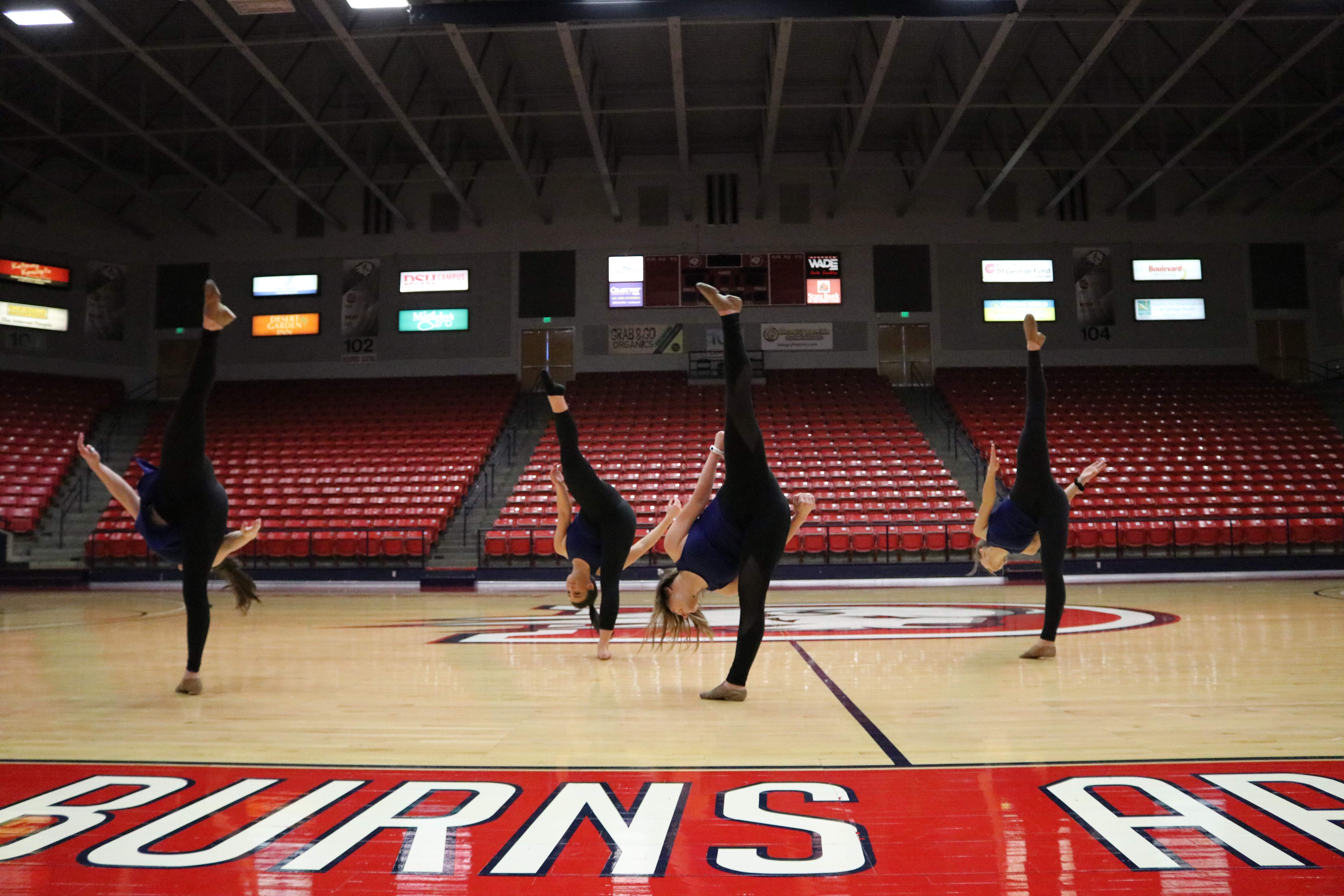 Photo by Madison Anderson.
---
The Dixie State University Blaze Dance Team puts in hours of preparation to perform for the university.
The Trailblazers began learning choreography and practicing for a year of performances in August, and the dancers are set to show off all they have learned at the home basketball and football games throughout the year. All of the preparation leads up to the annual showcase set to take place on March 2 at 7 p.m in the M. Anthony Burns Arena.
The DSU Blaze Dance team practices between six and eight hours each week. When including football and basketball games, the time that the DSU Blaze Dance team puts in ranges from 10 to 20 hours a week.
Captain Brooke Marchetti, a senior dance and chemistry major from Moreno Valley, California, said it takes a lot of hard work and time management to be a dancer for DSU.
"It takes a lot of dedication and it can be really hard sometimes," Marchetti said. "But it's so much fun and not something that I would ever [give] up."
First year dancer Matalyn Wikstrom, a freshman pre-pharmacy major from Layton, said dancing in college is so different compared to dancing in high school.
"In high school you were focused on competitions and the strict rules made by the coaches," Wikstrom said. "College dance is more of focusing on school. I personally love college dance because of how involved I get with the school from performing at football games to helping with a fundraiser."
Head coach Kori Esplin said in order to be on the DSU Blaze Dance team, you need to have high standards and great grades.
"Most of [the performers] have danced for their entire lives to prepare to dance at a university," Esplin said. "They are all absolutely gifted."
Wikstrom said dancing is a way to help herself escape from reality.
"When I step on the gym floor for practice, my brain becomes clear of all my worries," Wikstrom said. "I'm so grateful to be on this team with a wonderful coach and teammates."
Marchetti said the members of the team love to show what an amazing school DSU is and how much they love it.
"It really is an amazing school and an amazing opportunity to be a part of a collegiate dance team," Marchetti said. "It's a showcase of your knowledge and strength and just what it means to be a Trailblazer."
Despite the amount of time the Trailblazers put into practice, the DSU Blaze Dance team makes time to bond outside of practice. Marchetti said the Trailblazers participate in community service and are planning to volunteer at various elementary schools in the upcoming months.
Wikstrom said, as a group, DSU Blaze Dance team does many things together.
"We have Sunday night dinners where we all gather together to just eat and have a great time," Wikstrom said. "We are always trying to plan activities outside of practice just so we can spend more time together."
The annual showcase for the DSU Blaze Dance team is set to take place on March 2. It will begin at 7 p.m in the M. Anthony Burns Arena.