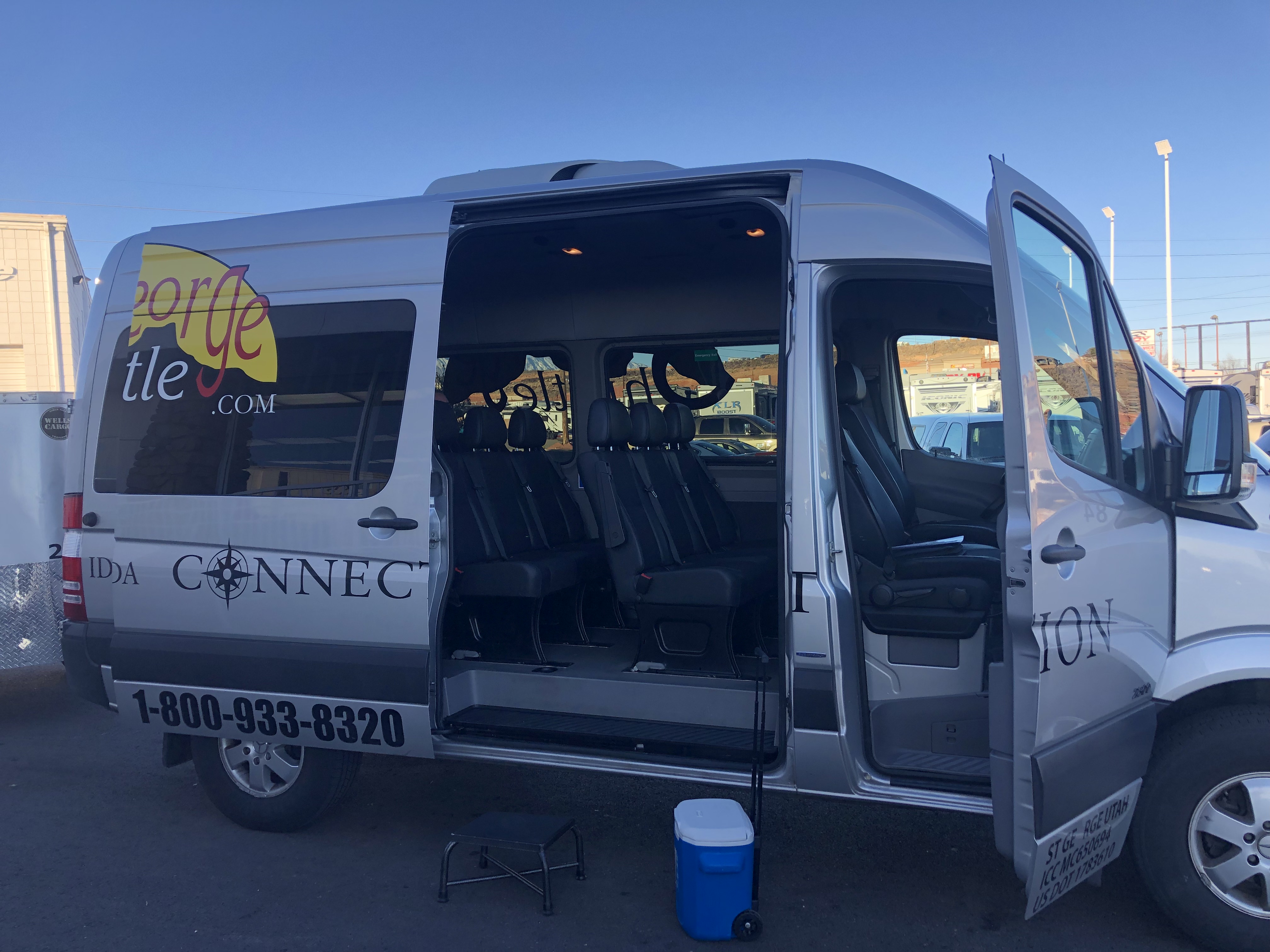 Photo by Jessica Johnson.
---
If you are in need of a quick and convenient way to get home or just have the desire for an adventure somewhere new, the St. George Shuttle has an accommodating connection for you.
With several rides offered to multiple destinations, the St. George Shuttle will get you wherever you need to go. Students can choose to ride in a van, a charter service or a limo. There are two types of vans to pick from when choosing a ride: an executive or a standard.
The executive van has spacious seats for a more luxurious ride, while the standard van allows for more passengers. Each ride offers free Wi-Fi and comfortable seating at reasonable prices.
"Many students have family outside of the southern Utah region, and being able to get a ride for a great price is something that is simple and convenient for everyone," said Kason Greenwall, a junior integrated studies major from Santaquin.
With stops ranging from Mesquite, Nevada, to Farmington, and all the way up to Idaho Falls, Idaho, the St. George Shuttle offers a safe and pleasant drive no matter how many miles your trip is.
Most vans are equipped with power outlets so you will never have to worry about your phone or laptop dying, which is perfect for any long drive. They have been reliable to all of southern Utah for over 20 years, and with environmentally responsible vehicles powered by natural gas, it is a great option to reduce your carbon footprint as well.
"I think this method of travel is growing among students because it is affordable to travel, and it is a nice choice to take the shuttle when you do not want to drive," said Christopher Roller, a junior theater major from Las Vegas. "It is amazing to have the option to go home and visit family."
Dixie State University students can take full advantage of the services St. George Shuttle offers such as travel times that work around any schedule, various pick up and drop off locations and special offers. Students can get a 30 percent discount with the promotion code "DSU2018" when traveling to any destination. They also offer military discounts.
"The drivers are really nice and helpful, and they will answer any question you have about where you are going," said David Martin, a freshman accounting major from Phoenix. "They also offer free water to make sure the ride is very comfortable. Overall, it's a good source for students that don't have cars, who do not want to put miles on their car or just need a quick ride somewhere."
The St. George Shuttle office is located at 1275 E. Red Hills Parkway in St. George. Students can visit their website for a complete list of destinations and to book their next ride. Stay safe and ride instead of drive with the St. George Shuttle, where your next trip awaits.