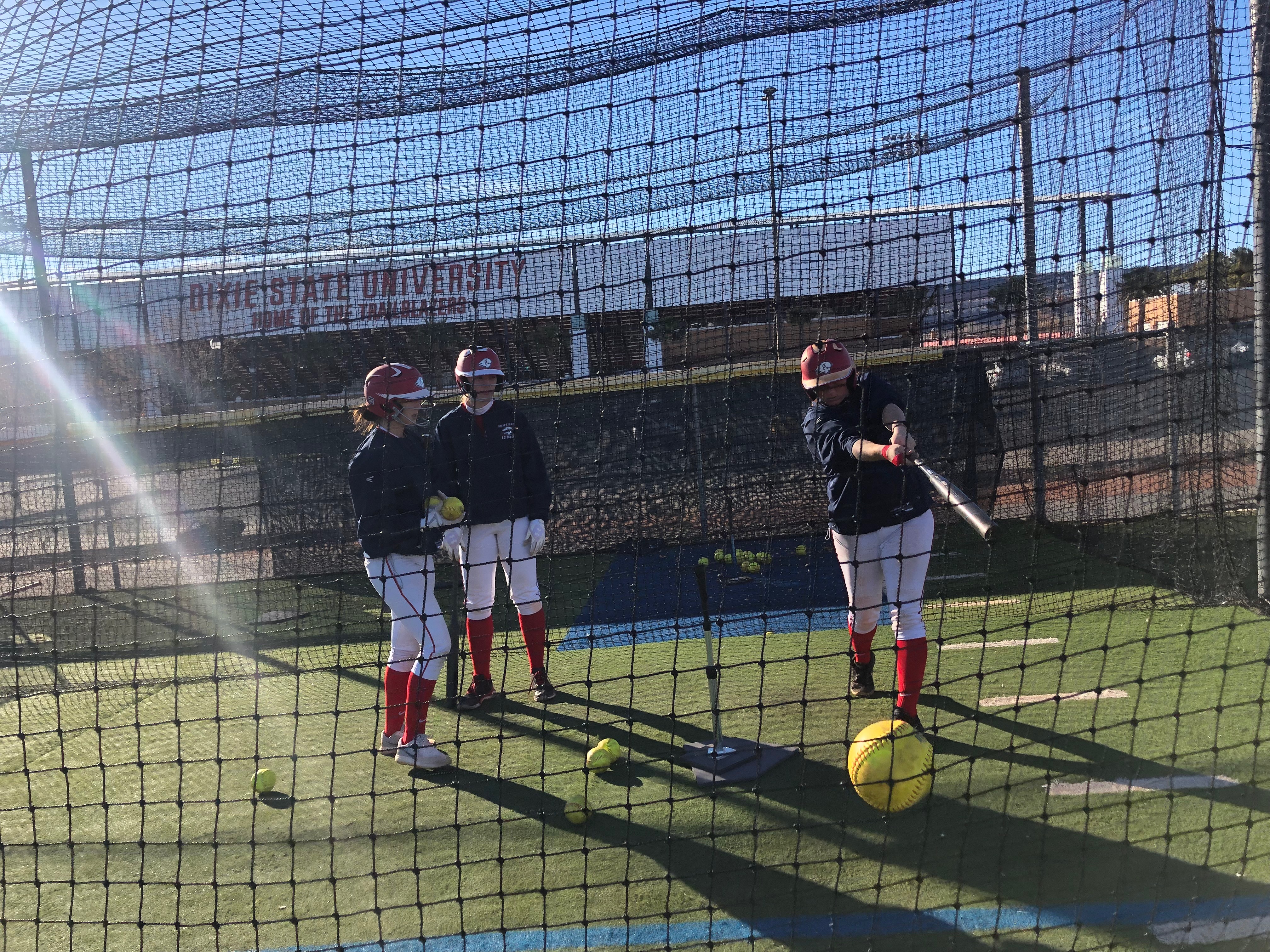 Photo by Jessica Johnson.
---
With dreams of becoming a radiologist, outfielder Brenna Cornwall knows about hard work on and off the field.
Cornwall is a junior biology major with a biomedical emphasis from Tremonton, and plays for Dixie State University's women's softball team. Cornwall has been playing softball competitively since she was nine years old.
"I've played softball for as long as I can remember," Cornwall said. "I have older siblings that play baseball and softball, and I've always tagged along and practiced with them."
Off the field, Cornwall said she enjoys hiking, spending time with family, and doing crafts. While Cornwall does not currently have a job, she said she has had summer jobs back home.
"Over the summer, I've worked at Raptor Stadium in Ogden doing concessions, and it was super cool because I still got to be around baseball," Cornwall said.
Her teammates recognize her as the girl who is always there to cheer people up.
"[Cornwall] is like a sister, she's always there for us, she is the sweetest thing," said Alexandria Melendez, a senior criminal justice major from Moreno Valley, California. "I usually go to her when I'm feeling down during a game, and she's just a pick-me-up girl. She's the happiest on the team, she makes everyone smile, and it's just fun to play with her."
Cornwall said she considers her positivity her biggest strength on the field. Outside of softball, she said it's being supportive, caring and helpful to those around her.
"I try [to] keep everything positive and keep my teammates in a good mood because sometimes, especially midway through the season, we all start to feel the wear and tear of practicing everyday and traveling," Cornwall said.
Cornwall recently got married to husband Landon Cornwall six months ago. Along with her goal to make it to the world series with her teammates, she said traveling to New Zealand with her husband is on her bucket-list.
"My favorite thing about my relationship with Landon is how much he supports me in what I do and my dreams," Cornwall said. "I always know that I have him in my corner."
Aside from her educational and athletic passions, Cornwall said she is very passionate about animals.
"I got [my passion for animals] from my older sister because she runs a non-profit animal rescue and I've seen how many lives she's helped," Cornwall said. "Not just animal lives, but people she's been able to connect [with] through her non-profit to help the animals has been really cool."
Cornwall said one of her biggest accomplishments was earning academic all-conference despite her difficult major and constant traveling with softball. She said her favorite thing about being on the team is the unity and sisterhood they have.
"Bad game days she's always the first one to pump our whole team up," said Kaitlyn Delange, a senior accounting major from Cedar City. "She's an all-around good player, good friend [and] good teammate."
Women's softball has their first game against the University of Hawaii at Hilo at 2 p.m. on Feb. 5 at Karl Brooks Field.