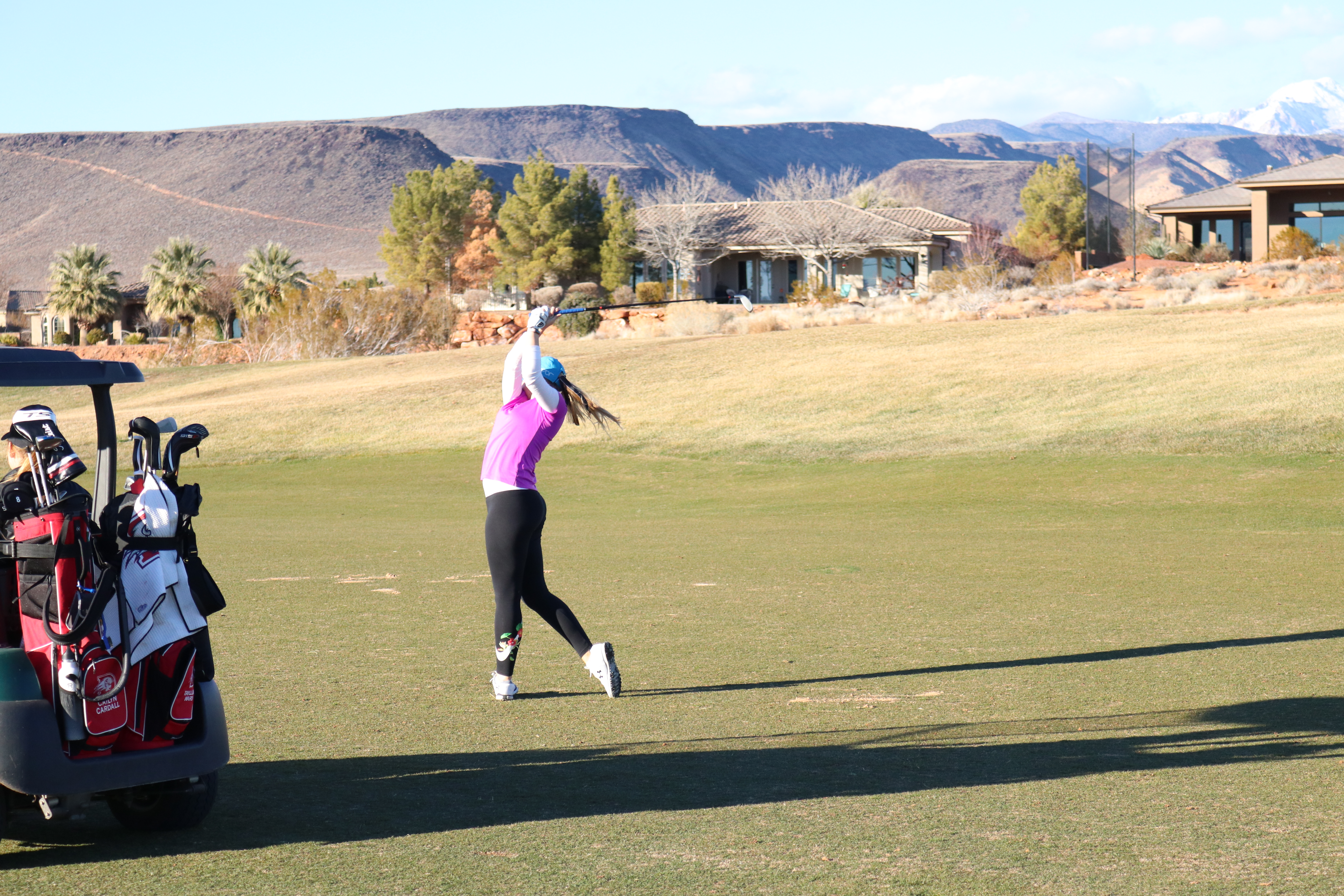 Photo by Madison Anderson.
---
The Dixie State University women's golf team looks to tee off the spring season as it prepares for its first match of 2019.
The Trailblazers are traveling to San Diego for the Point Loma Sea Lion Invitational on Feb. 4. This will be DSU's first match of the 2019 spring season.
The Trailblazers started off the 2018 fall season with a tie for second at the Colorado Mesa RMAC fall preview. As the fall season went on, head coach Lindsey Stucki said the team got an idea of the areas the needed to work on.
"They've been able to put in some work with our short game," Stucki said. "We've really worked hard on our mental game and they seem to really be improving that way."
Stucki said the Trailblazers look to not only start the 2019 spring season strong, but to win the conference as well.
"In the preview in September which had all of the RMAC teams, we tied for second," Stucki said. "We really think that we can win."
Kaitlynn Deeble, a sophomore education major from Boise, Idaho, said the team has more experience now.
"Now that we have the fall season under our belt, we plan on maybe having some wins this season and our main goal is to win [the] conference." Deeble said.
Katie Ford, a senior communication major from St. George, said the team is a lot more confident in what they're doing.
"Conference is definitely something that we think we can win," Ford said. "We're just going to keep working hard at our short game."
Ford said DSU is preparing to start the spring season strong after battling hard in the fall season.
"We've worked really hard on our short game and we do some competitive drills together," she said. "It makes us not only better for our own game, but it holds us accountable for each other too."
The Trailblazers have two weeks to prepare for the Point Loma Sea Lion Invitational in San Diego on Feb 4.