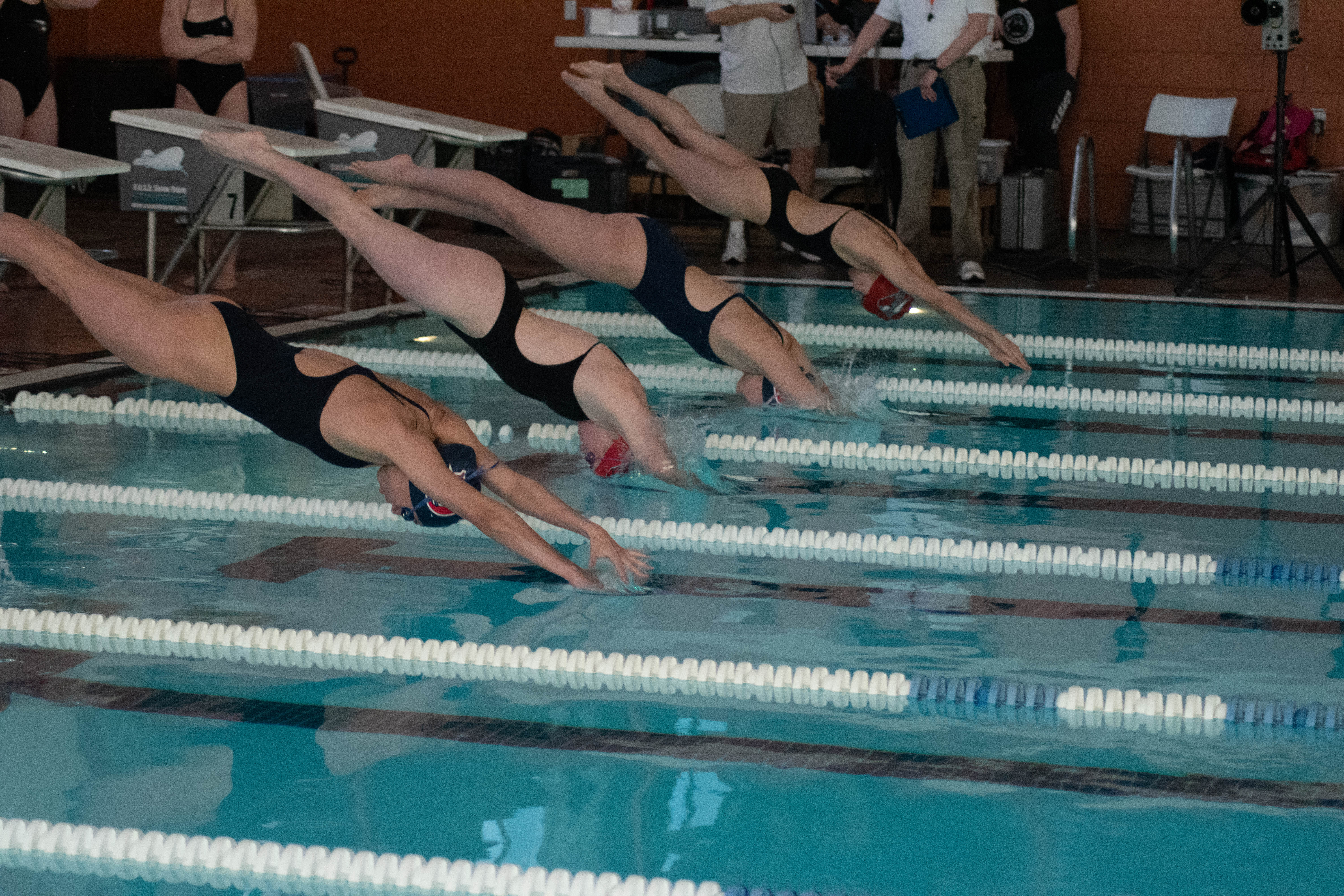 Photo by Tia Walker.
---
The Dixie State University women's swim team defeated Western Colorado University in a dual-home meet at the Washington City Community Center.
The Trailblazers won nine out of the 14 events, giving them the victory by a count of 171-91. Hannah Hansen, a junior biology major from Lehi, led the Trailblazers with three individual race wins in the 100 breast, 200 breast and the 200 individual medley.
Kelsea Wright, a freshman nursing major from American Canyon, California, said the team performed very well.
"We've been working really hard, so coming into this meet, I think we did really well" Wright said.
Wright placed first in the 500-yard free and helped the Trailblazers place first in the 400-yard relay.
Head coach Tamber McAllister said the team did a very solid job of staying within a good range of their best times.
"In the next couple weeks when we give them some more rest, I think that they're going to exceed their personal best." McAllister said.
This meet ended the Trailblazers' 2018-2019 regular season.
Miriam Gonzalez, a sophomore secondary education major from Murrieta, California, said the team has gotten so much closer to each other.
"It's fun being at meets," Gonzalez said. "Even practice, because if were suffering then we're all suffering together. We've just bonded in every way now."
McAllister said the team has had continual progress staying within their time ranges by altering their strategy for each meet.
"We've made a lot of adjustments throughout the season," McAllister said. "I feel like we've been able to learn from every competition that we've had so far, so that's the goal."
The Trailblazers get three weeks of rest and practice as they prepare for their next matchup in Lewisville, Texas, for the 2019 RMAC Women's Swimming and Diving Championships, which will be held from Feb. 13-16.
"We're doing a lot more speed work right now," McAllister said. "We're trying to get all that speed up and going so they can feel it and so they know what it feels like so that when they get to Conference, they're ready to go."