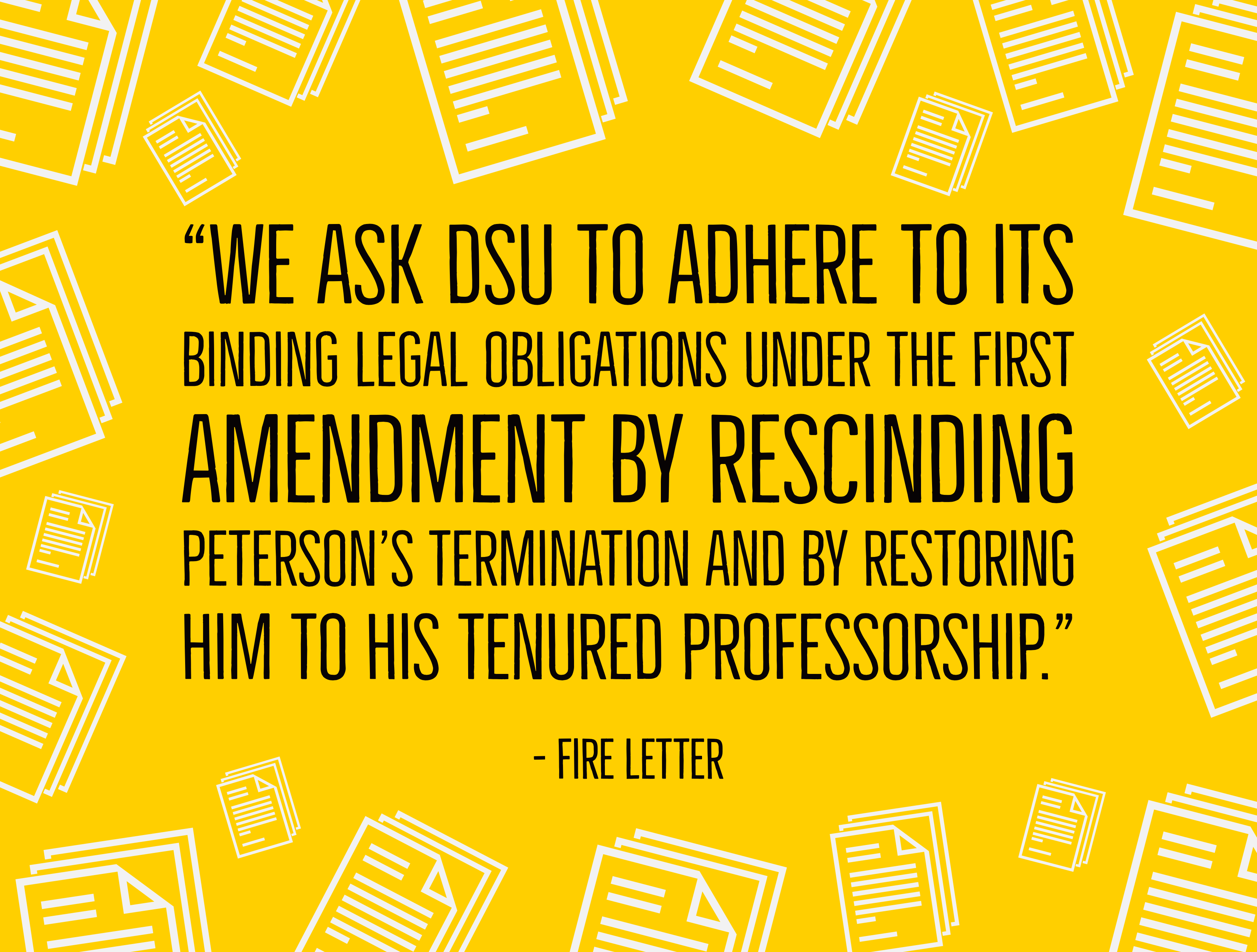 Graphic by Valerie De La O.
---
Dixie State University and the Foundation for Individual Rights in Education may soon be in a legal battle after disputes about a former professor's First Amendment rights.
FIRE sent DSU a letter on Dec. 19 explaining its involvement in former music professor Ken Peterson's case.
"We ask DSU to adhere to its binding legal obligations under the First Amendment by rescinding Peterson's termination and by restoring him to his tenured professorship," the letter said. "We also ask DSU to make clear that its faculty will not face punishment for the exercise of their First Amendment Rights."
Peterson was terminated in early 2018 for allegedly violating DSU policies including 4.4.3.2.4. (exhibit professional standards of behavior/civil discourse) and 4.4.3.2.5. (strive to achieve the purposes of the university).
After the recommendation of a faculty review board, Peterson was issued a Last Chance Agreement, which he called "punitive, vindictive, disenfranchising and dehumanizing;" he said he "could not sign it."
Some of the requirements of signing included:
"Dr. Peterson shall not utilize social media to make unfounded derogatory or untruthful statements about [DSU] and its faculty, staff, students or administration…
"Dr. Peterson shall not make unfounded or untruthful derogatory statements about [DSU] and its faculty, staff, students or administration.
Peterson shall not use any devices to take or transmit pictures and/or photographs of students, faculty, staff, or administration without their express permission."
Will Creeley, FIRE senior vice president of legal and public advocacy, said, "We were very concerned that professor Peterson was being targeted for punishment due to his speaking out about matters at the university, so we took an immediate interest."
DSU's General Counsel Doajo Hicks responded to FIRE's letter on Dec. 8. Hicks said rescinding the Last Chance Agreement as FIRE asked would "create significant downstream due process issues."
Hicks also requested FIRE file a GRAMA request in order to obtain a full view of the events that led to Peterson's firing. However, after the Dixie Sun News made this request, it was made clear by Assistant General Counsel Alison Vicroy that no documents regarding Peterson have been made public since the documents the Dixie Sun News reported on in September.
Hicks declined to comment.
"FIRE is skeptical as to the contentions made by DSU counsel," Creeley said. "Their response to us is incredibly non-responsive."
Peterson said his plans have not changed since DSU's response.
"What I would like is to remain here," Peterson said. "St. George is my home… and my plan, my hope, is to return to [DSU]…"
Creeley said when it comes to moving forward, FIRE is currently keeping all of its options open.