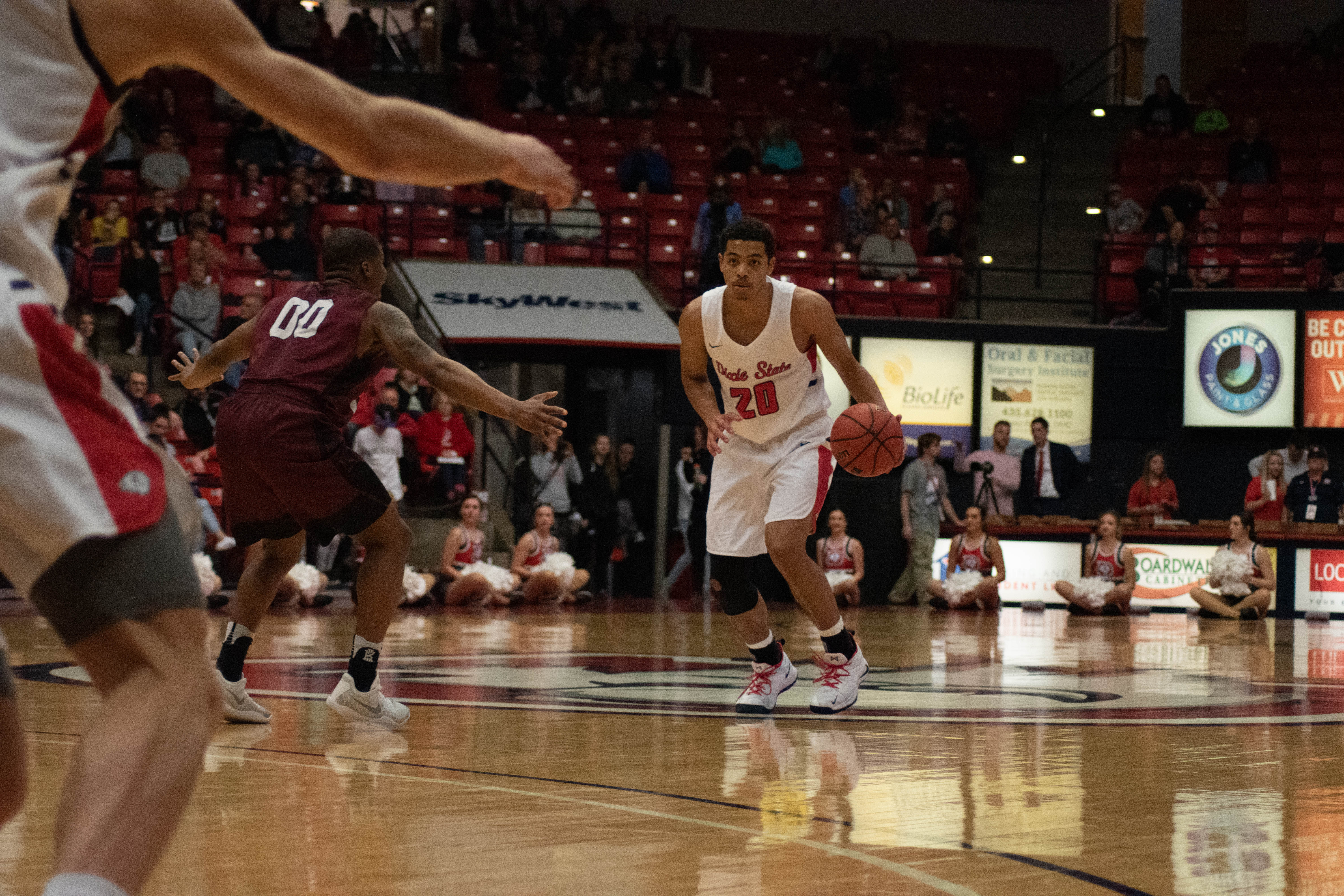 Photo by Madison Anderson.
---
The Dixie State University men's basketball team won its first game back from winter break but came up short in the second game.
The Trailblazers snapped their five-game losing streak with a victory over Metropolitan State University of Denver, 69-38.
The Trailblazers shot 46.8 percent (22-47) from the floor and 62.1 percent (18-29) from the free throw line. From the three-point line, the Trailblazers shot 38.9 percent (7-18). On the defensive glass, DSU outrebounded MSU Denver 45-35, 36-22
Matt Conway, a junior pre-med and Spanish major from Chandler, Arizona, led the Blazers in points with 19, and rebounds with 13 total.
"Our defense was a lot more important than our offense," Conway said. "When we play good defense, we get a lot more hype and play a lot more active on our offense end. I think the defense really sparked all of our offense runs."
The victory over MSU Denver was the Trailblazers first game back from winter break and the start of the second semester.
Head coach Jon Judkins said the teams intensity was a lot better than in previous games.
"It was fun to be home," Judkins said. "The crowd was outstanding. With the announcement of going D1 and having a red out, I think our guys really appreciated that."
DSU men's basketball team lost to Chadron State College 61-64 in a hard fought home game on Jan.12.
DSU shot 37.8 percent (17-45) from the floor and 38.9 percent (7-18) from the three-point line. From the free throw line, the Trailblazers shot 58.8 percent (20-34).
Andre Wilson, a junior recreation and sports management major from Moreno Valley, California, led the Trailblazers in points with 16 total. The Trailblazers were out-rebounded by Chadron State 27-46. Leading DSU in rebounds was Dub Price, a redshirt senior from Draper.
Despite a 1-5 record on the road, the Trailblazers look to turn things around as their next four games are away.
Jack Pagenkopf, a junior business administration major from Brooklyn, New York, said; "We need to keep the energy up in practice. Expect a win. Expect the next one too. And just keep playing hard. We know we're a good team. We just got to keep it up."
The Trailblazers' next matchup is against Colorado Christian University in Lakewood, Colorado, on Jan. 18 at 7 p.m.