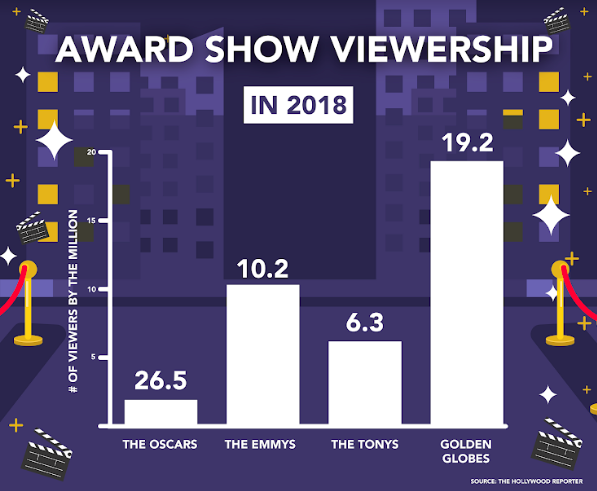 Graphic by Valerie De La O.
---
It is awards season again, meaning the time of year when the film and television industries have their annual Golden Globe, Screen Actors Guild and Academy Award events.
Award shows are where actors, actresses, directors and other filmmakers are recognized for their exemplary work in entertainment on the big and small screens; it is a time for fans of both film and television to see if their favorite performer, movie or television show won an award.
Pop culture comes alive as celebrities walk the red carpet. Photographers scramble to get the perfect shot. Reporters are itching to nab the most newsworthy tidbit.
With all the glitz and glamour attributed to the award shows, one wonders if the emphasis is on the status of the stars or the quality of the work they do.
"It's funny how we grow to love actors even though we don't actually know them," digital film producer Tisa Zito said. "Any year that Daniel Day [Lewis] is nominated or steps foot into the ceremony I am thrilled. He's just top notch."
Phil Tuckett, assistant professor of digital film, said award shows have always been a way for the film industry to promote themselves and provide additional exposure for the stars of cinema and television.
Award shows are also a way for celebrities to promote their favorite designers via social media platforms like Instagram. Dakota Fanning posted a photo on her Instagram of herself at the Golden Globes sporting an Armani dress while representing "The Alienist," a television show on TNT.
Though the awards can be enchanting, alluring us with movie stars in fancy clothes amid flashing lights and the elegance of the red carpet, or the pomp of the inevitable acceptance speech moves us to tears or inspires us to take a stance on a human rights issue, we should consider the other purpose of these prestigious awards.
That other purpose is for filmmakers, actors, cinematographers, editors and a litany of others who work on films to show their appreciation for their peers' hard work.
"If it's an interesting character and [actors] perform it well and believably, that you believe they are that character, then that is a good performance," said Mateo Sandi, a junior media studies major from Fredrick, Maryland.
Acting is not the only element of an award winning film or television series. There is the story, the direction of the actors, how the film is edited and the way those pieces are combined with cinematography, sound design and music. When those parts are put together, you have a movie by the end of it.
In a 2011 episode of Alfred Dunhill: "BAFTA A Life In Pictures" available on YouTube, Martin Scorsese talks about filming the scene in "Taxi Driver" where Robert De Niro is saying his famous "You talking to me?" line. While watching and listening to Scorsese talk about the process of shooting this single scene, there is the sense that a formula for making an award winning film doesn't exist. He calls "Taxi Driver" a labor of love and said that a director creates the atmosphere for the actor and allows them the time to come on to something that works in their performance.
"You need a great story," Zito said. "You want an excellent director of photography, you need actors who can portray that story well and make it believable. You need a great editor to sculpt, you need a great director with the vision and one who can communicate well with the rest of the players."
Tuckett said if you're making a film with the intention of getting an Oscar, you would be missing the point of making films. Filmmakers aren't doing it for the recognition. He said they create stories they want to tell through the medium of motion picture and are attempting to create something they can be proud of.
"A film has to be exceptional in any one category," Zito said. ​"Of course, it should be the goal of a filmmaker to always push each aspect of the film to it's very best."
The Golden Globes aired Jan. 6, the SAG awards are Jan. 27 and the 91st Academy Awards are Feb. 24. Make sure to mark your calendars and enjoy the shows. Whether you watch for the glamour, or to see if the actors you picked to win get the award, the 2019 awards season is sure to entertain.