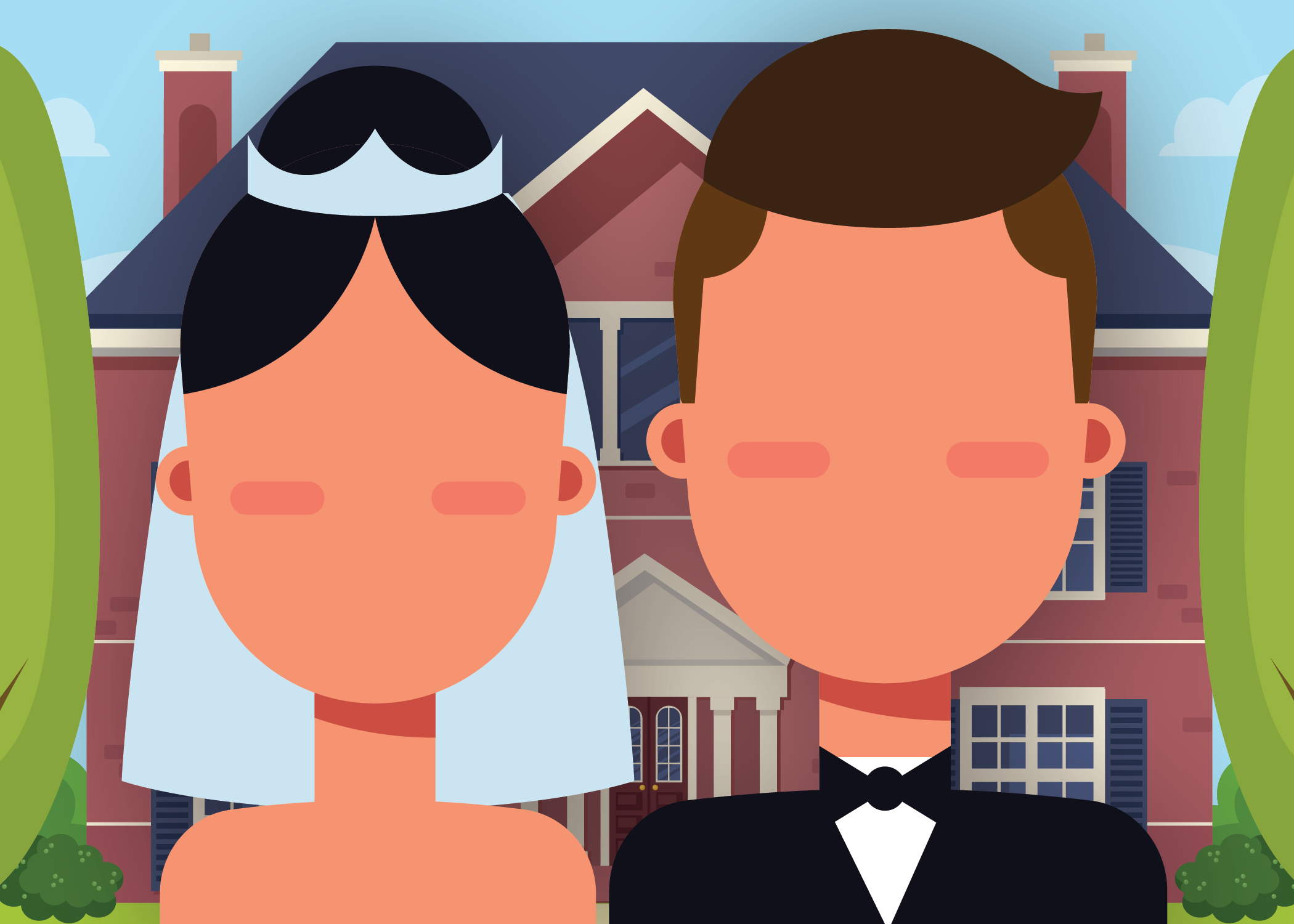 Graphic by Valerie De La O.
---
Finding affordable housing close to campus is still an issue for married students, but with a recent purchase of land, Dixie State University is planning a solution for that concern.
DSU purchased the empty lot adjacent to Abby Apartments with intentions to build apartments for married students, and are building a pedestrian path under interstate 15 in conjunction with Utah Division of Transportation, City of Saint George and Metropolitan Planning Organization.
Paul Morris, vice president for administrative affairs, said DSU purchased the property because of its proximity to Abby Apartments. The intent is to build new married student housing on that lot, he said. There are no dates set for when that will happen, but there is a plan to convert Abby Apartments to married student housing within the next three to four years, Morris said.
With plans for the recently purchased land and conversion of Abby Apartments not happening in the immediate future, married students still face the issue of finding places to live on or off campus. It is an issue that Brock Doman and his wife, Morgan Doman, have experienced first-hand.
"If we were single, we would have seven or eight different buildings we could choose from, or apartment complexes to choose from," said Brock Doman, a junior exercise science major from St. George. "Being married, there are only one or two buildings with maybe 10 [apartments] in each building."
DSU has two places available for married student housing. Morgan Apartments, listed as family housing at $600 per month with 16 units and Dixie View Apartments for $650 a month and only three units.
Seth Gubler, director of housing and resident life said Abby Apartments was family housing for students until Fall 2012, and because of increasing needs for single student housing, the apartments were reduced from 20 units to 16. He said the conversion created 90 beds for single students, meeting the demand for beds at the time. He said when DSU purchased Morgan Apartments in the same year, it became family housing.
Morgan Doman, a junior dental hygiene major from Riverton, said she and Brock started out as single students at DSU and got married in March of 2016. She said options for housing changed significantly once the two of them were married, and they opted to add their names to the waiting list that is already 108 names long.
Seth Gubler, director of housing and resident life, said: "We hear from married couples that they wish there were more married student housing options provided by the university. They say it is difficult to find affordable housing and housing that is in close proximity to the campus."
According to rent.com, the most affordable apartments close to DSU are at the Vintage on Tabernacle, with rent starting at $384 for a 5 room apartment. Further research on apartments.com shows the average rent for homes or apartments in St. George and Washington begins at $850 a month and can be as high as $1,000.
Morris said because proximity and accessibility to apartments are an issue, DSU is making it a priority to resolve that by building a pedestrian path under I-15. He said the goal is to connect the western portion of 400 South with the eastern portion that meets River Road, making apartments, shopping and the hospital more accessible to students.
"It allows students to quickly get under the freeway instead of going around," Morris said. "[From River Road and E 400 S] this would put them within…probably on a bicycle, three or four minutes to the heart of campus. If they were walking… seven to 10 minutes ."
Gubler said a web page is currently being designed to address the married housing issue more immediately.
He said the web page will centralize all available housing options for single and married students. Apartments or individuals with rooms for rent can post to the website as well. The website will be ready for use in one to two months once the contracts are approved, Gubler said.
Morris said plans for the underpass are already underway and DSU, UDOT, City of St. George, and Metropolitan Planning Organization have already paid toward the project. He said DSU has paid $600,000 toward the project, and construction is to begin within the next couple of months.
"We have a lot more single student housing beds available than we've had in the past, and we've met a lot of that demand," Morris said. "The demand that's out there right now that's not being met is for married students. So, what we will do is take this building, Abby [Apartments] which was originally designed as family housing, and we'll simply convert it back."