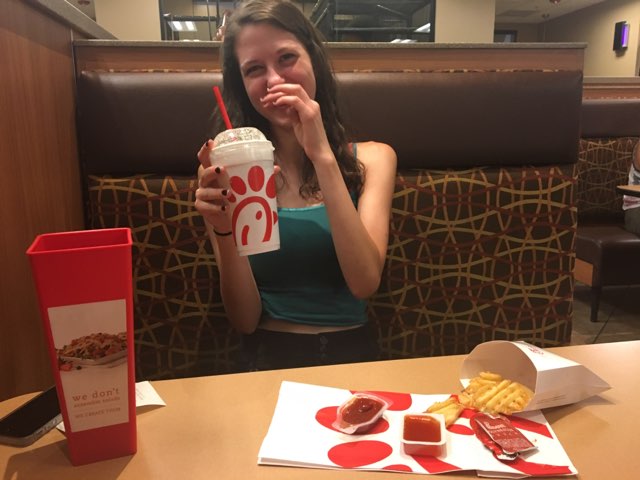 Photo by Jessica Johnson.
---
Students will have to go off campus to get their fix of Chick-fil-A and Pizza Hut for just a little bit longer, as the openings of the two on-campus eateries were postponed.
Dixie State University announced in August that Chick-fil-A and Pizza Hut would be opening on campus at the start of the spring 2019 semester, but now the opening has been delayed until the end of the semester.
"Originally we were hoping to be open this semester, but it took a little longer than expected to get the contract signed," said Katie Nye, operations coordinator for DSU dining services. "Once we got that signed, we had to wait for Chick-fil-A to finalize floor plans so we could go to bid for the contractors. Those are now all completed and we are currently starting construction this week."
Jon Gibb, director of facility planning and construction, said construction for Chick-fil-A is scheduled to be completed April 26 and it will open for business two weeks after that. Pizza Hut will follow two weeks behind that schedule.
"We are thankful for everyone's patience," Gibb said. "I'm excited for students. The university is providing what the students want."
Chick-fil-A and Pizza Hut will be located in the Kenneth S. Gardner Student Center dining area. Nye said there will be a giant piece of plastic covering the area under construction and lots of noise for the next couple of months. The Blaze Grill and La Estampida will remain open during construction.
Nye said these new facilities opening on campus will bring not just business, but familiarity as well, as students know the quality of the food.
"I think they will be a good addition to campus to improve student satisfaction," Nye said.
Students have already shown excitement about these two facilities opening on campus and are only going to get more excited as the opening date approaches, said Nye.
"I think it will be amazing to have both of these on campus and convenient," said Nicc Lewis, a senior communication major from Memphis, Tennessee.  "Chick-fil-A is always crowded at the only one in town, so another right on campus couldn't be any better."
Both of these facilities will be operated by DSU dining services and will be open throughout the summer semesters.