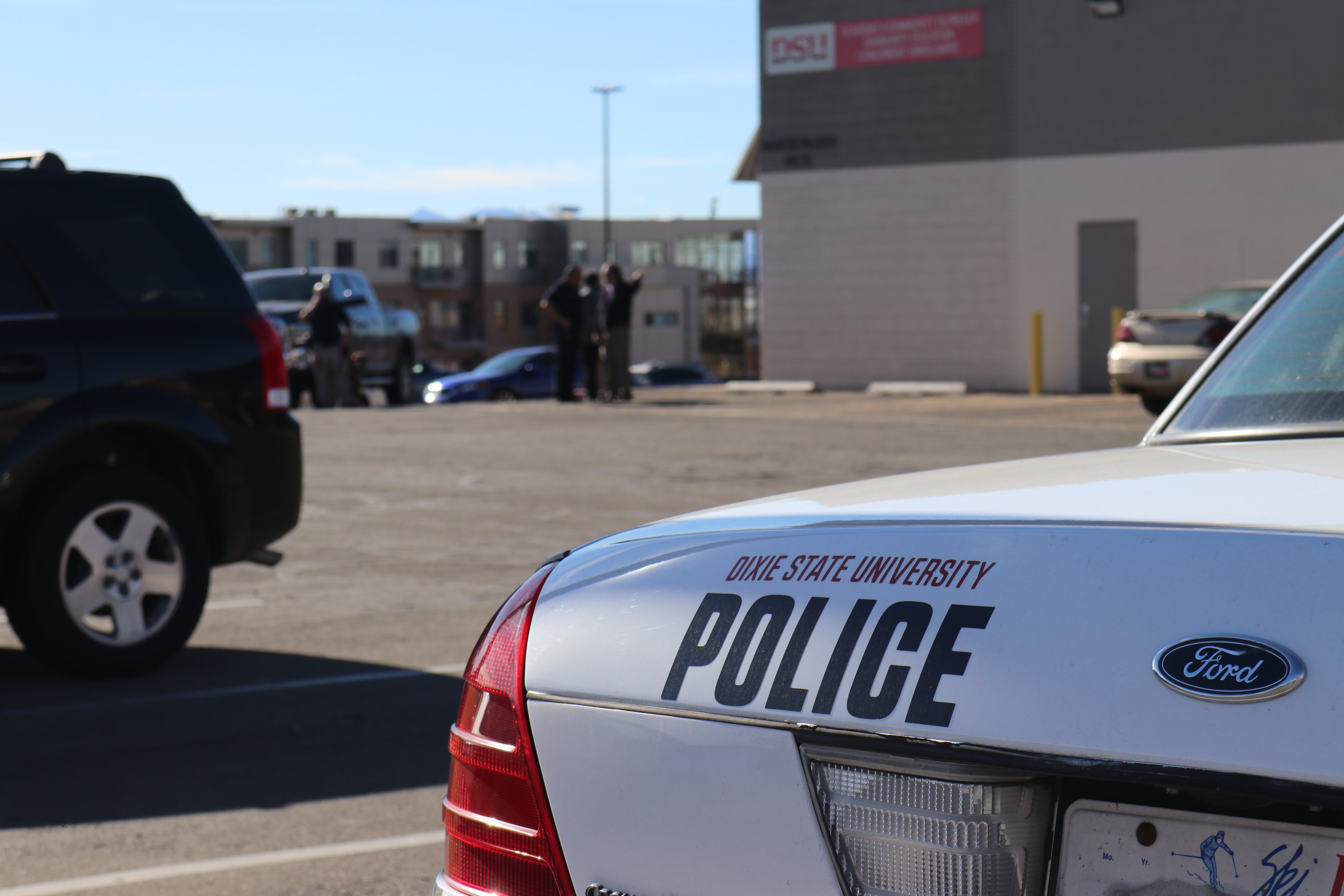 Campus police, fire crews and a certified bomb dog clear the Dixie State University North Plaza Building and Student Testing Center on Dec. 13. DSU was the first in the county to receive a bomb threat via email, which was discovered the be a nation-wide phishing scheme. Photo by Madison Anderson
---
Dixie State University was able to put into practice training and already-established security measures when the North Plaza Building and Student Testing Center were evacuated after a bomb threat was issued during finals week.
Nation-wide threats
According to a statement released by Blair Barfuss, chief of campus police, the DSU Student Testing Center received an email on Dec. 13 stating that a bomb had been placed inside. Students received texts from the university through the campus alert system.
"The bomb threat email appeared to be some sort of phishing scam, but some circumstances were mitigating," Barfuss said. "There hadn't been any bomb threats in the county at that time [and] it happened to be at the testing center during finals week, so we took it a little more at face value and proceeded to evacuate the testing center."
Campus police used a certified bomb dog to check for accelerant or explosive devices, he said. Barfuss said Utah Statewide Information & Analysis Center and the FBI were alerted to the threat, and dozens of identical emails were appearing across the state. It wasn't until after the building had been evacuated, he said, that he realized other schools and businesses from around the nation were receiving similar or identical emails.
"We do know that the emails came from Siberia, Russia, and it is currently an active investigation with the FBI," Barfuss said.
Location confusion
There was some confusion about what buildings were unsafe due to individual building coordinators being unsure of how far away they needed to evacuate, he said.
"We were telling our dispatch and school administrators that everybody needed to just stay in place and not come to the testing center," Barfuss said. "We were just evacuating the testing center."
Barfuss said faculty and staff in other buildings misunderstood.
"Other [people] felt, 'well, they are telling us to not do anything so we need to go home,'" he said. "It was a miscommunication between building administrators. We are working through some of those things with [the] UMAC and the communication department."
Barfuss said it was a minor concern with most of the process going well.
"It was a good experience in that the campus alert system does work, and it worked very well and it was pretty effective in alerting every phone number on record," Barfuss said. "We were satisfied with the campus alert system for this bomb threat."
Student impact
Barfuss said he estimated a total of 15-20 students were displaced or had their exams interrupted during the evacuation, but steps were made to give these students a chance to make up their exams.
He said, "I did speak with the testing center [and] they verified that they were going to work with all of the students so that if they were logged out of a test that was timed the professors would be told that there was this issue [and] that they would be able to finish their exams."
Landon Kinder, a junior business administration major from Salt Lake City, was halfway through his microeconomics final when he was told to evacuate.
"… One of the people from the front desk came into the testing area and told us all that we had to evacuate," Kinder said. "Nothing else was said and everyone gathered up there (sic) things and began to exit the building. I didn't find out it was a bomb threat until I spoke with the women (sic) who gave the alert on my way out of the building."
Nicole Woods, a sophomore general education major from Las Vegas, said she was in the Jeffrey R. Holland Centennial Commons building when she heard an alarm and received the text.
"There was just an alarm and warning that popped up on all the computer screens in the library," Woods said. "Everyone looked around for a second and then continued studying. I was worried but unsure how serious it was. I received a text and the same message appeared on all [of] the computer screens."
The university tweeted that all other areas of the university were open to students, faculty and staff one hour after the testing center was evacuated. DSU alerted students that the investigation was over via Twitter.
"I think our officers handled [the bomb threat] very well," Barfuss said. "They got everybody out, [and] everybody was calm. It wasn't any kind of hysteria or any kind of concern or panic; it was done in a relatively low-key, relaxed manner, which keeps people calm."