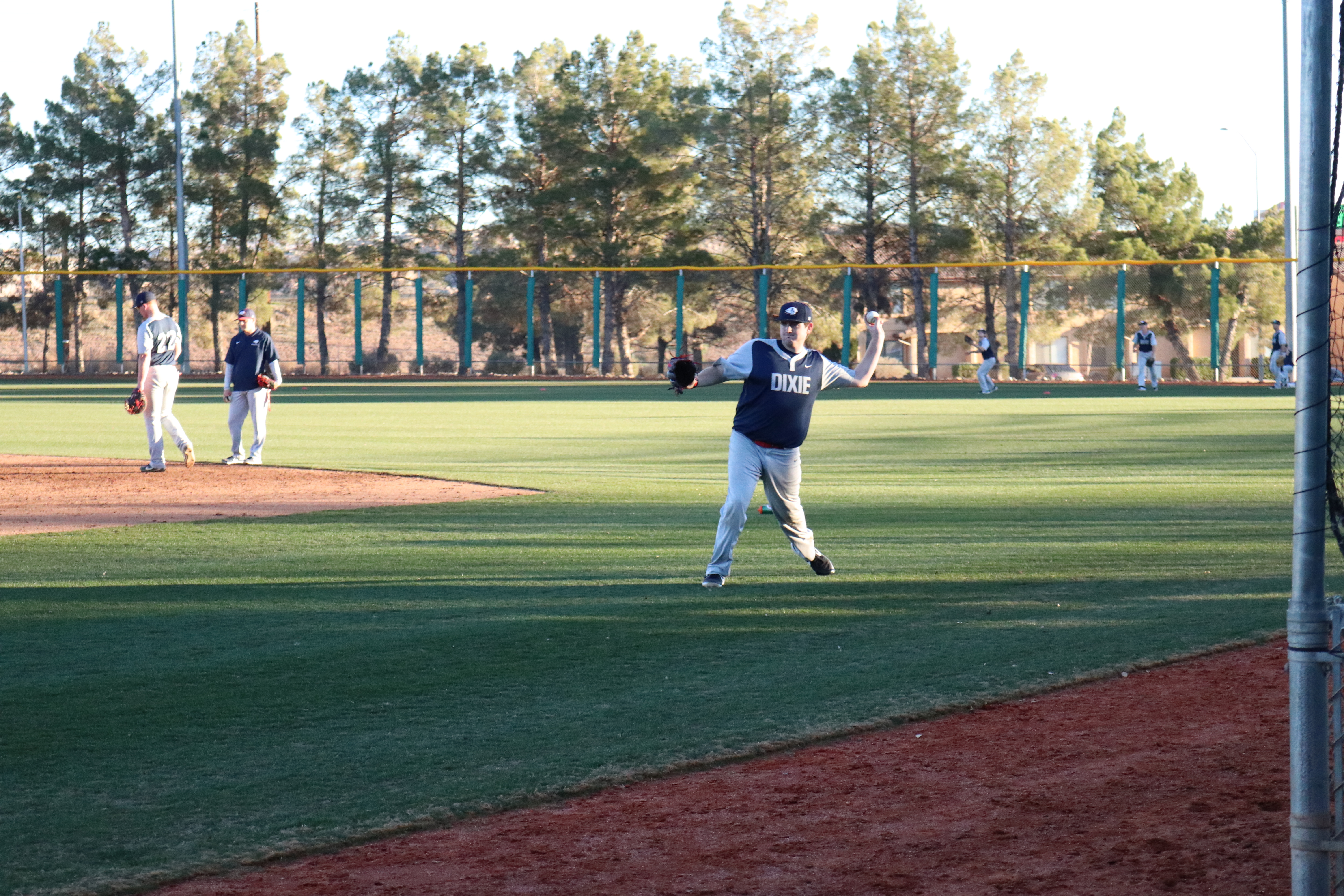 Photo by Madison Anderson.
---
In his free time, pitcher Jack Saller might build computers, but on the field, he's building energy and cheering on his teammates.
Saller, a junior computer science major from Corona, California, began his baseball career when he was only 6 years old.
"It's just something my dad loved doing when he was a kid, so he decided he wanted his son to love it too and it just worked out," Saller said.
Saller said he learned about DSU through his previous private pitching coach, Kevin Olsen. Olsen knew a DSU pitching coach and had played a few games against DSU himself in the past. After some calls were made, DSU coaches watched Saller throw a few times and ended up liking him. Saller is a left-handed pitcher who has made one DSU appearance at University of Hawai'i at Hilo on April 25, 2017. In the one inning he pitched, he struck out one and surrendered one hit and one unearned run. 
"It was just a great spot for me to come out here," Saller said. "We got a great team and it was overall a good fit."
Saller said he has a happy-go-lucky personality and keeps a positive outlook by focusing on bettering himself every day. Off the field, Saller said he likes to play the guitar and video games, watch movies, draw and learn more about the world and computers.
"I recently just helped a friend build their PC with parts they picked out," Saller said. "Even though it was somewhat difficult, I had a lot of fun working on it."
Saller's hobbies also include playing the saxophone and collecting pins. After college, he aspires to land a good job as a computer programmer. On the baseball field, his goals for this season are to throw more for the team and dominate in any situation his coaches put him in. 
"Last year we had a little bit of a rough patch, but now that the guys have more experience and we've all played together more, we're coming together and it looks like we're going to have a good year," Saller said.
DSU baseball has had over 30 wins every season since 2009 but last year held a 25-25 record. Saller said Colorado Mesa University is the team he is looking forward to playing the most this year. He said playing them will definitely put his team to the test.
"They've always been tough to play against," Saller said. "They have a lot of good energy, and I'm looking forward to see what they've got this year and what we can do against them."
Pitching coach Joe Haumacher said Saller makes the most out of his talents and his abilities because he makes the most out of every day.
"He shows up, he runs hard on and off the field or in drills, he pays attention when he's learning things, and he asks good questions to understand the material being taught," Haumacher said.
Saller's teammates appreciate his contribution to the team as well.
Tanner Harper, a sophomore catcher from Paul, Idaho, said: "Jack Saller [is a] great teammmate. I love his energy, [he's a] great pursuer, he loves to get the job done [and] work hard on the baseball field."
Saller said at practice he likes to keep an even energy and focus on what the coaches ask of him. For games, he said he has a higher energy and cheers on his teammates, but when he is pitching he focuses on doing his job. Saller said his favorite part about being on the team is coming out every day with the guys.
"I've met some of my best friends I've ever had on this team," Saller said. "It's been a lot of fun to be able to meet some guys from all around the country and make some good friendships."
DSU baseball's first event of the year is its home alumni game on Jan. 26 at 1:30 p.m. at Bruce Hurst Field.