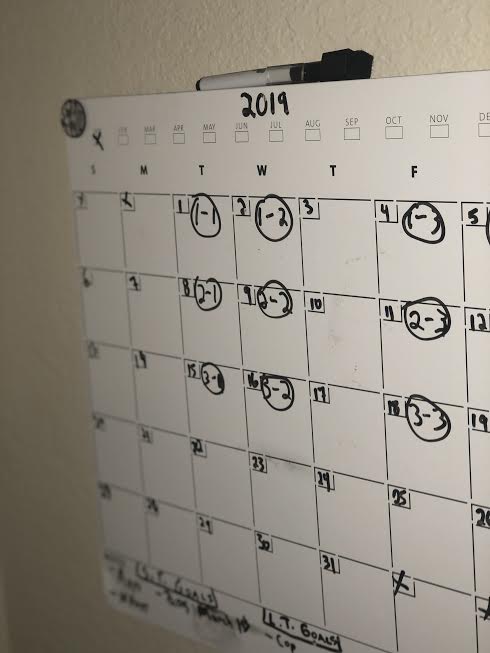 Being a student can be a full time job and learning how to be a successful one is even harder. plate. A tip is to make sure you never over commit yourself. Photo by Jessica Johnson.
---
The spring semester is just beginning, students are back on campus and stress is already starting to take over.
Current students, previous students and faculty members have suggested ways to make the spring semester less difficult for students to get through while still being capable of getting good grades and maintaining health and sanity.
Have a planner
Madi Wawrzyniak, a student success coach at Dixie State University, said: "Oftentimes students do not plan or organize themselves well and they end up with a mountain of things to do and they feel overwhelmed. Planning things out and making sure you have time for each thing is important."
She suggested every student attending classes this semester should use a planner. Planners are available for purchase at the campus bookstore. For students who may not have money to purchase a planner, there are several free homework-planner apps to download.
According to TechWiser, Homework Planner, Student Planner and Egenda are the three best planner apps. Homework Planner is the easiest app to use. It provides all the resources a student needs to keep their homework organized. Student Planner is also easy to use, and it allows students to put in their class schedule as well as organize their homework. Egenda is harder to use, but students are still able to put in their class schedule and keep their homework organized.
Take advantage of resources
Smaller class sizes allow students at DSU to have easy access to professors, academic advisers and tutoring. Students should take advantage of these resources when the semester starts to get difficult.
The academic advisement center is located on the first floor of the Holland Centennial Commons. They help students with finding a degree and classes that work best for them, as well as setting up appointments with advisers.
The tutoring center is open Monday-Thursday from 10 a.m. to 7 p.m and Friday from 10 a.m. to 5 p.m. It is located on the fourth floor of the Holland Centennial Commons. They offer face-to-face and online tutoring. All tutoring services through the tutoring center are free of cost to DSU students.
Do not over-commit
Wawrzyniak said, "Students need to join a club and get involved on campus, but they need to make sure that they are not doing too much."
She said it is important for students to manage their academic and social schedules, while still being involved as much as possible.
DSU offers many different clubs such as Habitat for Humanity, the LGBTQ Student Association and the chemistry club. In addition, students are able to create their own clubs if one is not already offered. More information on clubs can be found here.
Go to class
It can be difficult for students to make the decision to go to class because class may be boring or students feel they are not learning any valuable information by attending class. Students can start by setting a goal during the first week of the semester to not miss class. Students can reward themselves at the end of the semester or throughout the semester by going to class everyday. 
"I think it's important to go to class because what's the point of being at college and paying all this money if you're just going to blow it off," alumna Anna Coltrin said. "As for motivation, I just try to think of everything in small increments of time. Instead of telling myself I have two classes that are each a one hour and 45 minutes, I just think I only have to go to two classes and then I'm done."
Coltrin said to always be prepared for class and stay caught up on homework because it makes going to class easier.
Value alone time
It can be tricky to find time to be alone. Distractions can include friends, work, media and technology. It is easy for students to feel overwhelmed by these distractions and it can cause stress on mental health.
"Personally, I feel like I need to value alone time during the semester in order not to burn out," said Amanda Williams, a senior communication major from Redlands, California. "Being mindful of how stressed or overwhelmed I am helps me keep my mental health in check."
Williams suggested activities such as hiking and being outdoors as a way for students to enjoy their time spent alone.
Some outdoor resources offered around DSU include Snow Canyon State Park, Zion National Park, Red Cliffs Desert Reserve and Sand Hollow State Park.