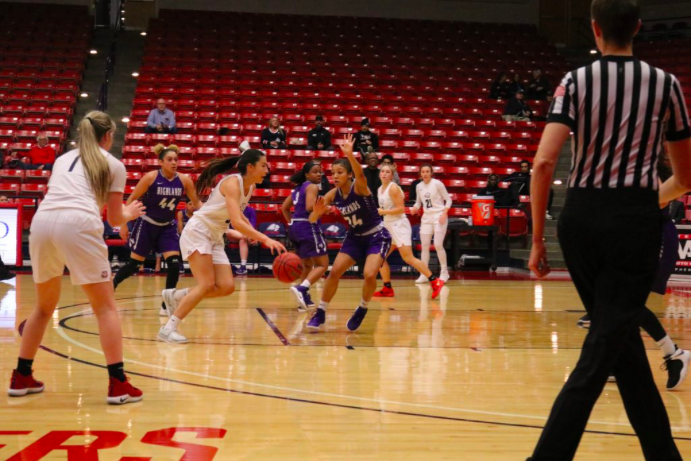 Lisa Vancampen, a senior biology major from Morgan, dribbles the ball down the court in attempt to shoot the ball against New Mexico Highlands at the Burns Arena. Women's Basketball will have two home games on Jan. 11th and 12th. Photo by Madison Anderson.
---
The Dixie State University women's basketball team won two of its five games over winter break and improved to an overall record of 6-5 for the season.
The Trailblazers started off the winter break on Dec. 14 with a win over New Mexico Highlands, 70-59.
Lisa VanCampen, a redshirt senior psychology major from Morgan, said, "Every win is a hard win to get."
VanCampen ended the game with 11 points and 17 rebounds.
"It is a momentum thing," VanCampen said. "Using the momentum going into tomorrow will be huge."
With final exams ending and winter break starting, assistant coach Nicole Yazzie said the coaches are trying to keep the team motivated.
"We should think about our goal and protecting where we play at home," Yazzie said.
The Trailblazers headed into winter break undefeated at home. With a loss against Colorado State-Pueblo 70-73, they went to 4-1 at home. They quickly bounced back with a win over Antelope Valley, 74-60, improving their current home record to 5-1.
Guard Keslee Stevens, a sophomore exercise science major from Willard, said if they're home, they're around the same things and they get to do their normal routines.
"Being in front of your home crowd and having that support is big for us," Stevens said. "It's awesome playing here."
Along with having the support of the home crowd, staying together is the team's big thing, she said.
"Obviously, we're going to have tough times and not everything's going to be perfect, but as long as we stay together, we are very talented," Stevens said.
The team went on the road for its final two games of the winter break. The Trailblazers fell short with losses to both Colorado-Colorado Springs, 54-59, and Colorado School of Mines, 81-86.
The team hopes to bounce back with back to back home games at the M. Anthony Burns Arena on Jan. 11 against MSU Denver and on Jan. 12 against Chadron State.