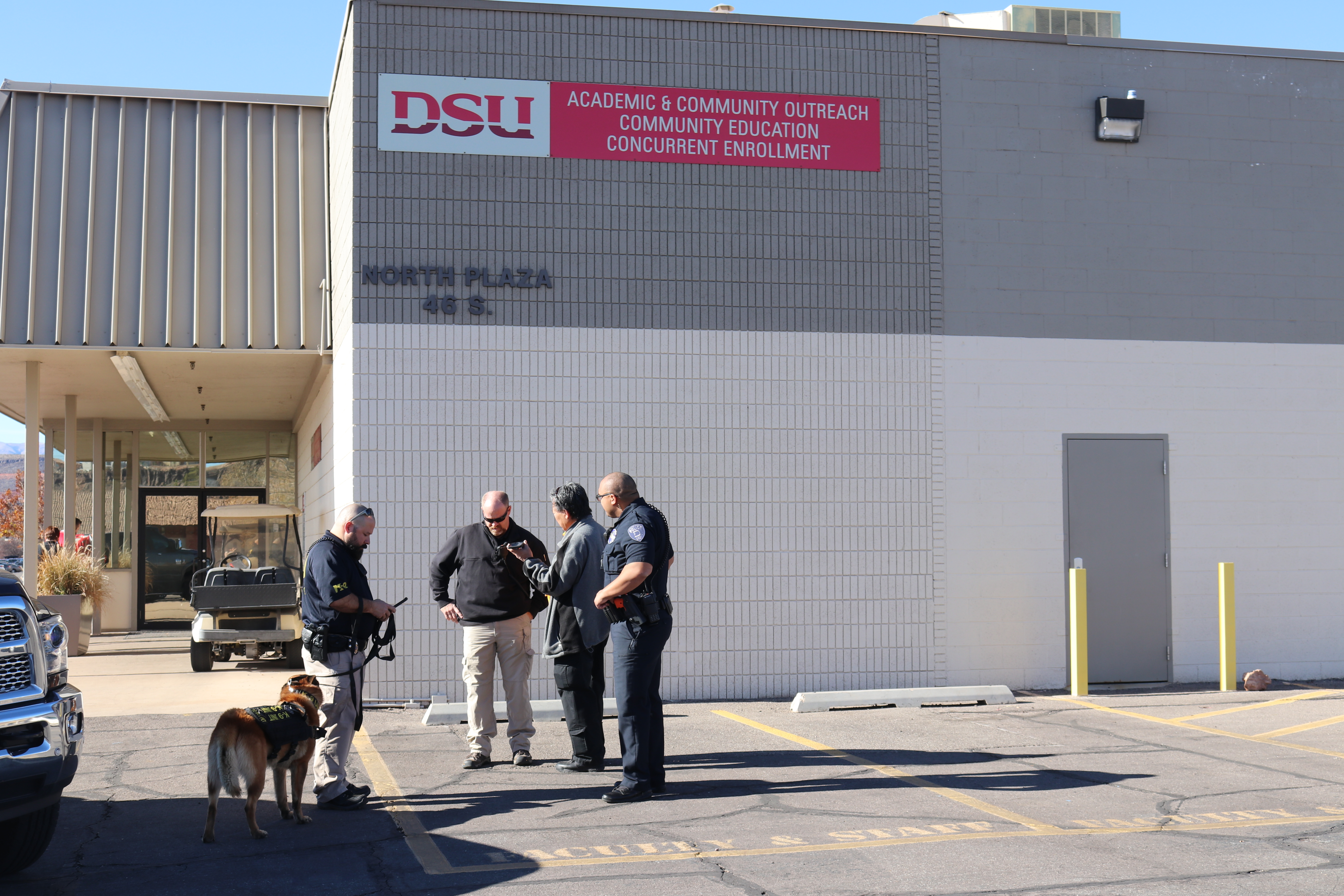 Photo by Madison Anderson.
---
The Dixie State University North Plaza Building and Student Testing Center were evacuated by DSU Campus Police and Fire teams, and students were asked to stay away as a bomb threat was issued Thursday.
DSU posted to Twitter at 11:55 a.m.: "St. George Police & Fire have responded to a bomb threat at the DSU Testing Center, located in North Plaza. The building has been evacuated and everyone is advised to stay clear of the North Plaza Area. We will post an update as soon as we have more information."
According to a statement released by Blair Barfuss, chief of campus police, the DSU Testing Center received an email at 11:23 a.m. stating that a bomb had been placed inside.
"This was the first bomb threat sent in Washington County of this type," Barfuss said. "Due to the location and it being finals week, DSUPD and Washington County Bomb Squad responded and evacuated the Testing Center."
Barfuss said Utah SIAC and the FBI were alerted to the threat, and dozens of identical emails were appearing across the state. A certified bomb dog and officers cleared the building, and the DSU Testing Center was reopened after one hour, Barfuss said. At this point, dozens of locations across the nation were receiving similar emails, he said.
"In general, the emails are poorly written, contain multiple typos and grammatical errors, and request money be sent to a link requesting $20,000 in Bitcoin," Barfuss said. "If you have received any email similar to this, please forward the email to me and I will provide them to the FBI Bomb Squad commander in Salt Lake City."
DSU tweeted that all other areas of the university are open to students, faculty and staff.
Students received texts from the university that read: "Bomb Threat at the North Plaza Testing Center. Police and Fire are on the sene (sic). Evacuate the area and stay away."
Landon Kinder, a junior business administration major from Salt Lake City, was halfway through his micro economics final when he was told to evacuate.
"… One of the people from the front desk came into the testing area and told us all that we had to evacuate," Kinder said. "Nothing else was said and everyone gathered up there (sic) things and began to exit the building. I didn't find out it was a bomb threat until I spoke with the women (sic) who gave the alert on my way out of the building."
Nicole Woods, a sophomore general education major from Las Vegas, said she was in the Jeffrey R. Holland Centennial Commons building when she heard an alarm and received the text.
"There was just an alarm and warning that popped up on all the computer screens in the library," Woods said. "Everyone looked around for a second and then continued studying. I was worried but unsure how serious it was. I received a text and the same message appeared on all [of] the computer screens."
DSU alerted students that the investigation was over at 12:51 p.m. via Twitter by writing: "A thorough search and investigation has been completed. No bomb found. The North Plaza has been cleared and the building is now open."
Twitter user Mike Robson said multiple businesses and other universities around the country are facing similar events as he waits outside the One City Plaza in Raleigh for 45 minutes. NBC also reported dozens of bomb threats all over the country.