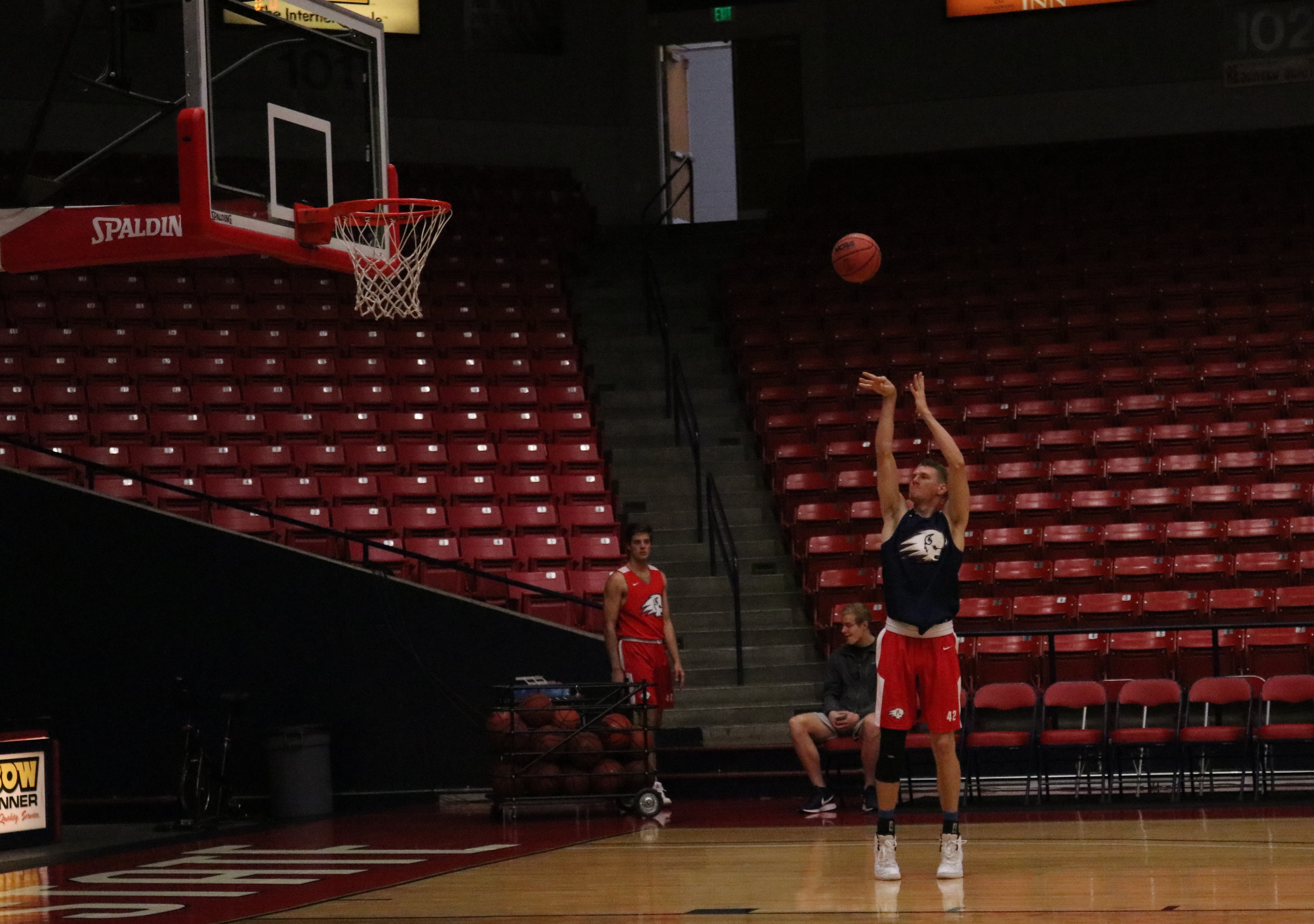 Photo by Madison Anderson.
---
Dixie State University's men's and women's basketball teams played against their in-state rival Westminster and lost this Saturday. 
The men's team ended its game 64-68, while the women's team scored 61-81. 
This season, the men's team has won two games and lost two games; the women's team has won three games and lost one game so far.
Forward Quincy Mathews, a senior business administration major from St. George, said every day counts and last week the games were a great prep time for the team for their upcoming games. He said the two games gave them the chance to watch how the Westminster team plays.
"We're able to scout them pretty well and I think that's very beneficial," Mathews said. "[Westminster] was doing the same to us, but I think it's an advantage, when the team you're playing next weekend is down here."
Guard Dason Youngblood, a sophomore communication studies major from South Jordan, said he is practicing hard and doing what the coaches say. He said the team prepared by being focused throughout the practices leading up to the game.
Also, the team prepares for the game with its practices and checking up on each team mate, Mathews said. 
"Working hard and smart with our teammates, and not thinking about myself and [instead] thinking about what I can do for the team and how I can make my teammates better, " Youngblood said. 
Mathews said the way to ensure constant victory is to be steady with their drills and to practice like they will play in the game.
"The team is working on camaraderie," Mathews said. "Outside of offense and defense you have to have to be friends on and off the court."
The team tries to become each other's friends and that builds trust on the court, Mathews said.
Much like the men's team, the women's team had a chance to scout their competition, just through a different method.
Guard Keslee Stevenson, a sophomore exercise science major from Willard, said they did a scout break down as a team and watched film on the other team to see how they work together and where they can disrupt their game and win.
Assistant coach Nicole Yazzie said the women's team is hoping to guard its opponent and create its tempo during the game. The women practice every day on one-to-one defense to get better, she said.
The team talked about habits and the little things that create an impact in the team performance, Stevenson said.
"Little things, like we start out with fives," Stevenson said. "So, we give each other high fives before we start stretching. Just little things like that help you in your technique to be prepared for the game."
Along with practice, team chemistry is important, she said. It helps every team member know they trust each other, she said.
"This is like a family," Stevenson said.  "[And] we treat it as one. And we love each other."
Yazzie said the team is doing great together so far this season.
"I think they have done a good job being together and having great leadership from our seniors," Yazzie said. "They have done it very well and handled [the responsibility] really well."