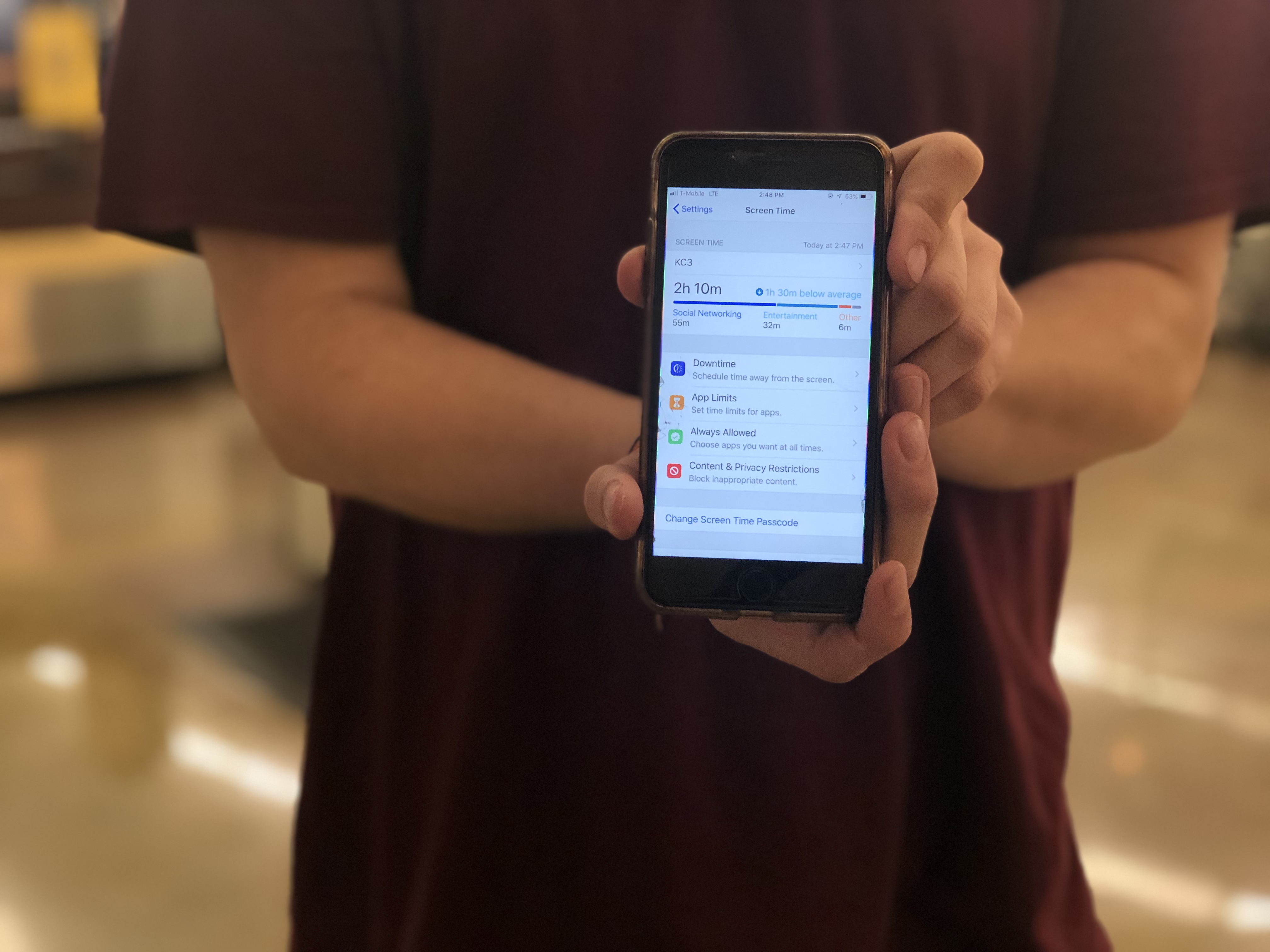 Photo by Jessica Johnson.
---
There's a stigma that younger generations spend far more time on their phones than older generations.
However, there was no definitive way to determine just how much time a user is spending on their phone. Enter iOS 12, and one of its several updated features: the Screen Time menu.
This feature, introduced on Sept. 17, breaks down how much time an iPhone user spends on their phone daily. In addition to that, it shows what apps they're using the most through percentages. 
Hermione Maloney, a sophomore pre-med biology major from Albuquerque, New Mexico, said she definitely believes younger generations spend more time on their phones.
"The younger people grew up with this technology at their fingertips and adapt easier to the new technology," Maloney said.
Maloney was surprised at how much time she actually spends on her phone. Before checking her Screen Time app, she believed she spent around three hours a day on her phone.
"I use it mostly for streaming and everyday use," she said.
However, her screen time report said her average is between seven and eight hours of usage per day.
"I thought I was pretty good about not being on my phone," Maloney said. "I was wrong."
Drew Wilcox, director of the physical therapist assistant program,  said he thought he only spent around 15 hours a week on his phone. His app, on the other hand, reported he spent 19 hours and 25 minutes in the previous seven days.
Wilcox said he would expect younger generations and older generations' usages to be about the same.
Maloney said Apple, and other large companies for that matter, market most of their products and advertisements toward younger generations, so it's no surprise that younger generations use technology more.
Carla Navarette, a freshman mechanical engineering major from St. George, said she thinks younger generations spend more time on their phones, but marginally so.
Navarette said she expected to spend an average of two hours a day on her phone, but her report stated four hours. She said she was surprised at this difference.
Wilcox said he believes the rise of phones and students on their screens in the classroom is a good thing, depending on how students use it.
"I've personally seen students get distracted by social media and other games," Wilcox said. "But there's so many other good apps for students to use out there."
Wilcox said he suggests students spend more time on educational and research apps. He said he personally recommends iOrtho and Grey's Anatomy to his students.
Though most data suggests that Gen Z uses smartphones more than any other generation, there's no denying that we're living in a technology-dominated society. This addition of the Screen Time feature may help users take a step back and reexamine just how much time they're spending on their smartphones.