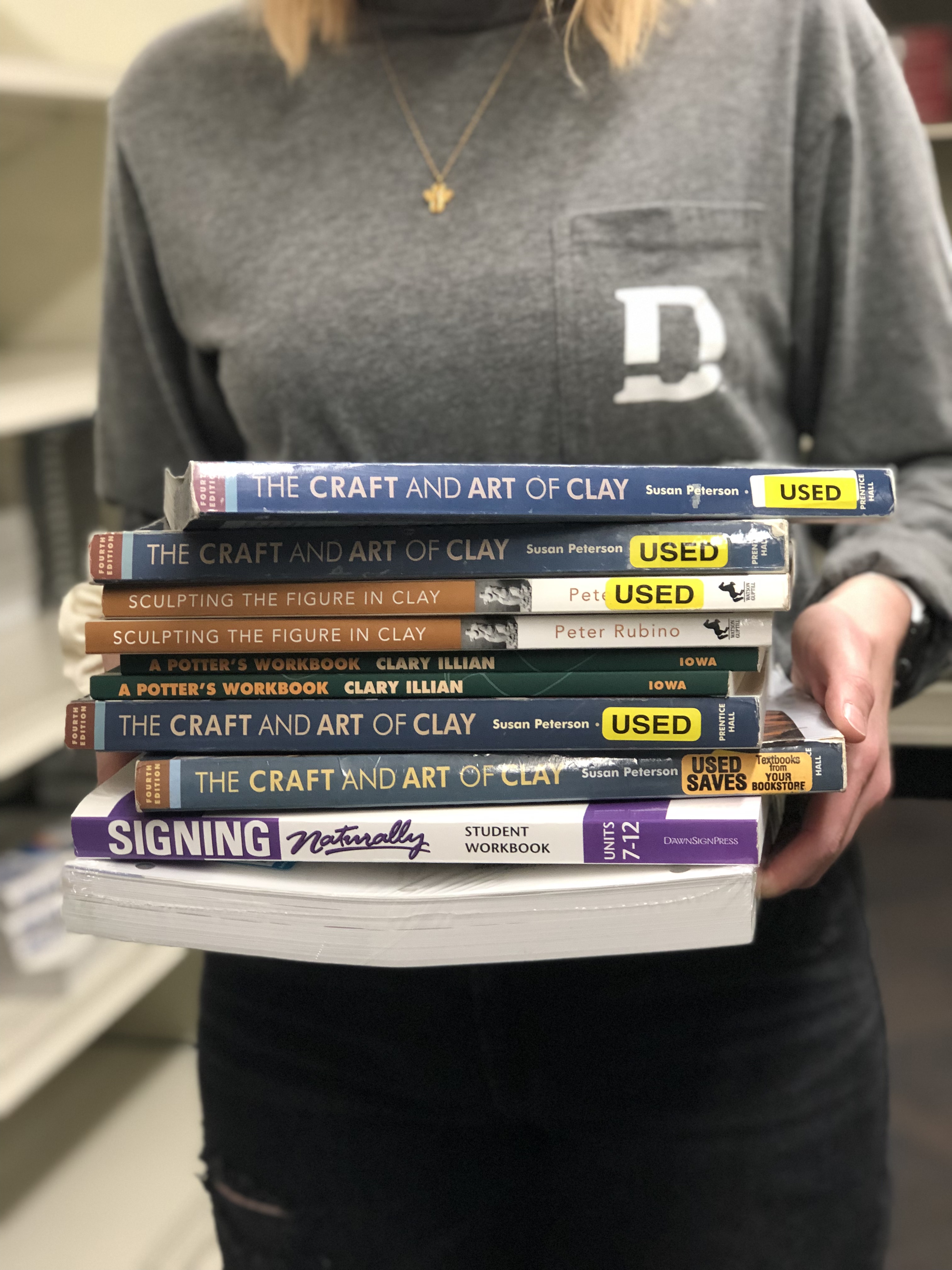 Photo by Jessica Johnson.
---
Purchasing textbooks at the start of a semester is inevitable. Often, required texts are expensive, motivating students to seek cheaper alternatives to buying the books they need.
According to the website for Dixie State University's campus store, the textbook for cellular biology course 3550 is $122.50 brand new. Other texts on the website are similarly priced for new copies. Used books are available on the website and at the store, such as "Boxing Plato's Shadow" ­­— a required text for Comm 2700 — which sells for $12.95.
Textbook manager Claudia West said the price of texts depends on what a professor orders from the publisher. She said if the ordered material requires an access code, the book must be sold at the publisher's price. There is a new program DSU is implementing to aid students in purchasing textbooks, she said.
"What we are doing now is, any professor that is requiring an access code, we have now partnered with a number of publishers to do what's called inclusive access," West said. "That is where the price has been drastically reduced, the students would go to their Canvas account…where they would have access on their first day and their My Dixie [account] would be charged a course fee."
Students asked about inclusive access weren't aware of it, but they spoke of other ways they save on textbooks; one of those ways is by shopping online.
"I use Amazon and then I search for the cheapest book," said Ryley Lyons, a freshman elementary education major from Salt Lake City. "They're not always in, like, perfect condition, but I think I had six textbooks and they were, like, $175 in total versus $300."
Shanna Gibb, a junior communication major from Stansbury Park, said she price checks her texts to see what her options are. She said she goes on Amazon, to the campus store and chegg.com to see who has the best price. The difference in price is between $5 and $10.
"My best luck is chegg.com where you just go [online and] rent it for the semester and then send it back," Gibb said. "They don't charge you shipping at all, you just go on and get it. Sometimes [the campus store] is cheaper to rent."
A major reason books are so expensive now is due to publishers not having the ability to publish books in smaller quantities, West said. Twenty years ago, publishers were able to print 10,000 books, then print more as needed, she said. Today, publishers have to print all of the copies that have been ordered at once to compete with the availability that online companies like Amazon provide, making the cost go up, she said.
"Sometimes it's nice to get used [books] because sometimes you can get [them from] students who [have] written in side notes, or different things in the textbook that I find helpful," Gibb said.
Students can look at their schedule as early as two weeks before the semester begins, West said. This way, students can know in advance which text books they need and decide if they will need to take advantage of cheaper options or order new books from the campus store for delivery or pick up, she said.