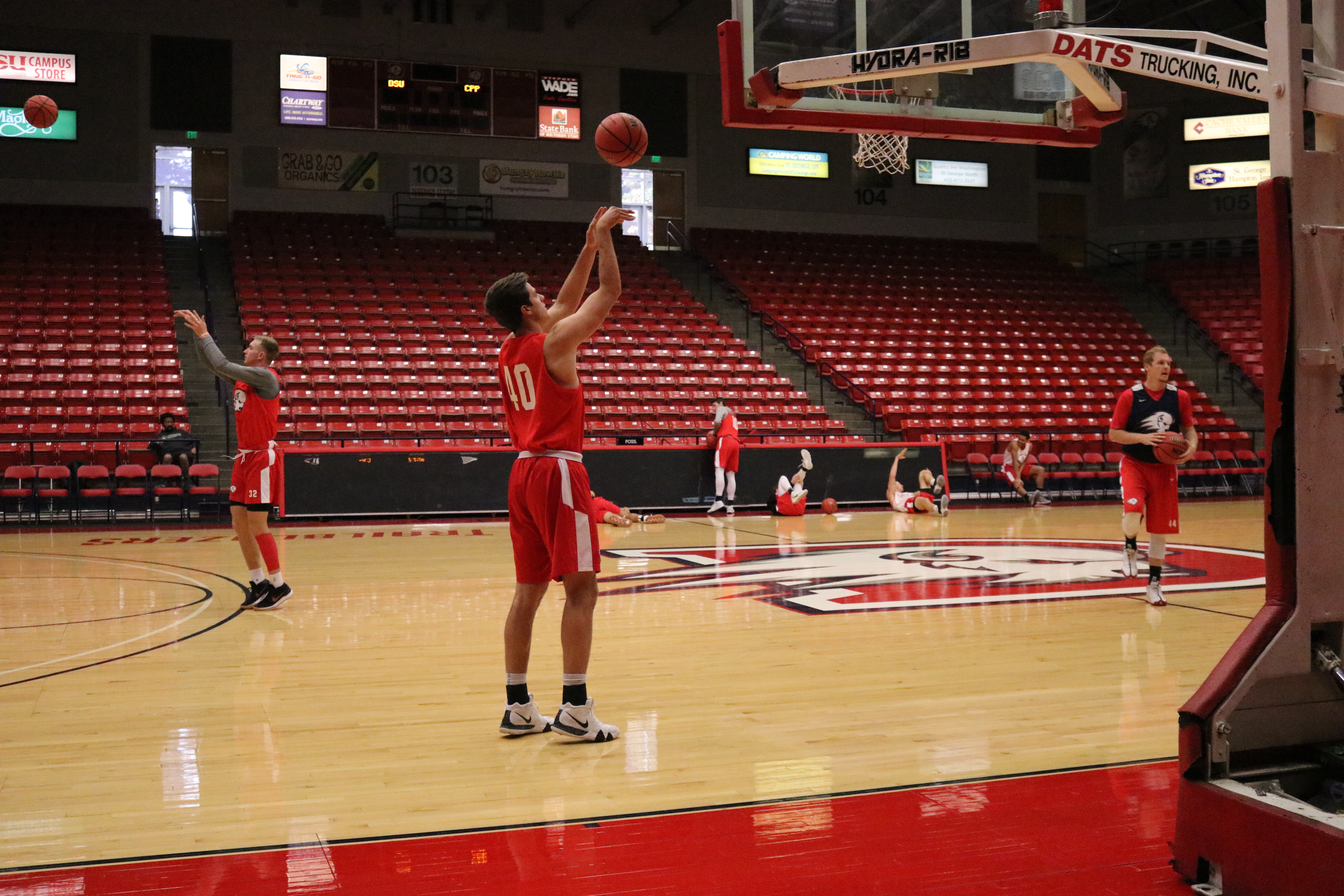 Photo by Madison Anderson.
---
The Dixie State University's men's basketball team hosted the Thanksgiving Classic Tournament this weekend in the M. Anthony Burns Arena.
The Trailblazers were 0-1 after losing their home opener against Cal Poly Pomona. After getting only 17 points on the scoreboard in the first half, the Trailblazers picked it up and scored 49 points in the second half, making it a close game. Despite fighting hard to come back, DSU still came out short in the end making the final score 66-72.
Matt Conway, a junior pre-med and Spanish major from Chandler, Arizona, said his team's greatest strength is when they play together.
Conway put up 25 points against Western Oregon University for the final game of the Thanksgiving Classic and 12 points against the Academy of Art.
"We're excited to get back and try to hopefully be 2-1 by the end of the weekend," Conway said. "[I] heard they're some pretty good teams, so we're just excited for the competition to show what we can do."
Head coach Jon Judkins said what they learned from the CPP game is to come out strong from the start.
"We got to come ready to play right from the start," Judkins said. "We can't get down 19 points and then fight that hard to get back, we got to fight that hard at the beginning."
The Trailblazers had a victorious weekend defeating both the Academy of Art 77-68, and Western Oregon 80-70.
"They're both really good teams so we're going to need to play defense a lot better, [and] not get down by so much and try to make up the lead," Wade Miller, a redshirt senior from Tremonton said.
Miller had a game-high of 14 points in game two of the Thanksgiving Classic against the Academy of Art.
"We want to play the best teams we can early to get us ready for conference play, and these two teams are just going to be that," Judkins said.
DSU men's basketball is now 2-1 and will be on the road for their next game at Westminister College on Dec. 1 in Salt Lake City.