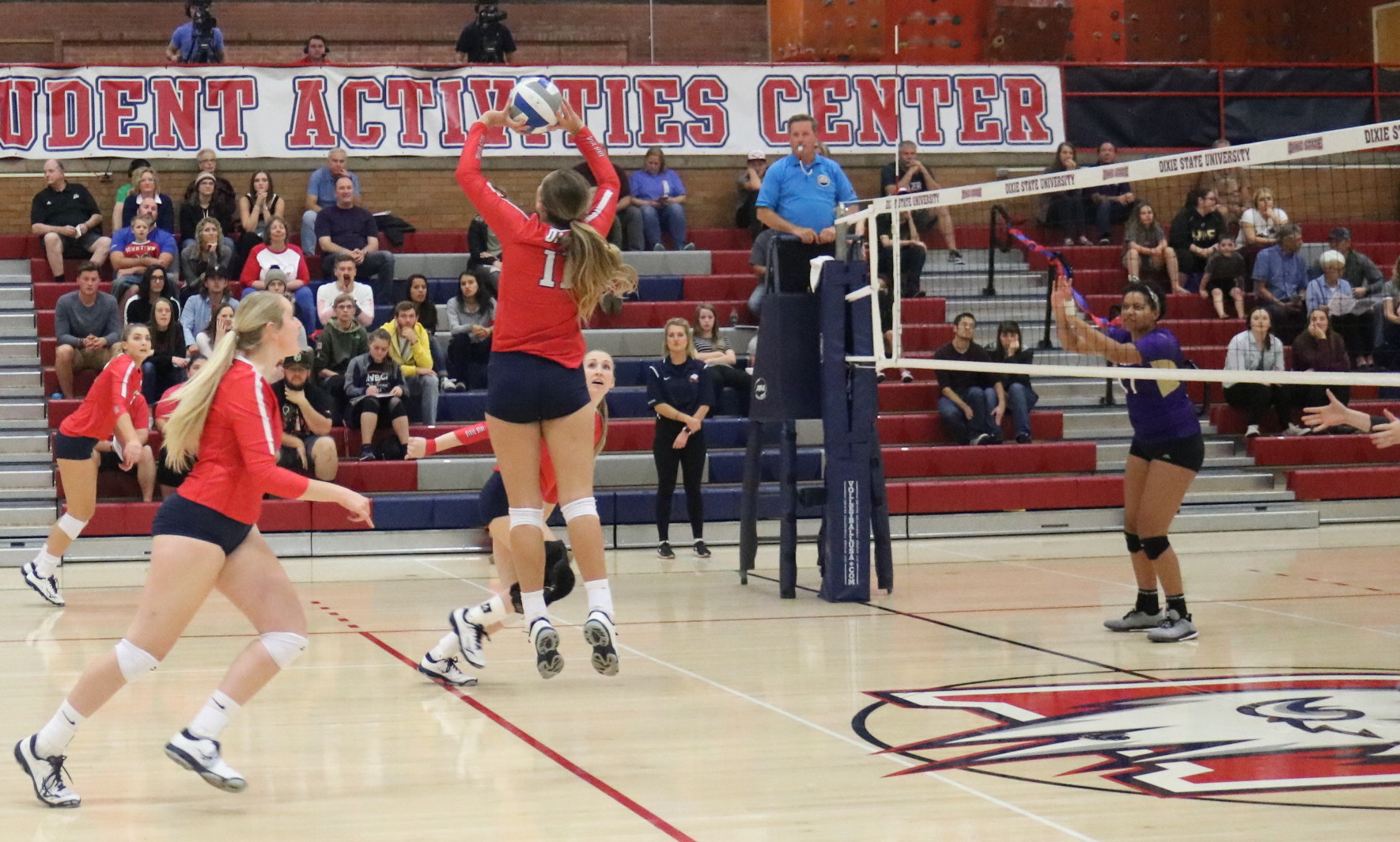 Photo by Kaitlynn Latham.
---
Dixie State University volleyball has completed the best season in its division II history.
After climbing its way to the quarterfinals, DSU could not overcome a final cold-hitting night as the No. 2 seed team for a 2018 RMAC women's volleyball tournament title came to an end Nov. 16  at the Lockridge Arena. The 3-1 loss against Colorado Mesa was the only victory CMU could get out of the last four matches between the two teams. 

The loss ended the Trailblazers' eight-match win streak leaving the team 22-5 overall, while the Minnesota State Mavericks moved on to play the winner of the second semifinal match between top-seed and host Colorado School of Mines and No. 4 seed MSU. 
Specific players like Megan Treanor, a sophomore communication major from Salem, had substantial RMAC awards throughout the season and ended with high standings. 
Treanor also finished second in assists (287), fifth in digs (128) and fourth in blocks (78). Treanor was named RMAC Offensive Player of the Week on Sept. 17 and has posted double figures in kills in nine RMAC matches. 
"My best season yet, hands down," Treanor said. "What a good thing to say as a sophomore."
The loss was the end of the RMAC tournament for DSU but was not the end of the season, like most assumed. The loss did not prevent them from moving on in the NCAA Women's Volleyball South Central Regional Tournament.
The next day, DSU saw its 2018 season come to a disappointing end as the Trailblazers were stopped in three sets by Colorado Mesa in the first game of the NCAA Women's Volleyball South Central Regional first round Nov. 17 in Fort Worth, Texas. 

At the conclusion of the season, head coach Robyn Felder was named RMAC Co-Coach of the year.
"It was a surprise," Felder said. "A good one, that I am grateful and excited for."
Outside hitter Hannah Doonan, a senior media studies major from San Dimas, California, said she was personally expectant for Felder to be recognized.
"The team was strong but her coaching was stronger," Doonan said. "We could not have been as successful as we were without her."
DSU finished the season with a 22-6 overall record. The 22 wins also tied the program's NCAA-era record for overall victories.