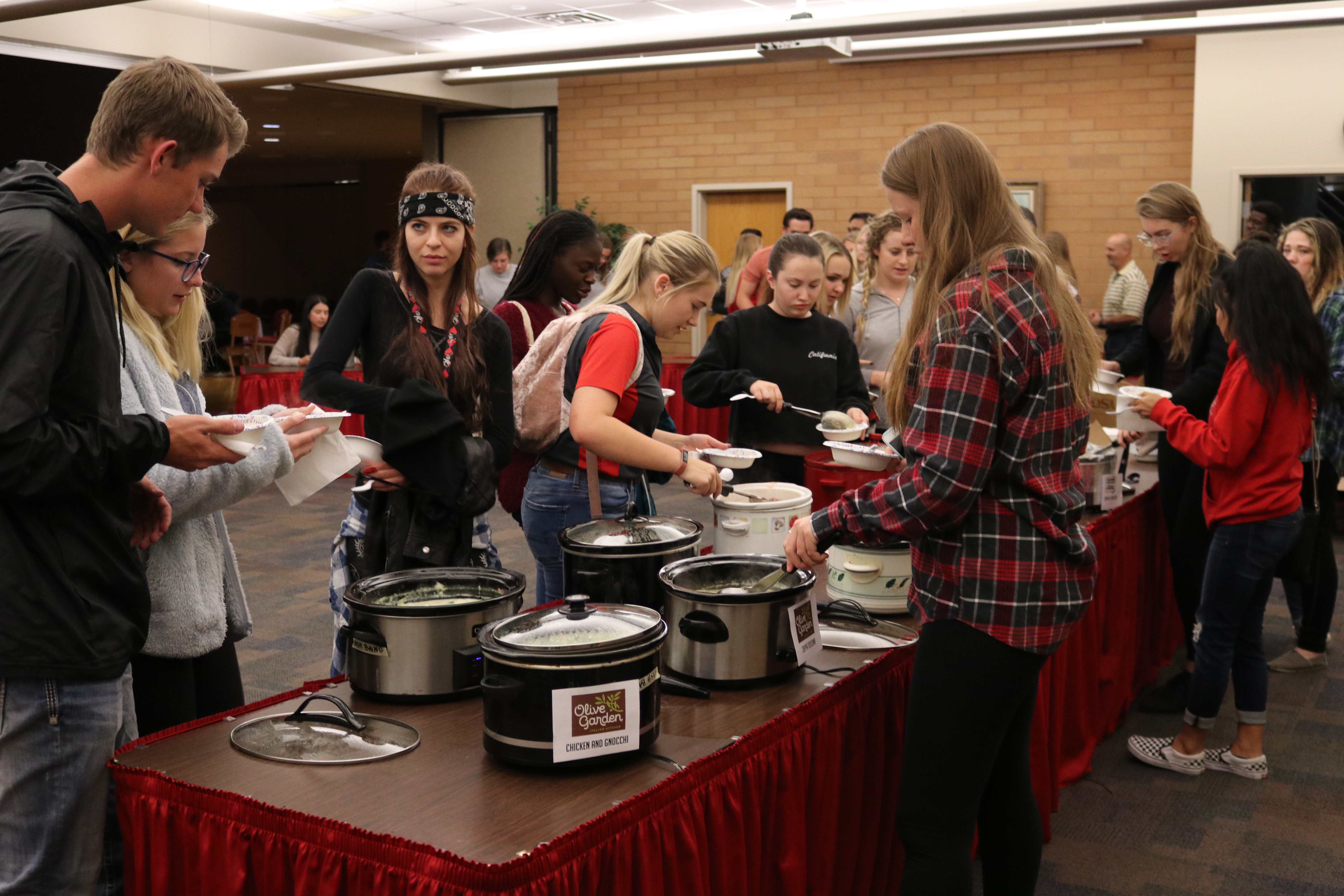 Dixie State University students fill their bowls with soup during Bread and Soup night at the Kenneth S. Gardner Student Center, hosted in part by DSUSA. The Miss Native Dixie pageant was postponed and will be held Jan. 29 due to an oversaturation of events. Photo by Madison Anderson.
---
This year the Miss Native Dixie Pageant, originally scheduled to be in October, was postponed until early 2019 due to tight scheduling of the Miss Dixie State and Miss DSU International pageants.
Mike Nelson, assistant director of the Multicultural and Inclusion Center, said because homecoming was at the end of October and the Miss DSU International pageant would be happening a few weeks after Miss Dixie State, it was decided to have Miss Native Dixie moved to January.
"The way that the programming went this year, it put three potential pageants back to back to back," Nelson said.
There is a scheduling meeting before every semester where DSUSA, International Student Services, the Multicultural and Inclusion Center and other departments get together to plan events for the semester.
At this meeting, Amber Denning, international student life coordinator said DSUSA expressed their desire to help ISS with their Wednesday event for international education week.
"The [Miss DSU International] pageant was supposed to be on [Nov. 14]," Denning said. "They had Miss Dixie two weeks [before] and they were supposed to have Miss Native Dixie [Nov. 7] and so then they were like, 'We don't want to have another pageant the next week,' so we moved our pageant to [Nov. 13].
Having three pageants one after the other is not a bad thing, Nelson said. However, considering marketing for each event and the likely hood of students wanting to go to one pageant more than another, moving the dates of Miss DSU International and Miss Native Dixie was more ideal, he said.
Nelson said one of the goals for the scheduling meeting is for each organization to work together in planning their events so one group's events don't take precedence over another and collaboration with DSUSA, ISS and other departments is encouraged.
DSUSA decided to partner with ISS for their "Soup Night" event, Brett Coleman, vice president of public relations and a junior communication major from Midway, said. The event was an opportunity to get food donations for the food pantry and both DSUSA and ISS realized it was also an opportunity to have dinner and a showcase, he said.
"[DSUSA] planned all the dinner and food side of things and [ISS] planned the showcase," Coleman said.
The decision to collaborate with DSUSA on their Wednesday event resulted in Miss DSU International being moved to Nov. 13, Denning said.
Both Denning and Nelson said moving their pageants is part of all DSU's organizations' new initiative to collaborate and work with one another toward more inclusiveness across the campus.
"The main reason why we as an association strive to do that is so that students can see that we are their association," Coleman said. "It's an association made up of all the students and we want to make sure all the students benefit from that. And so those other organizations are a huge part of what we do. When we partner together, we are able to help more students."
Nelson said moving Miss Native Dixie to January has allowed the participants in the pageant more time to prepare. He said the MIC has events every month and moving the pageant to January made sense when considering the timing between the end of fall semester and events planned for February, March and April.
The Native American Film Festival is Nov. 27 at the Dunford Auditorium and is free to the public. Miss Native Dixie will be Jan. 29. Nelson said the Native American Student Association meets Wednesdays at the Multicultural and Inclusion Center. Students who want to get involved with any of DSU's organizations can access more information on Blazer Link, the new clubs and organizations website for DSU.