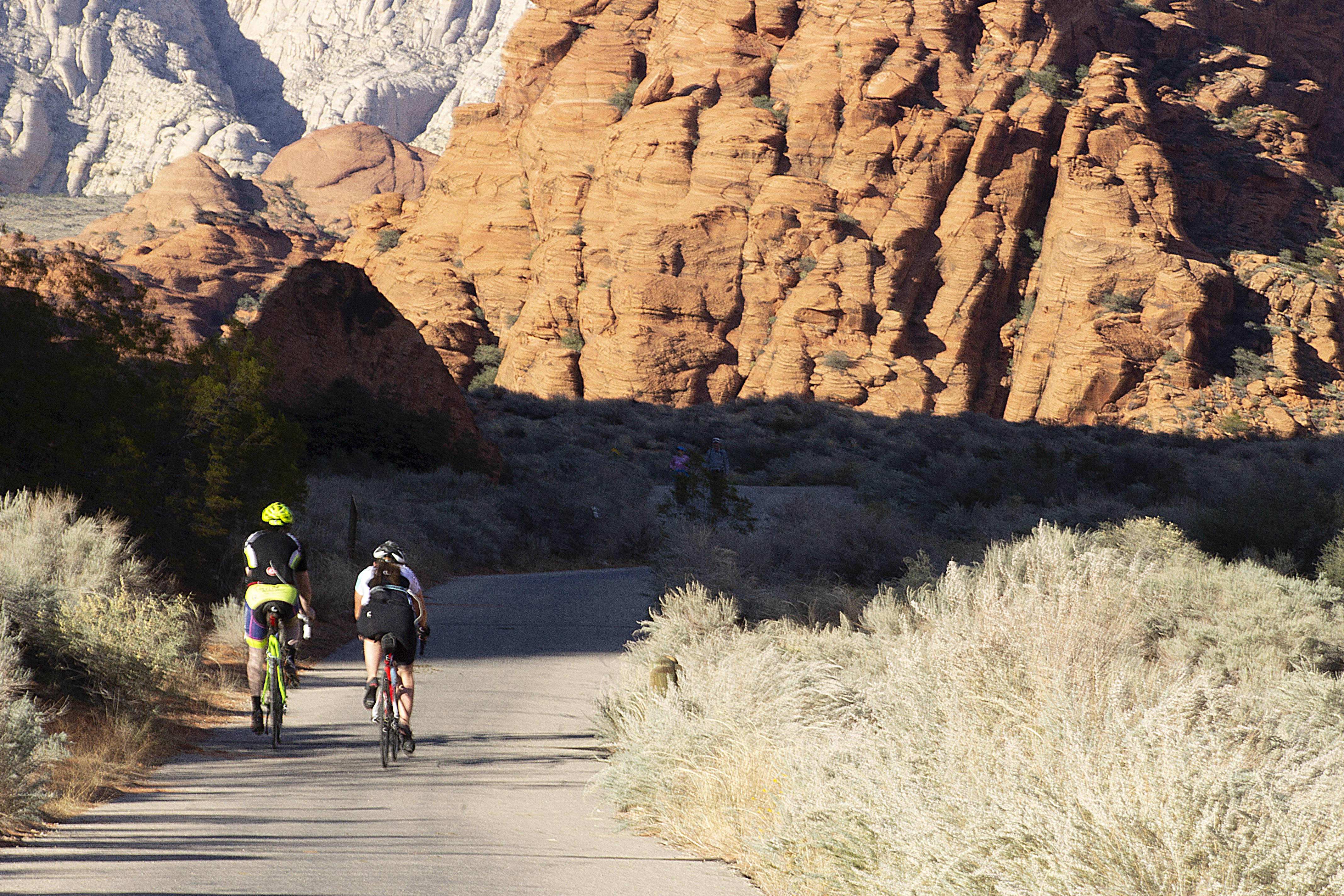 The Snow Canyon State Park Overlook off of Highway 18 is a great spot to view the entire canyon. The Petrified Sand Dunes are among the more popular hikes for park visitors and residents of St. George. Photo by Jonathan Holland.
---
Snow Canyon State Park is a popular place for residents of  St. George to hike and experience picturesque views, though hiking and sightseeing are not the only activities available there.
Traversing the trails, climbing the Petrified Sand dunes and looking at the scenery are only a few of the things visitors can do at Snow Canyon, park manager Kirsten Comella said. Mountain biking, technical climbing — rock climbing that requires more advanced technique — horseback riding and canyoneering are available there as well, she said.
According to the Utah State Parks website, the 7,400 acre park is part of the 62,000 acre Red Cliffs Desert reserve, and became a state park in 1959, opening to the public in 1962.
One reason for its popularity with locals is its proximity to St George. A short drive down Red Hills Parkway or through Santa Clara along Snow Canyon Drive will bring you to one of three park entrances. The third entrance is accessible by driving on highway 18 toward Veyo.
"I would say we are located approximately 10 miles from downtown St. George," Comella said. "Essentially, St. George residential areas are right on our boundary though."
When looking at a map of the 19 trails in Snow Canyon, at least six of them are accessible from neighborhoods in Santa Clara and St. George.
"Residents and students, they get to do a fun hike that's close by," said Marcus Lindsey, a sophomore psychology major from Las Vegas, Nevada.
Olivia Ray, a freshman elementary education major from Detroit, Michigan, said she had once lived where there were lots of corn fields but no mountains, and her first time going to Snow Canyon was a special experience.
"It was pretty awesome to see a big canyon with all these different colored rocks," Ray said.
There are areas of the canyon that aren't as explored as the rest of the park, Comella said. One of those is the Gila trail, a nine mile hike in one direction. She said most people will plan ahead and stage multiple vehicles along the trail.
"Off [the Gila] trail, there's this hidden canyon and there's petroglyphs all on the walls," Ray said.
According to the website, ranger guided programs can be tailored to enhance core curriculum studies for Dixie State University classes, and schools in the Washington County School District when they go on field trips to the canyon.
"The park is at the intersection of the Mojave Desert, the Great Basin Desert and the Colorado Plateau," Comella said. "Because of that we have desert tortoises in Snow Canyon, you won't find those any place else in the state of Utah, except the very southwest corner of the state. We have other Mojave species like Sidewinders, Gila Monsters [and] Chuckwallas."
Comella said having the recreational and outdoor opportunities provided by the canyon so close to an urban area is a nice thing for the residents to have.
The cost to enter the park is $10 per vehicle for day use; Camping is available for $20 per night. Other information on fees and available activities are on the Utah State Parks website.