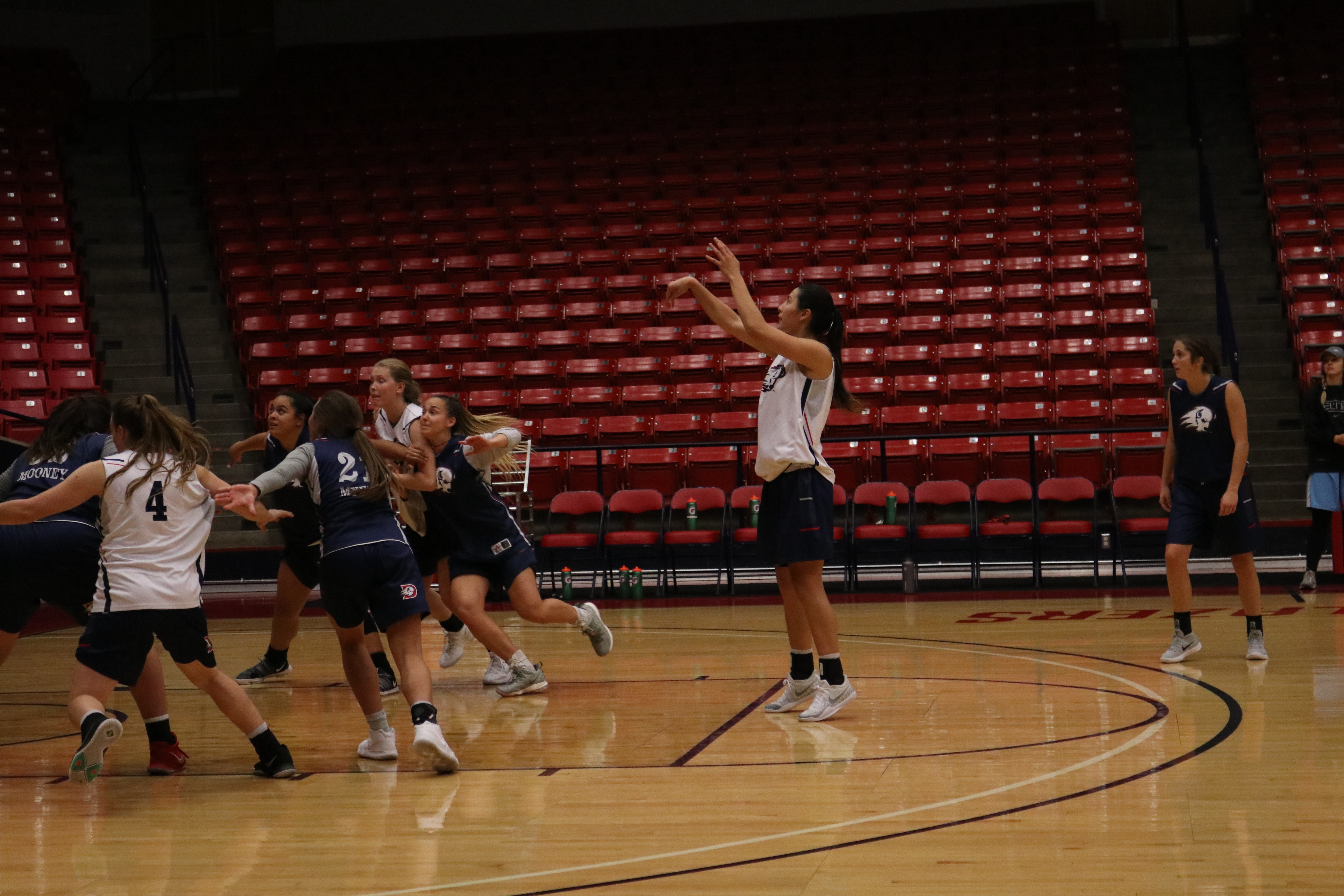 Photo by Madison Anderson.
---
Dixie State University's women's basketball team was unable to follow through with its early 4-0 lead as the team dropped its exhibition game on Nov. 6 to Brigham Young University, 83-56.
The Trailblazers are adjusting to playing with a different dynamic as they have welcomed five new freshmen and three transfers to round out their 15-player roster.
Guard Madi Loftus, a junior biology major from South Jordan, said the team is focusing on working together.
"We're a new team, and we haven't played together a lot, so we just need more experience and more time, but we'll get it," Loftus said.
Assistant coach Nicole Yazzie said she accredits defense as one of the team's strengths but says improvements can always be made.
"I think one of the biggest takeaways from the game is what we did defensively," Yazzie said. "What we can always improve on though is getting those 50/50 balls and transitioning to defense."
Offensively, the team was led by guard London Pavlica, a freshman nursing major from Las Vegas, Nevada, who scored 13 points, followed by Rashel Blazzard, a junior elementary educations major from Morgan, with 11 points. Together the team had 27 rebounds (20 on defense).
As the Trailblazers enter their first season in the RMAC, the team is taking it one game and one team at a time.
"I'm hopeful for the new conference," said Maile Richardson, forward and senior communication major from American Fork. "It's something different, and we will be learning something new, so it'll be good for us."
Yazzie said she is excited for the prospect of creating an in-state rivalry with Westminster College, who the Trailblazers will open their season against come December.
In the meantime, the team is continuing to capitalize on rebuilding.
"We're excited to be establishing a culture within the team," Yazzie said. "We've been working on that for the past three years, and I feel like we are on the verge of climbing a mountain, and we are getting there."
The team will continue their preseason games with a tournament beginning on Nov. 16. The Trailblazers are set to play Western Oregon University at 5 p.m. in the Burns Arena.