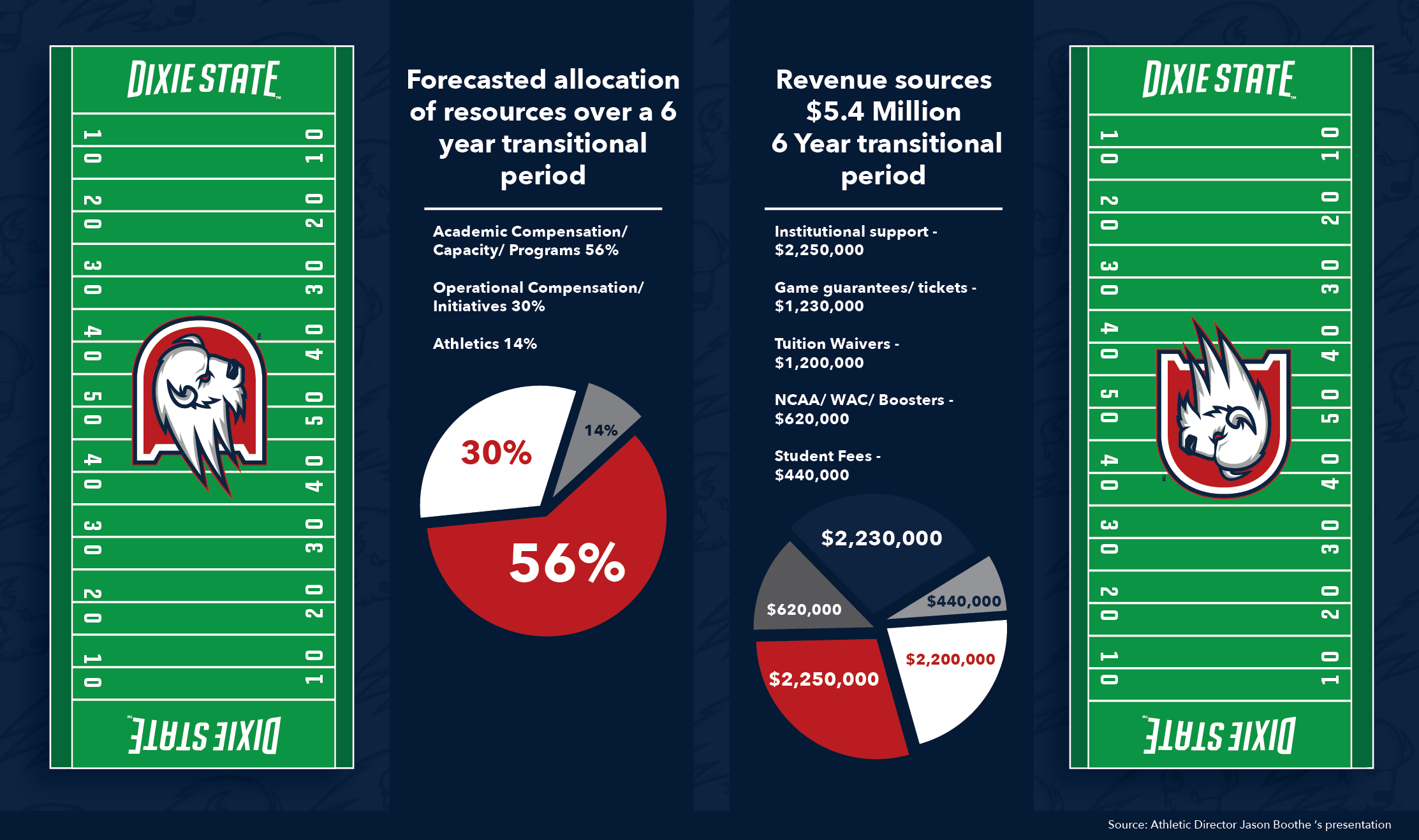 Graphic by Valerie De La O.
---
The Dixie State University Athletic Department hosted three on-campus meetings in the Kenneth S. Gardner Student Center to answer questions and present the pros and cons of taking the leap to Division I.
The forums opened the floor up to questions from faculty, staff, students and members of the community. Student-athlete Austin Montgomery, a senior bioinformatics major from Lilburn, Georgia, was able to ask questions and share his concerns during the meeting.
"I'm really excited about the possible move," Montgomery said. "It's kind of something that I thought was a natural transition ever since I transferred down here."
Fred Dungan, a member of the St. George community, was also in the audience and said he read all 90 pages of the "Division I Feasibility Study" available on the Inside Athletics page on the athletic department website, but still had some concerns.
Dungan started off his questioning by saying: "I have several questions on natural rivalries, and only three of [the schools named] play football. I read the 90-page dissertation, which I thought was crappy…"
He said the lack of mention for California Baptist University, the latest university to move to D1, in the feasibility document was a gross oversight. Dungan said the lack of a timeline within both the presentation and the document was worrying.
Athletic Director Jason Boothe said the idea to move DSU sports to D1 came about when the Western Athletic Conference approached President Biff Williams with an invitation to enter sports teams into D1 conferences. Boothe said without that invitation, making the move to D1 would not be possible.
DSU would be joining other universities such as the University of California – San Diego and the University North Alabama, which took seven years full of studies and discussion groups to go D1, Boothe said.
Dungan also said the document and presentation mentioned names of larger schools that would not immediately play against DSU teams, and he would like for the department to be more realistic.
Dungan said he felt like throwing out those names painted a false picture.
Boothe said if DSU were to join the long list of teams playing D1, the WAC agreed to waive $750,000 entrance fee and pay the $200,000 Rocky Mountain Athletic Conference exit fee.
"This is a really good deal and it is almost unprecedented for a conference to do this," Boothe said. "They want us, and they need us… They need schools."
Boothe said one of the biggest aspects stopping schools from going D1 is facilities, but DSU would only have to renovate the softball field, and this is regardless of the move.
Football will be independent, Boothe said, because there is no football conference in the WAC. This would mean the university would be in charge of contacting universities to schedule games and there is little to no guarantee. He said DSU would not consider entering the WAC without plans for the conference to add football at the Football Champion Subdivision level.
Because football will not count toward a male sport in the WAC, Boothe said DSU will have to add another male sport to qualify. DSU is looking to choose between sports that are already present on campus through the female teams, Boothe said. The added sport could be basketball, tennis and swimming.
Montgomery said he thinks the talent and community are two things DSU Athletics already has to help solidify the move, however, he said the major issue is going to be affordability and financial impact. He said the means in which the university plans on raising the money doesn't bother him, but he is graduating before increases are implemented.
"My concern would be if I was already here and we transitioned and I wouldn't be able to compete in championships, because that's the thing for me," Montgomery said. "That could be something that drives me away."
Montgomery said he has already played basketball for the University of Utah, a D1 team, before coming to play for DSU and there is virtually no difference.
"I've enjoyed my experience down here a lot more," he said. "It's just about finding the right fit and names don't matter."
The coaches are ready and excited, and recruiting would be "elevated drastically," Boothe said, and one of the first questions he had was whether the university would be able to afford the move.
DSU will be fully eligible in six years, including this year, Boothe said, but would need to pay a $1.7 million application fee by June 1, 2020 to begin on their ideal date of July 1 of 2020.
Boothe said DSU would raise money using institutional revenue increases, which encompasses tuition, tuition waivers, state appropriations and student fees. The program would also use athletic revenue increases, which would affect game guarantees, tickets, NCAA and WAC revenues, sponsors and boosters.
Boothe said student fees could increase $21 each semester to raise money.
However, Boothe said this will not affect faculty or staff compensation or current department budgets. He said the percentage of the overall athletic budget will decrease by 8 percent.
"We are not touching academic money whatsoever," Boothe said.
Montgomery said he is happy to hear that the money will not be raised by cutting faculty and staff salaries.
"[The financial aspect] seems very reasonable," Montgomery said. "I was really happy to hear that they wouldn't be taking anything out of teaching salaries."
Montgomery said later down the line he sees the move raising more money for the university in a way that benefits academics like bigger D1 schools.
The move would also increase enrollment rates, retention rates, completion rates and scholarships, Boothe said.
"There may not be another opportunity, but to be realistic… there will be another opportunity," Boothe said.
President Biff Williams will be the ultimate decider and the board of trustees will take a vote with a final decision on Nov. 30.