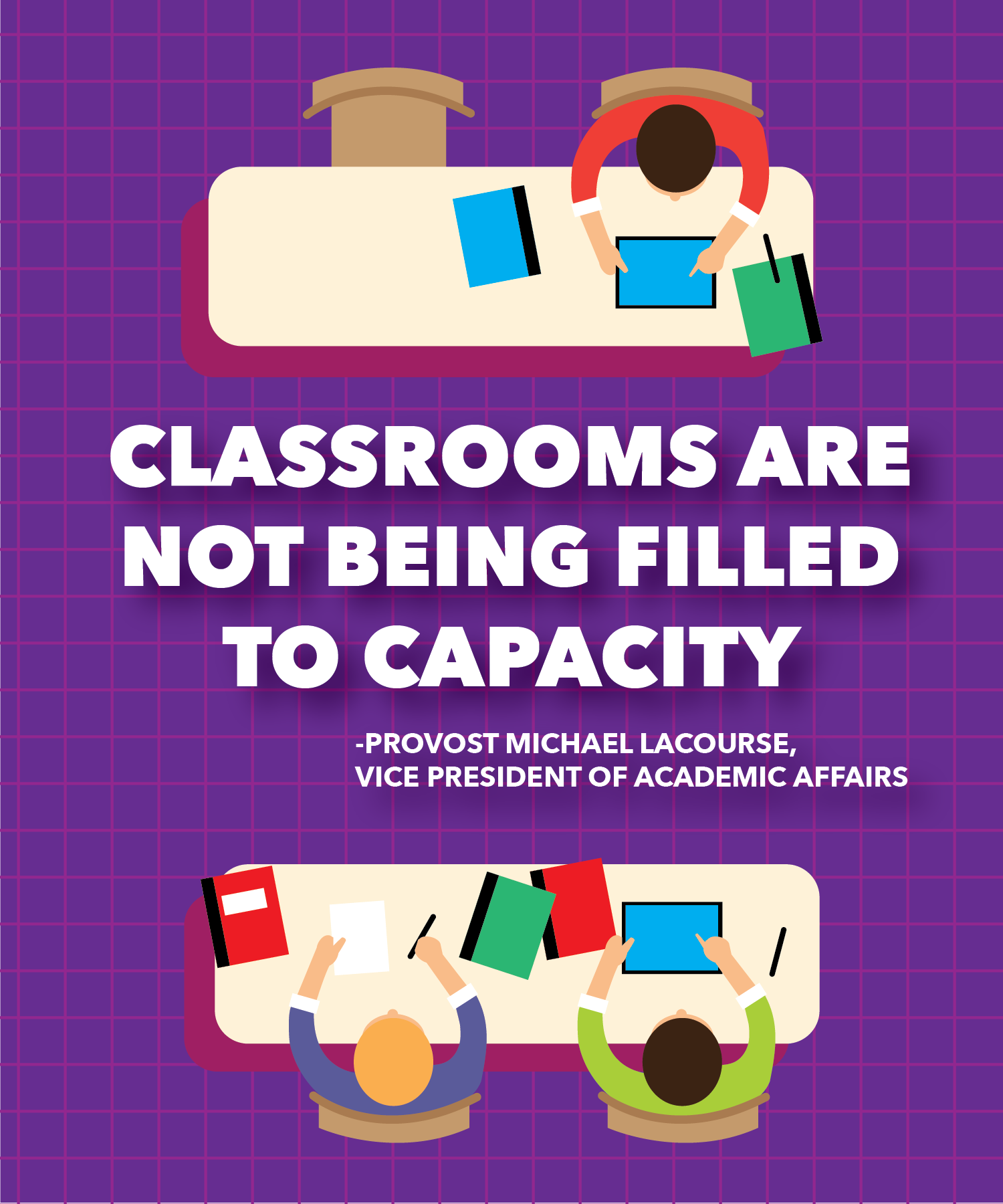 Graphic by Valerie De La O.
---
Changes are being made to class sizes in multiple departments at Dixie State University as the need to accommodate an increased student body becomes more evident.
Business and communication is the first department to receive this new mandate and it has faculty feeling the pressure of teaching more than 20 students per class, plus an additional class.
Provost Michael Lacourse, vice president of academic affairs, said the change is happening due to an observation revealing that some classrooms are not being filled to capacity. He said there are high demand classes being held in rooms for 25 students while there are classrooms with a capacity of 40 either not being used or only half full.
"We're asking [the] questions, do we have the right class in the right room at the right time?" Lacourse said.
Making courses available at specific times in more accommodating locations to be more beneficial to students will require faculty to adjust their own schedules.
In communications and media studies, there are faculty who teach writing-intensive courses, which are also response intensive, Department Chair Mark LaVoie said. He said this means those classes require the professor to give feedback on papers from individual students.
"By increasing some class sizes, what's happening is, if you had two sections before, you may have one class that is writing and responsive intensive," LaVoie said. "That also means that professor then has to pick up another class."
Faculty are currently scheduled to teach up to four classes. In classes such as interpersonal communication, the professor will teach the class on Monday and Wednesday from 10:15 a.m. to 11:10 a.m. and again on Tuesday and Thursday. Respectively, section one and section two.
LaVoie said if you consolidate one into another, that professor is still under contract to teach another class to fill the four-class requirement each week. He said the implication is that the professor teaching the course will not only have a larger class in their first section but the same size class for section two.
This increases the workload of that professor, which potentially takes time away from their ability to efficiently grade students work. Time faculty sets aside for their families would also be effected with professors potentially needing to take work home, LaVoie said.
"The change we are trying to achieve is not extraordinary," Lacourse said. "[Faculty] may end up having four or five more students in a class. I think that most of the change is small, incremental that gets us to that goal of twenty student[s] per class average that we're shooting for."
Lacourse said class size and student to professor ratios are decided by accrediting organizations. He said there are standards and recommended class sizes accreditors set depending on the discipline, type of content and skill development in each course being offered.