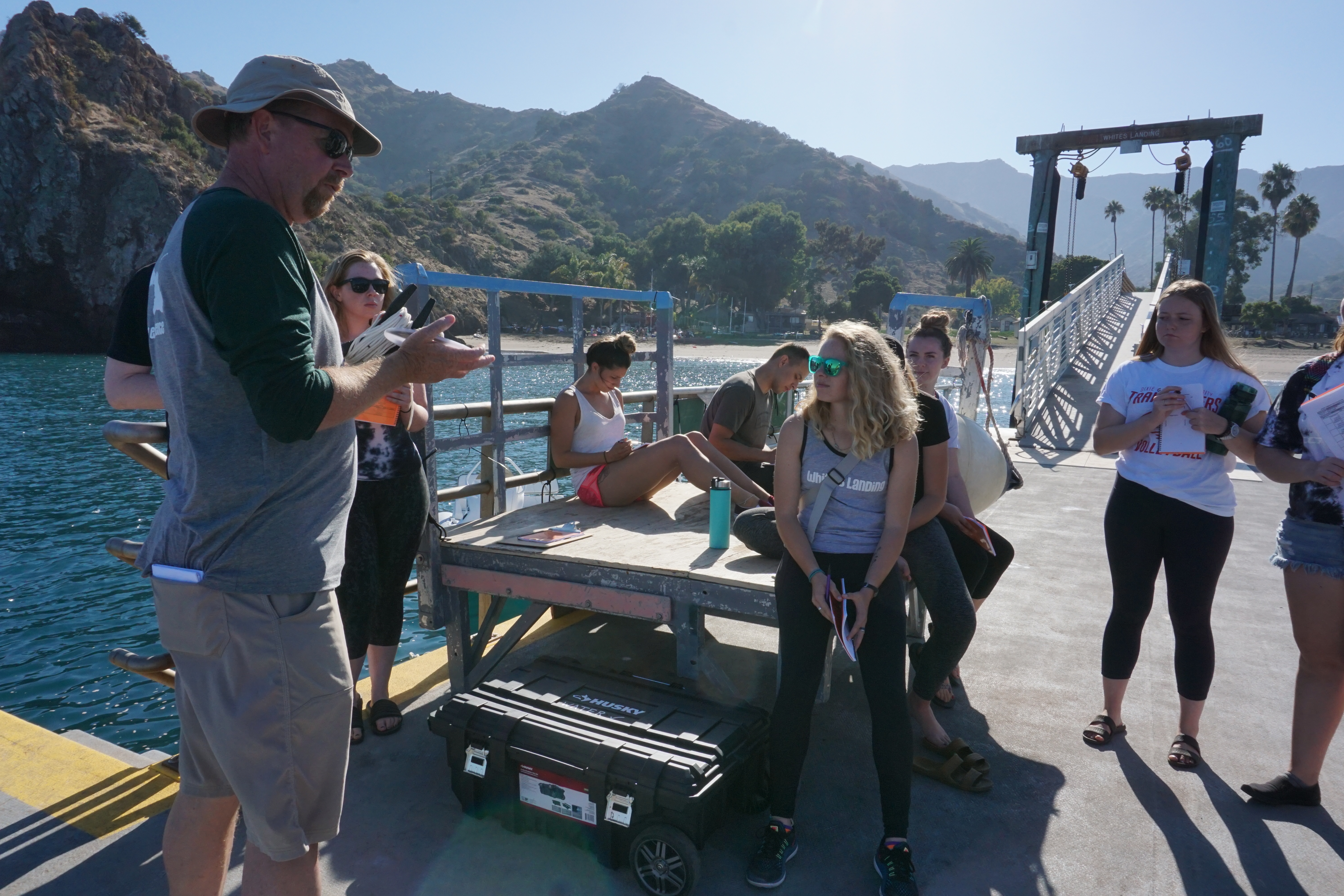 Professor Kelly Bringhurst conducts a water chemisty lab with a group of students at Whites Landing on Catalina Island. Each year, physical and environmental students are able to travel to Catalina for four days to fulfill their lab credits, however that is about to change with the closure of Whites Landing. Photo by Arielle Cabrera.
---
The Catalina Island physical and environmental science lab trip will be much different in the future as Whites Landing, the traditional location of this trip, will be unavailable for future labs.
During the four days students are on Catalina, they are almost constantly in an educational class taught by the professors with hands-on experiments and live creatures to observe in their natural habitat. On the most recent trip over to Catalina during October, the students had experienced activities such as snorkeling, animal hikes, plant identification hikes, kayaking and other hands-on lab activities.
After fifteen years of leasing to several different camps, the California Conservancy, which owns most of Catalina Island and Whites Landing, has decided to go a different direction with the leased land. Instead of an educational camp, staff of Whites Landing said it may be a glamping location to bring in more revenue.
Students will still be able to take the science lab alternative, it will just be in another location. For the spring labs, professor and coordinator Kelly Bringhurst said there will be a lab taking place on a boat instead of on the island. There will be thirty spots available for the spring boat trip which is much less that the eighty spots available in the past.
Del Smith, assistant coordinator and professor of environmental science said Zion National Park could be a temporary alternative as well.
Whites Landing is the most inexpensive camp on Catalina making the loss that much more devastating. Annie Howard, the program manager of Whites Landing camp said, "We make it affordable so they can enjoy the experience."
Howard, having been part of one of the previous camps held on Whites Landing, had seen girl scout camps, boy scout camps, and now what was funded by the organization "The Catalina Experience" finally come to a close after fifteen years. From grade school, all the way up to college-aged, the camps on Whites Landing have housed many people from all over.
"We give kids a chance to see what they don't see in the city," said Howard.
Bringhurst had first started Dixie State University's lab field trip to Catalina Island about five years ago and has been taking students back to Whites Landing every semester since. The camp provided an educational space as close to wilderness as one can get while also being cost-effective and reliable for the students and professors visiting.
As DSU motto is "active learning, active life" this lab alternative is a prime example of the educational goals here.
The professors who contribute to the four-day lab are sad to see it go. The science department takes hours and days out of their time to plan such a trip for students to have an alternative lab course that is not only educational, but unique.