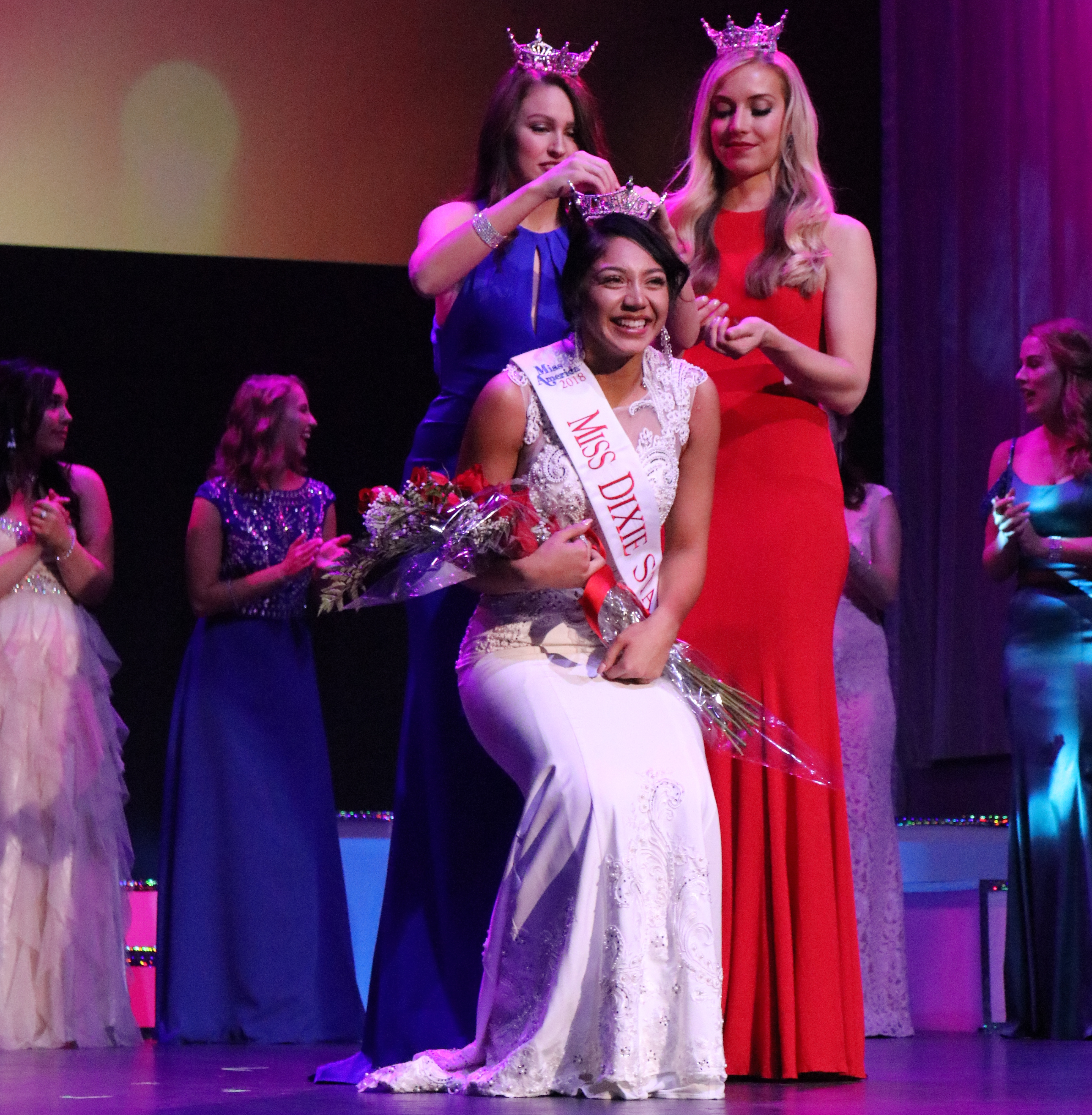 Photo by Madison Anderson.
---
The second night of Dixie State University's Homecoming Week ended with the crowning of Miss Dixie 2018.
Elleiana Habibian, a freshman biochemistry major from St. George, was crowned Homecoming Queen and received the Community Service award Tuesday night at the annual Miss Dixie Pageant.
"I am just so honored, I feel so blessed," Habibian said. "It's going to be a great year and I'm so excited to represent such a great university."
The community service initiative of DSU's new queen is "Live Naturally High" in an effort to reduce alcohol and substance abuse.
Habibian said she is looking forward to interacting with all of the students at DSU and is excited to hear their ideas for the year.
DSU Homecoming Royalty also included first attendant Bergen Nelson, a senior exercise science major from St. George; second attendant Sage Nielsen, a sophomore media studies major from Draper who doubled as the Miss Photogenic award winner; third attendant Ayrion Orton, a sophomore English major from Kaysville; and fourth attendant, Angela Roundy, a sophomore nursing major from Saratoga Springs.
The winner of the Dixie Spirit award was Amanda Kelsey, a communications major from Kearns. This award was voted on by the rest of the contestants. The Director's Choice award was awarded to Sydnee Wilding, accounting major from Willard, for being prepared, punctual and overall easy to work with throughout the pageant process.
Miss Dixie 2018 was also the first pageant to follow the new Miss America scoring guidelines. The categories consist of private interviews with the judging panel which made up 25 percent of the contestants' final score, on-stage interviews which accounted for 20 percent, the talent competition was 40 percent, and the evening gown showcase was 15 percent.
The swimsuit category was removed from the entire Miss America pageant system in June to minimize the focus of physical appearance in pageants, but has since stirred up controversy in the pageant community.
"I was sad to see the swimsuit part go because I loved being on stage and being a part of an exhilarating experience that way," Nielsen said. "But I also think it's important to focus on women, what they have to say, their social impact issues and the things they're bringing to the table that we truly need to be focusing on."
Former Miss Dixie, Ella Barlow, a junior biology major from Eagle Mountain said she cried a lot during dress rehearsals prior to the pageant.
"I just feel secure," Barlow said. "I knew that if any of them won I was going to feel comfortable passing down the crown to them and they were going to take good care of this university and represent it well."
Winners of the Miss Dixie pageant go on to compete for the Miss Utah title where they then have the opportunity to compete in Miss America.