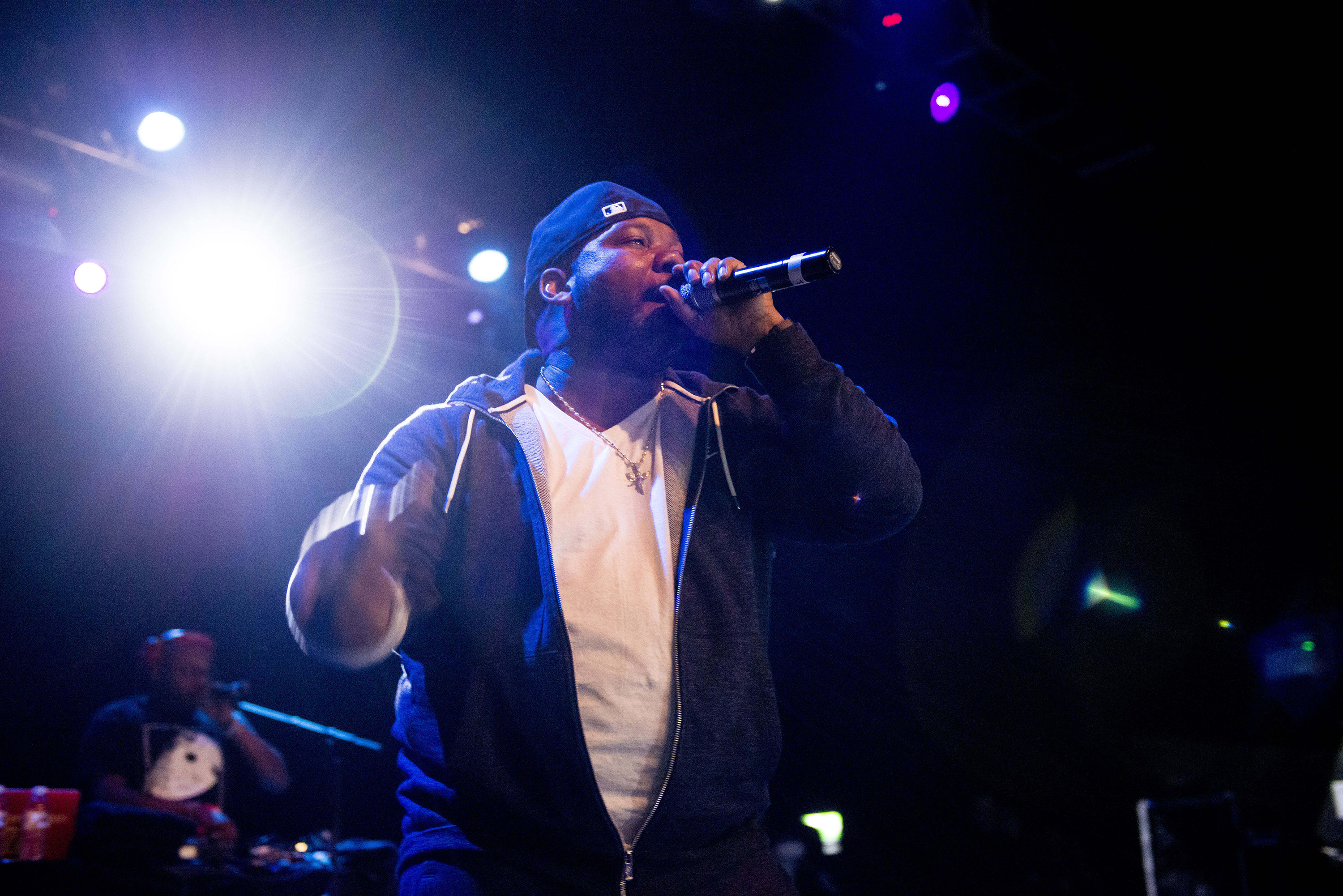 Raekwon of the Wu-Tang Clan performs Sept. 25, 2016 in London, England. TNS.
---
By Stephen B. Armstrong
Growing up outside Washington, D.C. in the 1980s, I listened to hip-hop a lot. However, it was mostly the party-friendly mainstream variety: RUN-DMC, Beastie Boys, LL Cool J. By the time I got to college, though, political rap had my attention: acts like Ice-T and Public Enemy that dropped rhymes about serious social issues, especially racism. KRS-One called this strain of engaged hip hop "edutainment," and its influence persists today, showing up in the work of Kendrick Lamar, Erykah Badu and Jay-Z.
Most people wouldn't call Wu-Tang Clan a band of edutainers. Albums like "Enter the Wu-Tang (36 Chambers)" and "Wu-Tang Forever" were perceived initially more as sources of gangsta-inflected club tracks than documentary renderings of urban distress. Track after track on these records, the band's primary producer, the RZA, concocted couch-locking grooves, using melodies plucked from old soul songs, sampled bits of kung fu movie dialogue and shuffling beats. On top of that, the lyrics delivered by Method Man, Ghostface Killah, Raekwon and company often came off as little more than pulpy stories about criminals viciously going after one another.
But there is a thematic seriousness that seeps through the Wu that folks don't always detect. RZA and the others in the clan, that is, have never been averse to focusing on the manner in which people of color struggle in a culture where systemic racism can eclipse personal potential. These solemn spaces in the Wu songbook, however, typically embrace optimistic themes, too, emphasizing the healing powers of love, mercy and kindness. As Papa Wu on the opening track of "Wu-Tang Forever" declares: "If you take one step, I will take one with you / through the storm and pain, swim the deepest sea… / I know you got to be strong, gotta hold on."
The popularity of Wu-Tang Clan in the 1990s, when its sound and style were still unsettlingly fresh, was really extraordinary. I remember how the band's W logo, which resembles a phoenix with its wings outstretched, was everywhere: shirts, stickers, jewelry. And tracks like "Protect Ya Neck," "C.R.E.A.M" and "Triumph," with their expletives bleeped out, dominated hip-hop and independent radio stations. During this period, as well, Method Man became a second-tier movie star thanks to the hit comedy "How High", and Quentin Tarantino hired RZA to score his "Kill Bill" movies.
As Wu-Tang Clan's de facto leader, RZA also played a big role in furthering the solo careers of his band mates. He helped secure recording contracts for Method, Ghostface, Raekwon, ODB and GZA and served, as well, as producer on their maiden releases. Working long days and nights in a basement that he'd set up as recording space, he constructed dozens of dope percussive sequences that he built out with found sounds and passed on to his pals, who then wrote lyrics to fit the beats.
I've been listening to these early solo records from the Wu guys since their first appearance in the mid-1990s. They're all strong, all tough. RZA had a midas-touch, leading these great artists on to create music that takes you deep into your thoughts at the same time as it makes you want to pop, lock and break.
The best of the early solo Wu-Tang records may be GZA's "Liquid Swords," from 1995. A subdued, almost melancholy tone permeates the album's musical arrangements as GZA coolly weaves together hardboiled stories about life in the hardest parts of New York City, where guns seems to go off as frequently as taxi cab horns in traffic. Consider one of the album's darkest tracks, "Cold World," which has GZA mulling over the excruciating cost of gun violence and a guest performer on the track, who calls himself Life, singing: "Babies cryin' brothers dyin' and brothers getting knocked… We be runnin' from the cops, bustin' off shots… In this cold, cold world."
These days, Kanye may wear the crown as the king of rap, and Lil Wayne and Eminem dominate the charts with self-aggrandizing songs about their sex lives and their resentments. But it's the Wu, if you ask me, that keeps coming through.
And it always will.
Stephen B. Armstrong co-hosts "Maximum Rock 'n' Roll with Katie 'n' Steve" Thursdays at noon on Radio Dixie 91.3.