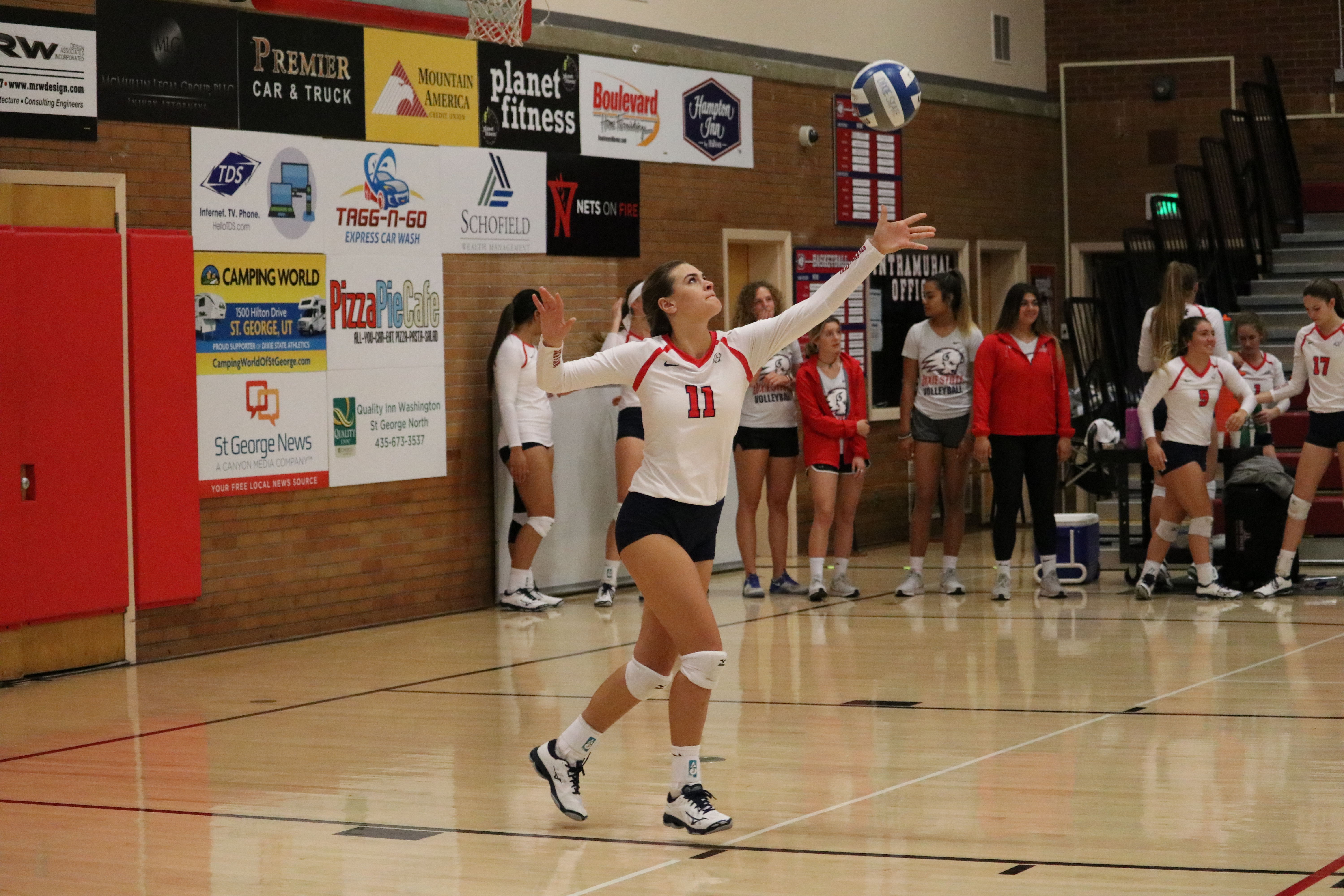 Photo by Madison Anderson.
---
After falling to the No. 1 team in the Rocky Mountain Athletic Conference, Colorado School of Mines, on Sept. 28, the Dixie State University volleyball team bounced back going 3-1 the following week.
The Trailblazers defeated the University of Colorado-Colorado Springs and swept both Westminster College and Chadron State before taking a loss against Metropolitan State University at home on Oct. 6.
Assistant coach Makenzi Bird-Murphy said the loss against CSM was a humbling experience.
"We had been on a win streak and undefeated, so I think it refocused us," Bird-Murphy said. "We were able to take what we learned from that game, and the girls came out on fire the next day against Colorado Springs."
DSU volleyball has been especially successful this season for many reasons, including blocking, which the team is ranked No. 1 in the RMAC for. The team has 203 total blocks and has averaged 3.08 blocks per set. Junior Lauren Gammell leads the team with 116.0 blocks.
"Our blocking is amazing," Bird-Murphy said. "We are the top team in the region for blocks and our offense has really stepped up."
Head coach Robyn Felder said the team's offense has only improved since the start of the season.
"Our serving has been looking really good," Felder said. "Overall, our setters are putting up hittable balls and our hitters are doing awesome moving the ball around, so I think offensively we are getting better and better."
Felder and assistant coach David Richards said they agreed that when the team played in a strong offensive approach it led to the consistent wins.
"Whenever we're in-system we play really well," Richards said. "We isolate the blocks and we run our plays which leads to a strong offense."
Felder said, "When we play in-system we pass well, and all of our hitters do a really good job of being efficient."
A strong offense has led the Trailblazers to be ranked No. 2 in the conference.
"It's a good spot to be in," Felder said. "We have a target on our back, so we can't take a night off. Hopefully we can just take care of business here at home and go out on the road and battle some teams, and we'll be right where we want to be."
The Trailblazers are scheduled to play next on Oct. 19 at Colorado State – Pueblo.