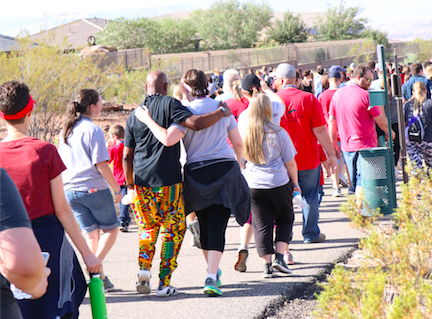 Alex Boye hugs participants of the St. George Out of Darkness Walk in honor of suicide prevention during the walk. Alex Boye performed before and after the walk. Photo by Madison Anderson.
---
The St. George chapter of the American Foundation for Suicide Prevention hosted its annual Out of the Darkness Walk at Highland Park Saturday.
According to the National Center for Health Statistics, the national rate of suicide is 15.7 people per 100,000 population. Utah's rate is 24.5 per 100,000. The goal of the Out of the Darkness Walk was to raise money and increase awareness of this issue.
Alex Boyé, a singer who filmed his "A Million Dreams" music video at Dixie State this past spring, attended the event to honor Triston Myers, a 17-year-old Pineview High School student who had committed suicide on Sept. 23, as well as to perform some of his songs both before and after the walk. Other attendees included DSU's Hope Squad, members of the College of Humanities and Social Sciences, and local radio host Mikey Jon Foley from B-92.1's Mikey and the Mrs.
During the opening ceremony, Foley said: "Everybody has their own story, everybody has their own reasons to be here. I'm here for my brother-in-law Douglas and also for my friend Ed and many other people in my life who have made this terrible decision."
The walk itself took place along the nearby Crown King Trail, but performances by Boyé and DSU's Raging Red, as well as a silent auction with items such as gift baskets and gift cards, took place at the park.
Beads of different colors were also given out to represent each individual's reason for attending. Some of the colors included blue for supporting the cause, white for the loss of a child, green for struggling personally, and teal for being the friend or family member of someone who struggles with suicide.
Foley then conducted the bead ceremony, which is when a set of pre-chosen people with at least one set of beads have their story told, either about their own struggles or someone they love's struggle with suicide. Many of the over 655 attendees shed tears during the ceremony, including Foley himself, but he jokingly passed his tears off as being because of the sun.
There were other, more lighthearted reasons for attending as well.
"It makes me feel like I accomplished something today," said Julie Handy, a sophomore English major from Dutch John.
Ami Comeford, an English professor and the team captain for CHaSS, said she and former dean Richard Featherstone initiated CHaSS' participation in the walk last year.
"It's a sobering but beautiful community of support, love, and care from people of all walks of life and all situations with so many different ties to this tragic issue," Comeford said. "Additionally, as the college of humanities and social sciences, the primary focus of much of our academic work is very human-centered. We live, breathe, and study the messy complexity that is the human experience in all of its greatness and its tragedy, and one of the reasons we do this is to help all of us find better and more humane and compassionate ways to navigate the human experience."