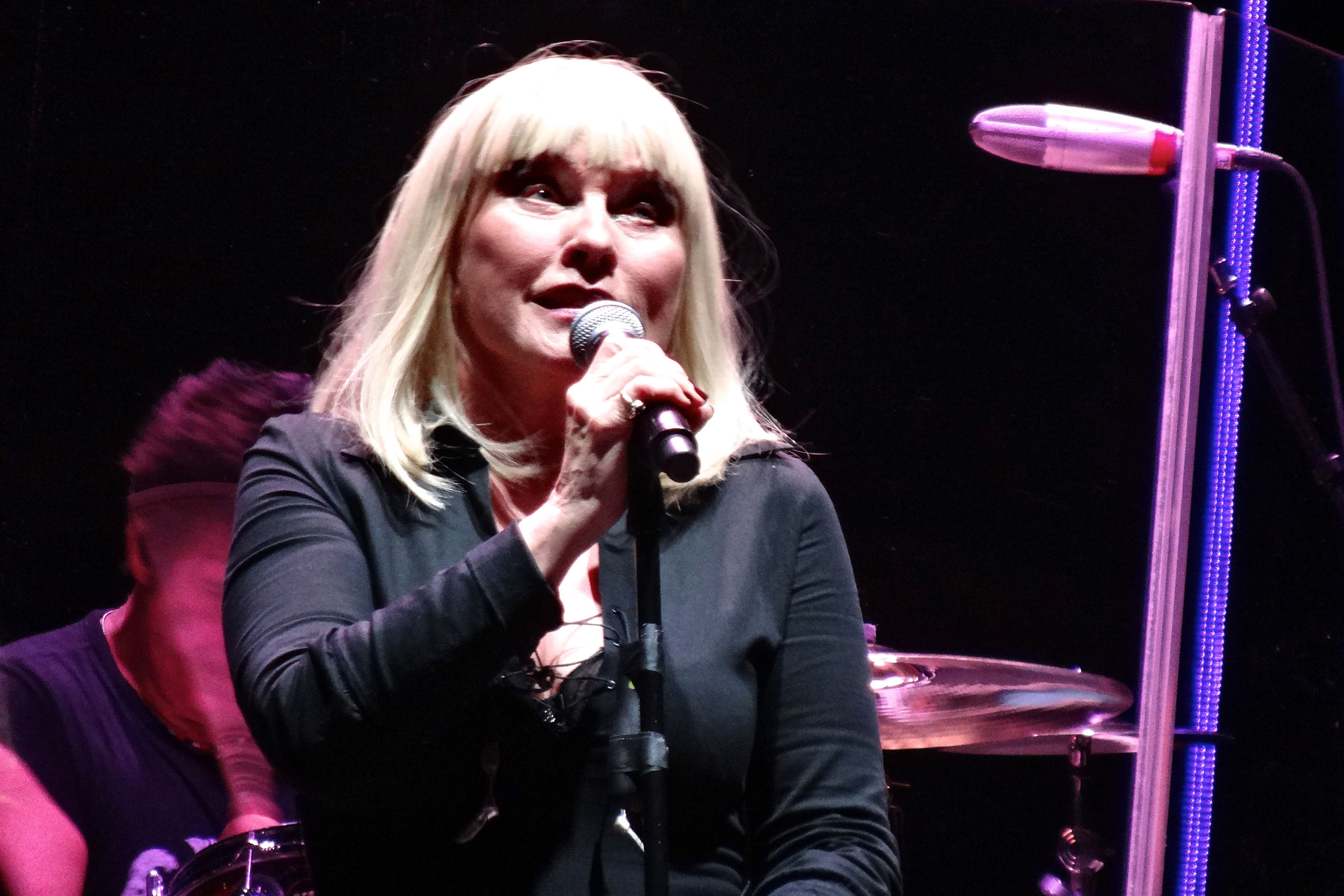 Debbie Harry of Blondie performs onstage during the Rage and Rapture Tour, in New York on Aug. 1, 2017. TNS.
---
By Stephen B. Armstrong
Blondie emerged in the mid-'70s out of the Lower Manhattan club scene, competing for gigs with the likes of Talking Heads, Television and the Ramones. Early on, critics pasted the "punk" label on the band, in part because Blondie repudiated the excesses of contemporary prog acts like Pink Floyd and Yes, delivering instead fast, rocking songs filled with barbed lyrics about offbeat topics ranging from kung fu and street criminals to groupie poseurs and astral projection.
Blondie, throughout the '70s and into the '80s,self-consciously refrained from sticking to a single style or sound. The band's primary songwriters, Chris Stein and Deborah Harry, made a point of studying the music charts — as David Bowie did — and tried to write songs that would sell,  finding inspiration not only in punk and new wave but also reggae and rap.
The band's first monster hit came out in 1978, "Heart of Glass," a dance track featured on the "Parallel Lines" record. Built around driving guitars, programmed synths and a drum machine, the song was equal parts rock 'n' roll and disco. Its success was such that Blondie, or, at least, Deborah Harry, the band's lead singer, became famous.
Harry started appearing in movies during these salad days and showing up on the covers of music magazines. Her look was thrift store chic, with a bleached blonde shag cut and cherry red lipstick. And her voice was everywhere, pulsing through the discotheques, playing on the radio and pounding out of jukeboxes in sub shops and pizza parlors around the world.
In 1979, Blondie released its masterpiece, "Eat to the Beat." Produced by Australian hit maker Mike Chapman, the album 0ffered listeners a fresh wave of genre-bending material. The opening track, "Dreaming," for instance, swings along like a 1960s teen romance tune, with Harry sounding as wistful as, say, Leslie Gore or one of the Shangri-Las as she drops lines like "I sit by and watch the river flow / I sit by and watch the traffic go / Imagine something of your very own / Something you can have and hold."
"Atomic," in contrast, is a punchy dance single, bedecked with Jimmy Destri's keyboards, Clem Burke's wall-to-wall drumming and Frank Infante and Chris Stein's guitars working around each other like boxers in a ring. Throughout the song, Harry's voice booms, and when it retreats, Nigel Harrison's bass presses itself into the foreground (a tactic lifted from disco), thumping like a heart OD-ing on adrenaline.
The noisy influence of punk asserts itself at times, too, especially on numbers like "Living in the Real World," "Victor" and the title track, on which Harry cries out nonsensically: "I remember / Sitting in the kitchen / Eating peanut butter / Eat to the beat." On the other hand, "The Hardest Part," a song about a bank heist, borrows and speeds up the riff guitarist Carlos Alomar delivered on Bowie's 1975 quasi-funk single, "Fame."
The influence "Eat to the Beat" itself has had upon modern rock is more than profound. The ska-inflected "Die Young Stay Pretty" served as a creative blueprint for the first few No Doubt albums. And the case can be made that The Killers' debut, "Hot Fuss," is really nothing more than an album-length reworking of "Atomic." Traces of Blondie are detectable in the layered arrangements and ironic lyrics of contemporary dream pop bands like Beach House and Best Coast, too.
"Eat to the Beat" may be a creature of the '70s, in short, but its beauty and its beats linger on.
Stephen B. Armstrong co-hosts "Maximum Rock 'n' Roll with Katie 'n' Steve" Thursdays at noon on Radio Dixie 91.3.