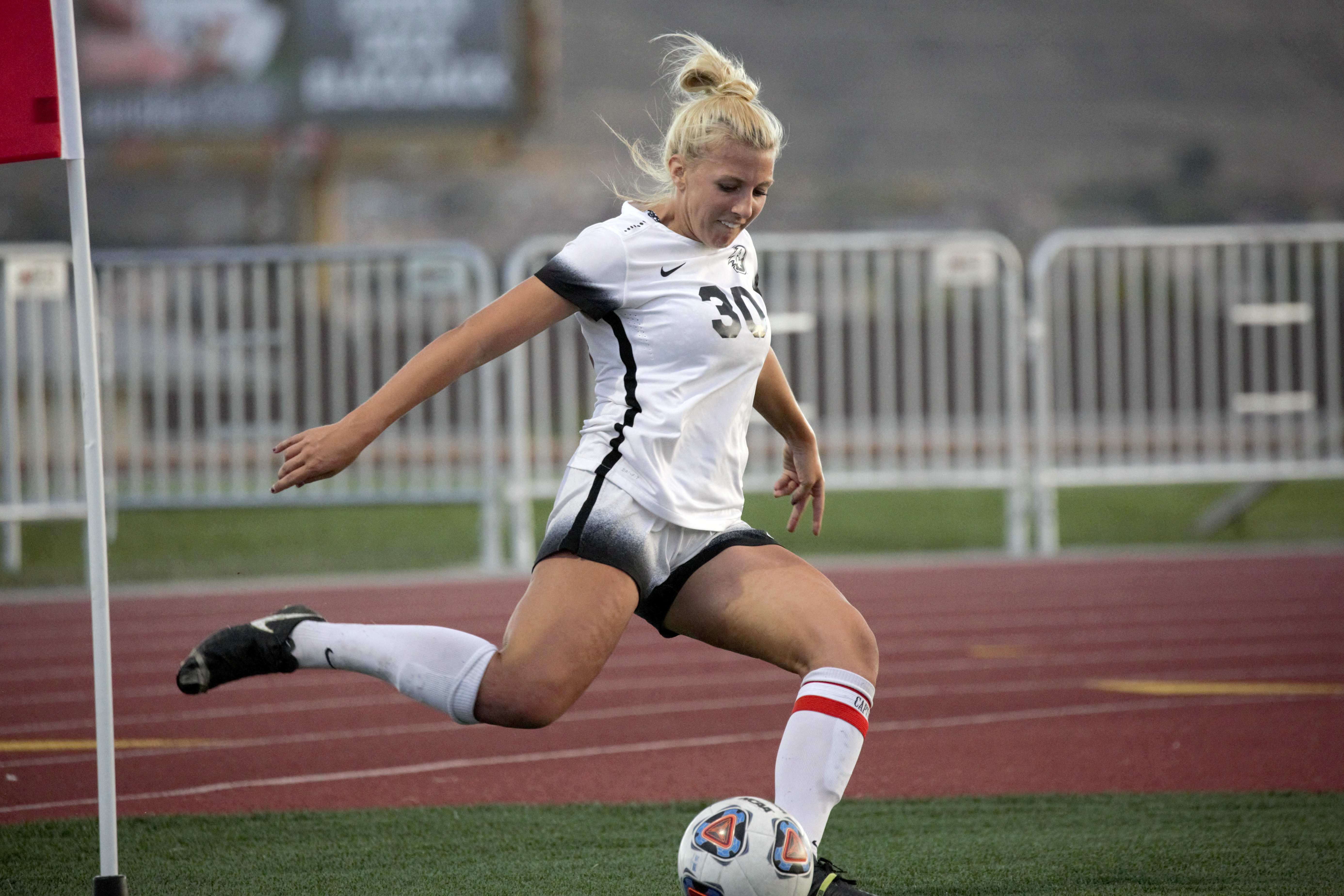 ---
Seven games into the season and the Dixie State University women's soccer team finally has a home game.
Although the team had a lot of good work ahead of them when first stepping on the field, Head Coach Gerry Lucey said, it has been a good start to the season.
Whitley Johns, a sophomore education  major from Gilbert, Arizona, said, "We have a solid team and good chemistry."
Having away games this far into the season has been hard for Kamie Hunter, a junior population health  major from Hooper, she said, because away games feel different from playing on her home turf. 

Hunter said, "It's exciting to be an a field we know and understand."
Hunter said playing on the home field brings her comfort and makes her feels calm.
"I just love it because I know a lot of my friends will come out and support and it's fun to play for them because I don't get to see them a lot," Johns said.
Johns said she came into the season wanting to be a leader and to make a difference every time she stepped on the field.
"This season is my come back season," Johns said. "Just trying to get back to how I was playing when I was recruited. I want to be the player the teammates know that when they pass it to me, I will be there and can trust me when the ball is at my feet." 
Hunter said this season the team is connecting and playing more as a unit. She said her motivation for the home games is getting out of their current rut of losing.
Johns and Hunter said the team is getting their confidence back after their two losses.
Lucey said the team focuses game to game because thinking about a future game won't help the team if they haven't practiced for the game coming up.
"Everything is game to game," Lucey said. "We try not to look past our next opponent. If we commit ourselves 100 percent to the team we can be a good team."
Lucey said there is a higher level demanded of the players in college soccer verse clubs and teams before college. It's a process to becoming a better player and play this level of competition, Lucey said.
"It's a young team but we have a lot to learn and a lot to grow," Johns said. "We have a really good team to put up a fight for the tournament."
There will be a soccer rally at 3:30 p.m. to 5 p.m. in the Innovation South Plaza. The women's soccer game is Friday at 7:30 p.m. in the Trailblazer Stadium.