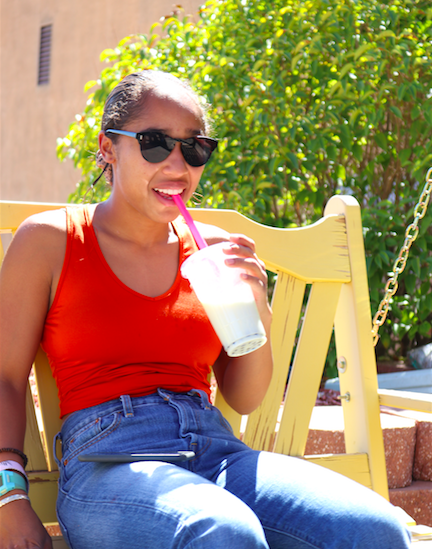 Photo by Madison Anderson.
---
The soda and sweets drive-thru, Swig n' Sweets has gotten rid of their old menu and are now introducing several new options.
Swig first opened April 2010 in Saint George across from Dixie State University. They now have 15 additional locations in Utah and one in Gilbert, Arizona.
"We haven't done a change like this in five years and it's time to rebuild our foundation and make it better," general manager Abby Richardson said.
One of the many new additions is a kids menu.
"We've implemented our kids section which is great because moms can bring in their kids and they have an easier option to look at for their drinks," Richardson said.
The kids menu features a mini frosted sugar cookie, two Sprite-based drinks, and one root beer-based drink.
Popular drink options from the new menu are the "Revivers." Swig has partnered with Red Bull to add a twist to the energy drink by combining them with fruity flavors like strawberry, watermelon, blue raspberry, pineapple and peach.
However, some memorable Swig favorites have been cut from the new menu, including their smoothies and the well-liked peanut butter cookie. Scones, boba and new drinks have taken their place.
"I think the design of the old menu was better because I enjoyed seeing all of the different choices I could get," said Carissa Martinez, a junior media studies major from Oxnard, California. "It looked more exciting and caught my attention. I also think there were a lot of different options that some people may never know about now."
In addition to salted toffee and white chocolate raspberry scones, the new menu features chocolate chip, oatmeal, coconut, "dirtball" (double chocolate) and sugar cookies. They also have three boba drink flavors: mango bango, thai coconut and piña colada.
"I think the new menu is pretty cool," said Blake Kilgore, a junior business major from Oxnard, California. "I noticed that they added scones but I'm not really into those so I'll probably still stick to their sugar cookies."
Fortunately, customers are still able to order old menu items, but they have been moved to a secret menu. So as long as you remember your favorites, you can still order them.
Although nothing is certain, the owners are considering expanding Swig to Las Vegas, Nevada.