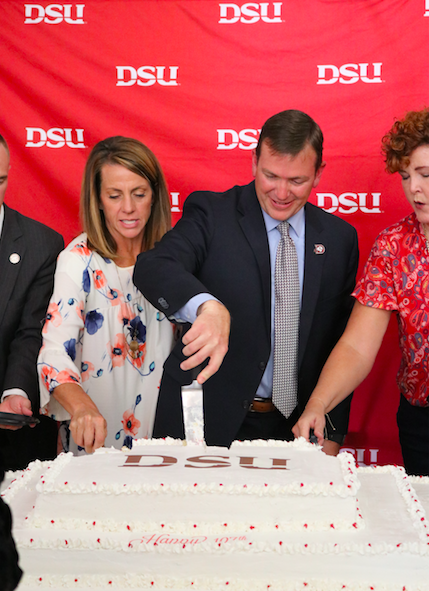 Photo by Madison Anderson.
---
For Dixie State University's 107th birthday, DSU officials took to the Cox Auditorium stage to highlight the university's achievements at the State of the University Address.
President Biff Williams focused on DSU's Status to Stature strategic plan that includes six goals: to promote student success, improve academics, invest in faculty and staff,  work on inclusion and equity, connect with the community, and continue to improve DSU's identity and brand.
Williams also gifted Wayne Provost, who has mentored DSU students in developing products and patents through the Technology, Innovation and Entrepreneurship Center, with an Art in the City bison statue, to be placed in front of Innovation Plaza.
At the end of the address, Michelle McDermott, associate professor of nursing and president of the Faculty Senate, presented Williams with a plaque and a feature dedicated to him at the Human Performance Center, scheduled to be fully constructed in the summer of 2019. The feature is called Sprint Hill, which is a track that will run from the bottom to the top floor of the building.
McDermott presented the award to Williams at the end of the address and said, "We would like to dedicate this area to you because of how you are elevating [DSU] in all you do for us."
Student Body President Cajun Syrett offered welcoming remarks after DSU's Raging Red performed the national anthem. Ali Threet, director of career services and president of the Staff Association, summarized staff-specific highlights alongside Sylvia Brown, president-elect of the Staff Association.
Threet said the Staff Association is continuing to work on its three principle goals of understanding DSU's staff, increasing communication with the staff, and increasing involvement and awareness within the staff.
McDermott offered highlights on faculty-related topics before Trustee Chairman David Clarke gave his remarks and welcomed President Biff Williams to the stage.
McDermott offered highlights on new Faculty Senate operations like creating faculty awards and re-designing faculty policies.
DSU's Status to Stature initiative is overall in good shape as reported by Williams. Highlights for goal one, dealing with students success, included the new Trailblazer Connections course and DSU being the fastest growing Utah institution for the second consecutive year. The second goal, focusing on academics, reported various improvements including DSU's first graduate program in accounting, and DSU surpassing its goal of 42 new degree programs and changing the goal to 50 new degree programs.
Goal three, faculty investment, and goal four, campus inclusion and diversity, were also reported to be successful. The recent 3.5 percent tuition increase is going to help compensate DSU's faculty in the future, and 74 percent of DSU's faculty reported that they felt satisfied and supported in their roles on campus. DSU's Multicultural Inclusion Center was highlighted as the center now has a new director, Tasha Toy, and launched a bridge program, Adelante, for male minority students.
The final two goals, focusing on community connection and DSU's branding, included the highlights of 42 courses currently tagged as community engaged courses, and a new athletic strategic plan being put in place. DSU also received J1 designation; J1 is a visa given to exchange scholars, professors and visitors striving for a cultural exchange experience and/or business and medical experience.
After a showing of the "A Million Dreams" music video done with Alex Boye and DSU students, Williams said in closing, "That video sums it up: there are a million students coming here with a million dreams, and our faculty, our staff, our administration and our community is up to helping them realize their million dreams."