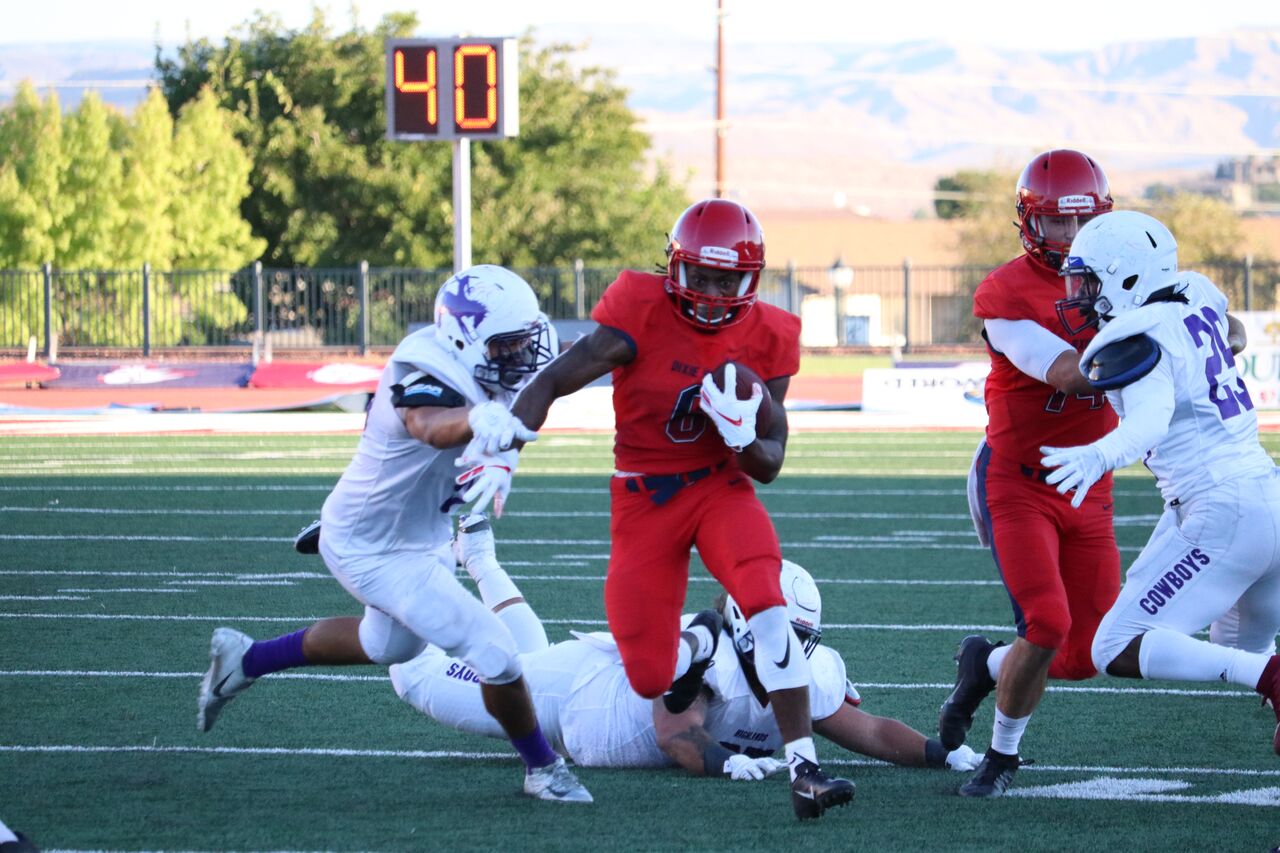 Isaiah Wooden, a freshman business major from San Diego, California, sprints down the field with the ball against New Mexico Highlands University at the Trailblazer stadium. DSU's offense ended with 160 passing yards and 203 rushing yards. Photo by Madison Anderson.
---
The Dixie State University football team came out victorious yet again, starting the season with a 2-1 record for only the third time in its Division II era history.
The Trailblazers defeated New Mexico Highlands University on Saturday with a score of 28-23. DSU got on the scoreboard first with a touchdown pass from Easton Smith, a junior quarterback from Payson, to Brad Duran, a senior wide receiver from Corona, CA. Their 7-0 lead was short lived when NMHU fired back with a field goal and a touchdown of their own, quickly taking a 10-7 lead.
The Trailblazers responded with Smith running the ball to the end zone on a read-option play; this time with a two-point conversion from team-captain Tevia Tolutao, senior offensive lineman from Provo, after a field goal attempt was blocked and the ball never crossed the line of scrimmage. This gave DSU the lead again, 15-10.
"We still are far from perfect," said Tolutao. "We got a lot of work but I think that we came out strong and were able to finish strong in the last four minutes."
Those were the final points DSU put up for the first half. The back-to-back scoring battle between the teams came to an end and NMHU put 14 points on the board stealing back the lead and making the score at halftime 23-15.
The Trailblazers came back from halftime ready to show the NMHU Cowboys what they're made of. Smith completed a 33-yard pass to Dejuan Dantzler, a wide receiver from Moreno Valley, CA, which ended on the 1-yard line, perfectly setting up a rushing TD from Lawrence Starks, a freshman running back from Fontana, CA, to make the final score of the game, 28-23. The Trailblazer defense stopped the Cowboys from scoring the entire second half of the game.
Offensive coordinator Blake Roland said, "More than anything we focused on doing our jobs better up front, being more detailed, and then finishing at the end of the plays and that's what helped us carry out the four minute situation at the end of the game."
The Trailblazer offense ended with 160 passing yards and 203 rushing yards. Dantzler and Duran each had four passes and Duran made his first touchdown of the season.
On defense, Mike Jones, a junior defensive back from San Diego, CA, J.T. Anderson, a senior defensive back from Layton, and Jordan Nichols, a senior linebacker from Bakersfield, CA, each had seven tackles. Additionally, Trayvon Watson, a senior defensive back from Los Angeles, CA, made an interception on an intense drive that stripped away the Cowboys' chance of scoring and ensured the Trailblazer's victory.
"The football team is looking great this year," Sydney Johnson, a sophomore business administration major from Spokane, WA, said. "It's exciting to see more student attendance at the home games this year, not to mention the new stadium looks great."
DSU football will remain at Trailblazer Stadium for their third and final time in a row to play South Dakota School of Mines on Saturday at 6 p.m. in hopes to add to their two game win streak.
For the rest of DSU athletics, women's volleyball is now on a four-game win streak in the RMAC conference after defeating Colorado Mesa 3-1 at their tournament last Friday. They are set to play Fort Lewis College on Friday at home in the Student Activities Center. Women's soccer was also on a four-game win streak but lost to Westminister College 0-1 last Sunday. The team will play Regis University this Friday in Colorado. Men's soccer also faced a tough 1-4 loss against Metropolitan State University on Sunday. The next game is at home on Friday at 7 p.m. against University of Colorado-Colorado Springs.