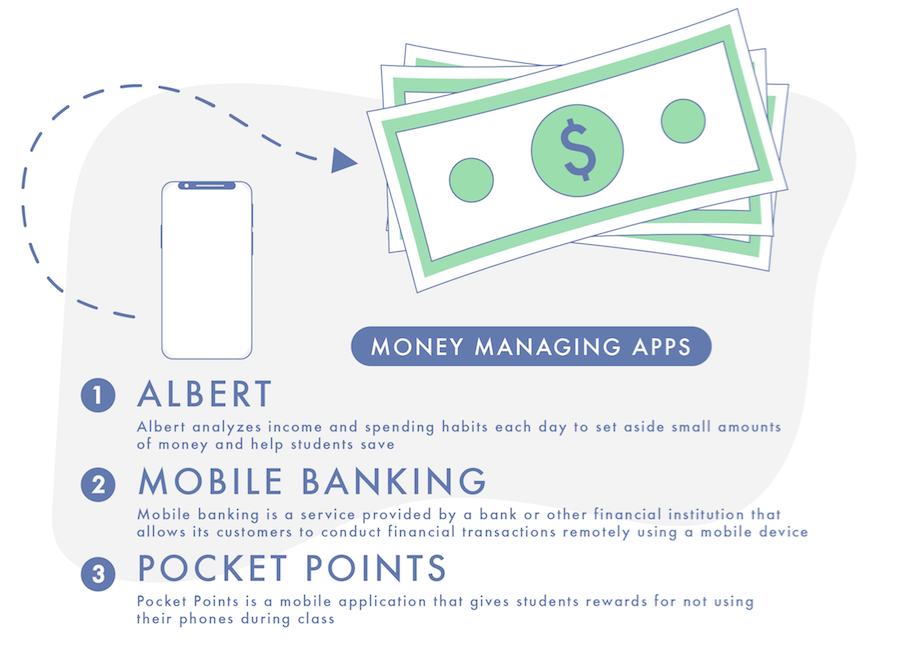 Graphic by Valerie De La O.
---
In this day and age there is an app for everything, especially saving money.
Students are becoming more aware of the resources available to them within the comfort of their own pockets. As budgets, investments and savings become a necessity, students are utilizing virtual resources more and more.
Albert
Albert is an app that advertises as "your financial genius." According to the website, Albert analyzes income and spending habits each day to set aside small amounts of money and help students save. Funds separated with the Albert Savings program are FDIC insured up to $250,000, and the Albert Genius aspect of the app pays one percent each time a student saves. 
Kiera Wood, a freshman radiology major from Riverton, said she uses Albert because it helps her manage her money and keeps track of her spending without her consciously having to do so. Wood said she found the app while on Instagram, and she uses her bank's mobile app alongside Albert to ensure the information she is receiving is accurate.
"My advice [for other students] would be to invest on things you need first before spending money on things you want," Wood said.
Mobile Banking
For those who like a one-stop shop for everything they need to know, one app could be the key.
Amanda Ellison, a sophomore criminal justice major from Salt Lake City, said although she has thought about using apps to budget and save, she likes to keep finances simple by relying on her bank's mobile app.
Overall, Ellison said she uses the information her banking app gives her to live by a few simple rules.
"[My advice to students would be] don't go out to eat and get a job," she said. "Make sure that you really need what you're buying, [and] always have money in a savings account."
Tanner Gilman, a freshman theater major from Pocatello, Idaho, said he also uses his bank's mobile app to budget and rack-up rewards. Gilman said he also uses Pocket Points to earn coupons while he studies and attends classes.
Pocket Points
Pocket Points lets students earn points when not using their phones. This includes attending classes, which can give students double points, and driving, which is a new feature on the app.
Gilman said he found out about Pocket Points through an upperclassman when he first came to campus. Otherwise he uses grocery-store rewards cards and an app called Gassy Buddy, which helps students find the cheapest gas near them.
Each of the apps listed are available on IOS and Android.