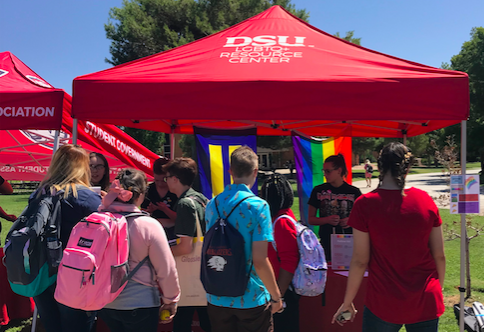 Photo courtesy of the LGBTQ Student Association.
---
Dixie State University's LGBTQ Resource Center coordinator conducted two Safe Zone trainings with faculty and staff members Sep. 12 and 13.
Katie Perkins, LGBTQ Resource Center coordinator, said Safe Zone training is a national education piece geared toward academics, and DSU's training was complete with learning objectives, an informative presentation, and an open forum discussion segment about LGBTQ students and their experiences. As part of the national Safe Zone Project, Perkins' trainings provide awareness of LGBTQ experiences and issues. She said there will be another voluntary training for faculty and staff available Oct. 5.
"The goal is just helping people become allies and creating safe spaces for students to be themselves," Perkins said.
After completing the training sessions, participants have the opportunity to receive a Safe Zone sticker to display on their doors.
"By displaying their Safe Zone stickers, they're letting students know it is an inclusive room, whether it be their classroom or office, and that [students] can be themselves there," Perkins said.
She said the LGBTQ Resource Center is partnering with DSU's Marketing and Communication department to create a DSU-specific Safe Zone sticker with the university's logo and a rainbow flag design.
Jim Haendiges, associate professor of English, said he attended the training session to broaden his knowledge of LGBTQ students.
"As a faculty member, I want to make sure I can serve all my students," he said. 
He said he appreciated Perkins' training, especially when it came to pronoun identification information.
"Sometimes we can unintentionally exclude certain students by not recognizing something as simple as how they want to be referred to," Haendiges said. "It was helpful to better understand different terms to better serve all my students."
Perkins said it's important to know about LGBTQ student experiences as, according to a Glaad online study in 2017, 20 percent of people aged 18-35 identify as LGBTQ.
"If you think about DSU, we've got a little over 9,000 students this year," Perkins said. "So really I'm serving about 1,800 students who may or may not be open and out."
Amairani Bucio, a freshman dental hygiene major from St. George and president of the LGBT Student Association, said the Safe Zone trainings are a perfect way to help all students feel included.
"In this town, there's not very much diversity," Bucio said. "When one person is different, they automatically feel like they stand out."
Bucio said the trainings can offer professors the tools to help students feel more comfortable being who they are in the classroom and to handle potential conflict effectively.
"If we bring more awareness to the faculty and staff, they can help by providing a lot more support for the students," Bucio said.
Perkins said she will begin conducting Safe Zone training sessions with student leaders as well. The first of these sessions will be held on Sept. 28 with Student Support Services' Peer Coaches, the Multicultural Inclusion Center's Inclusive Student Leadership and, tentatively, International Student Services' International Student Leaders.
Haendiges said because student leaders are strong representatives of DSU, he supports student leaders being involved with Safe Zone and learning how to better understand their peers' experiences.
"If students see their leaders doing something positive and supporting [the LGBTQ community] they can do it too," Bucio said. "This could really help bring the community closer together."
Perkins said she encourages any students wanting to learn more about the LGBTQ Resource Center and the community of students it serves to visit their website and attend events they will hold throughout the academic year. She said she invites all students to join the LGBT Student Association, which she advises.
"As a member of the LGBTQ community, I know what it's like and I can help [students] find any tools for success that they need," Perkins said.