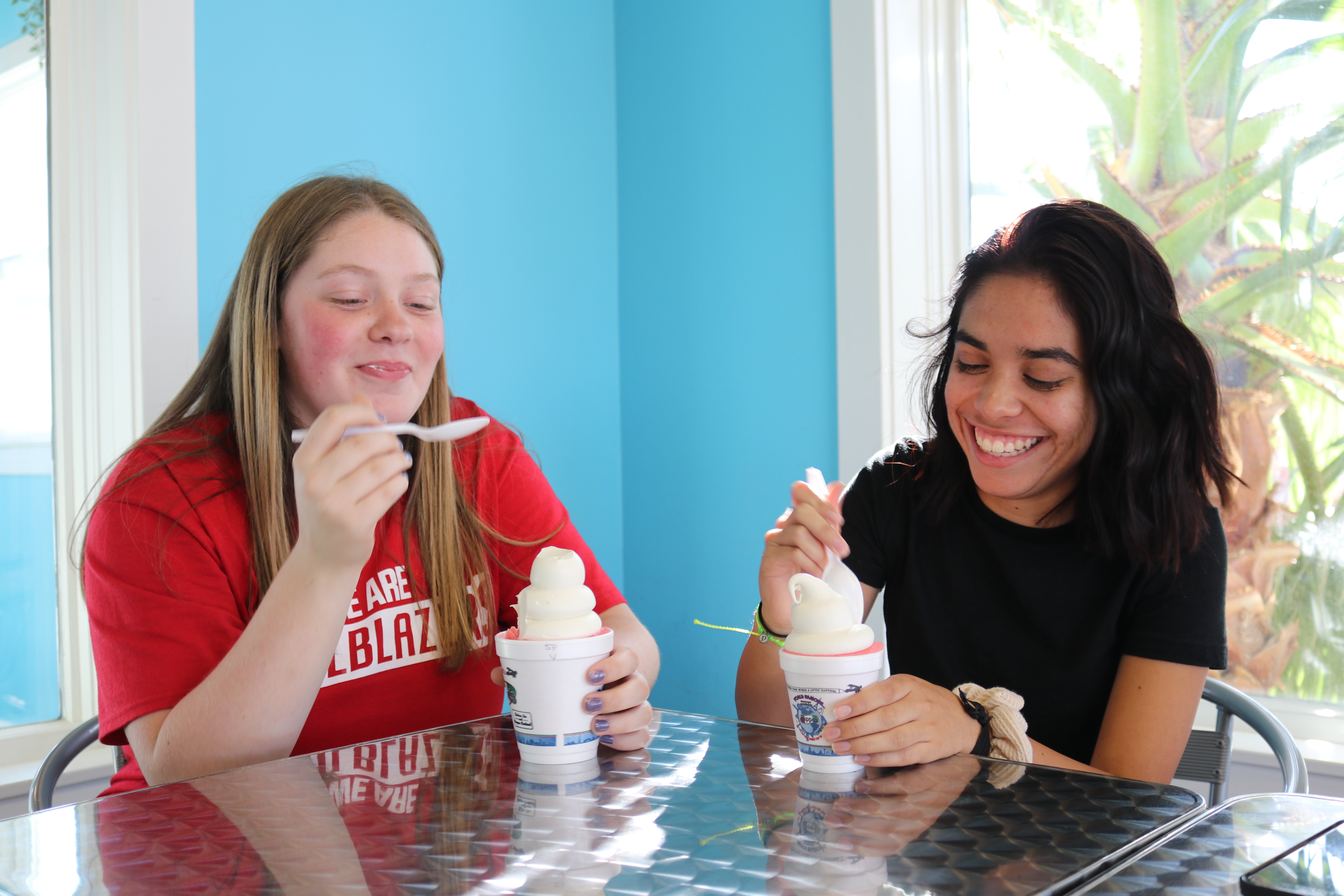 Hailee Strasrypka, a freshman physical therapy assistant major from Bountiful, and Emma Watt, a freshman business administration major from Bountiful, enjoy a layered italian ice and frozen custard dessert at Zeppes Italian Ice and Frozen Custard. Zeppes is located at 1013 E 700 S. Photo by Madison Anderson.
---
Ice cream and snow cones are nice when it's hot outside, but Zeppe's frozen confection combines the two in a unique and innovative way.
Zippers Italian Ice and Custard brings the New York treat to Utah with its original store in North Ogden, a food truck and store here in St. George, and three other locations throughout the state.
Marlee Gubler, owner and manager of the store, said the Italian ice they serve was developed by founder Tina Norton and the name Zeppe's is a shortened version of Norton's grandfather's name, Giussepe.
According to an article from the Standard Examiner, it was Norton's husband Larry who grew up in Pennsylvania and introduced her to "water ice." Soon after, they decided to open an Italian ice business in Harrisville.
In St. George, Zeppe's began as a food truck in May of 2017, owner Keith Gubler said.
"[It was] mainly to help promote the store [and] to get the brand out. Make it more visible around town," Gubler said.
With its awning and large sign the Zeppe's truck was easy to spot in the parking lot of Ashley Furniture last Tuesday. Inside, Gubler waited for customers to arrive.
I treated myself to an Italian ice with custard and discovered how unlike ice cream and snow cones it really is. The best description would be akin to eating frozen fruit with whipped cream, only the fruit has been pureed and mixed with ice. The result has a similar texture to sorbet, without the cream because it's on top instead of blended with it.
"I can make a four-gallon bucket [of Italian ice] in 15 minutes from start to finish," co-owner Travis Poore said.
The short time it takes to make the product comes in handy during the summer when he makes up to 40 gallons of Italian ice in a single day, Poore said.
Keith Gubler said the amount of gallons he produces varies from day-to-day depending on whether or not the truck is at an event like Street Fest, which is always a good event for them.
"Our customers have a lot of fun customizing their treat," Marlee Gubler said. "We have different flavors every time they come in, so they're always trying something new."
When visiting Zeppe's, one can expect to be treated well and lines to move quickly. Poore said He holds his employees to a high standard of service and friendliness.
If you want a cold treat different from ice cream and isn't just ice with flavored syrup on top, Zeppe's Italian ice and Custard provides a refreshing alternative to enjoy.
Keith Gubler said they are close with other food truck owners in St. George, and in October, a different food truck will be in the parking lot at Zeppe's current location at 1013 E 700 S.