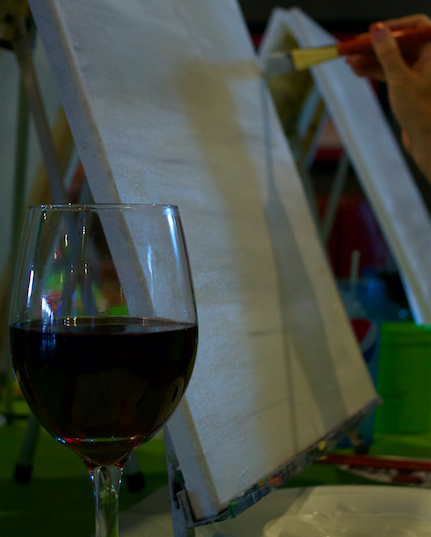 Paint Nite has something for all ages, but 21 and older patrons can enjoy a glass of wine or two while working. All materials are provided, and interested students can use coupon codes to save money. Photo by Jonn Holland.
---
Pablo Picasso and Vincent Van Gogh were known both for their masterful painting and propensity for drinking alcohol, and at Paint Nite you can be too.
Paint Nites are step-by-step instructional painting events, led by a Paint Nite host and host's assistant. The Paint Nite company licenses their service and copyrighted artwork to entrepreneurs, who in turn host Paint Nite events at approved locations, like Bout Time Pub & Grub in St. George.
Jayme White, waitress at Bout Time Pub & Grub, said hosting Paint Nite has its advantages.
"It brings in great business, and it's exciting," White said. "You meet a lot of new people, you get lots of regulars that come in."
White said she has even participated in Paint Nite events before.
"Have a few drinks while you do it," White said. "Get drunk and see how well your painting turns out the next day."
JJ Seare, a Paint Nite licensee and host in southern Utah, previously worked as an IT engineer, eventually rising to data architect, for about 27 years.
"I was just burned out, I was working too much, and I needed a change," said Seare.
When Seare's sister attended a Paint Nite event in Idaho, she told Seare it could be her next job.
"So I just took a leap of faith and pulled it out, I had never painted in front of other people, I hated talking in front of people, I had never painted with acrylics," Seare said. "I just really, it was all just one of those things that you just kind of go like, 'Well, I'm gonna do it, and if I suck at it I'm going to hire an artist.'"
Seare said her positive online reviews are evidence of their success.
First-time or inexperienced painters need not be afraid to come and try Paint Nite, she said.
"This is exactly who this is for," said Seare. "If you're an artist, this would probably drive you crazy. Because, literally, we're giving you sort of Bob Ross-style instructions, you know, we're giving you step-by-step instructions on how to recreate a painting."
Seare said Paint Nite is not about learning how to paint.
"You can pick up some tips and tricks along the way, and eventually develop your art skills, but this is not designed to be an art class," said Seare. "It's really just a fun activity."
"We do have people [who] come frequently, and they do get better, but it's not designed to be an art class," Seare said. "If it were an art class it would be in a studio with better lighting and we would charge more money," Seare said. "No, this is just supposed to be a fun night out. It's something different, something to get you out of your comfort zone."
Seare said that for two to three hours, people are focused on their painting.
"A lot of people tell me it's a stress reliever, it gets you out of your own head," said Seare.
Jasmine Emerson, a Paint Nite host's assistant, started as a participant before teaching at events. 
"I went to a few of them, and I really enjoyed it," Emerson said. "Me and my girlfriends would come, just have a good time. I like the atmosphere, and I thought as a stay at home mom this would be a fun job for me to do."
Emerson feels Paint Nite is a better night out than other, more typical choices.
"It's a fun time, something different — not just going out to a restaurant or a movie, you're actually doing something," Emerson said.
Seare and her dozen employees host Paint Nite events on off-times for restaurants and bars, like Wednesdays and Tuesdays, rather than during their peak business hours.
"We figure, say, if you're dead on a Tuesday, we come in on a Tuesday," said Seare. "You're already paying your wait staff, let's give them something to do."
Michelle Lewis, a four-time participant of Paint Nite, summarized her and arguably my Paint Nite experience perfectly, saying "I came, I tried, I failed."
I participated in a Paint Nite event held at Bout Time Pub & Grub. After taking an oath that included promising "to not panic, to not steal the green apron, to not drink my paint water, or rinse my brush in my drink, and be proud of myself no matter what," that concluded with Seare asking the painters if we were "ready to drink creatively," I was on board.
Following Seare and Emerson's instructions was easy, and creating my own spin on the painting for the event, 'The Red Tree' by Andria, with a purple rather than red tree serving as my centerpiece, was a cinch. I found myself jumping ahead of instructions, and haplessly adding detail to areas of my painting that probably would have been better off without my ceaseless altering. But I was having fun.
Overall, I enjoyed my time at Paint Nite. Alcohol comes with its downsides in this environment — having to deal with drunken tirades, loss of focus and general confusion, to name a few — but they all seem to add to the fun, rather than detract from it. And at the end of the day, you get to bring home your own flawed canvas, the artistic result of alcoholic delirium.
You can find out about upcoming 21 and older, 18 and older, and 6 and older Paint Nite events on their Facebook page, and use the coupon code "PaintMeHappy" to save 40 percent on your Paint Nite tickets.