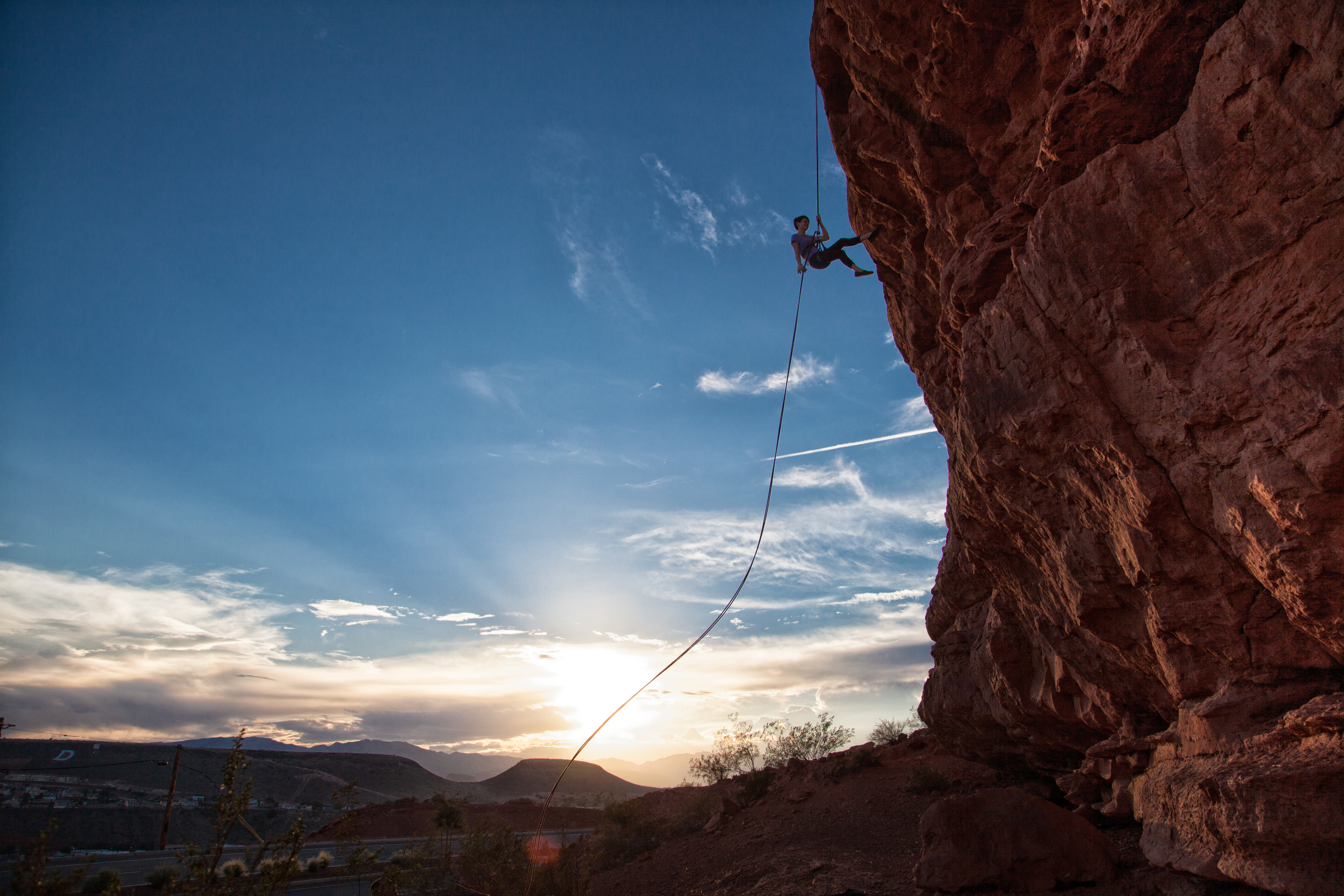 Photo courtesy of University Marketing & Communication.
---
It's easy to feel like you've tried everything in St. George. You've seen every movie, you've hiked every trail, you've been bowling a million times. But have you rappelled down the side of Dixie Rock, or taken an aerial tour of St. George? Here's five ways to experience all that St. George has to offer before the New Year. 
Go to StreetFest (At least once)
Self-Proclaimed as "Night Life at its Best," St. George StreetFest features a variety of  live music, DJs, games, street performers, booths and food trucks. The festival, also known as "First Friday," takes place on the first Friday of each month and lasts from 6 p.m. to midnight. Admission is free for all wanting to attend, but food and additional activities cost extra.
For more information on who will be performing and what activities will be at next month's festival, visit their website or call 801-230-7333.
Go Paddling at Quail Lake and Gunlock
According to Bill Ennis, owner of DIG Paddlesports Kayak and SUP rentals, paddling is something everyone should try at least once. Both Quail Lake and Gunlock have kayak rentals available to all guests. Ennis said he advises new time paddlers to always rent, but they should never buy on their first time.
"The last thing you want to do is buy a $400 piece of equipment and find out you don't like it." said Ennis.
Since both lakes are packed during the summer, Ennis said the best time to go is during fall.
"It's definitely a hidden gem between September and November," said Ennis. "There's less traffic. The water's phenomenal."
Rappel down Dixie Rock
If you're scared of heights, this one's not for you. One of the larger landmarks in St. George, Dixie Rock is constantly packed with visitors and tourists looking for their fix of adventure.
While you could easily spend a whole day at Pioneer Park just exploring, consider rappelling down the side next time. Rappelling is the act of descending a rock face using rope coiled around the body and fixed at a higher point. 
Luke Wilkins, assistant director of campus recreation, said he suggests all beginners looking to rappel seek professional assistance.
"I'm all for buddies, but don't just hand your life over to someone who claims they know what they're doing," Wilkins said. "I want to make sure they actually know what do and can effectively communicate that to me."
Spelunking
There's countless easy-accessible caves in and around southern Utah just waiting to be explored. From the Boy Scout Caves in Ivins to the Mountainside of the Virgin River Gorge, spelunking isn't for the faint of heart.
Spelunking is the feat of finding and exploring caves. Wilkins said he advises people to always go with someone who knows what they're doing.
"This isn't just an adventure into some cave," Wilkins said. "You're putting your life into someone else's hands."
Spelunking equipment and gear can be found at Outdoor Sports Stores like Desert Rat and Adventure Plus in St. George.
Go on a hot air balloon ride
If you're looking for a thrill, try taking to the skies in a hot air balloon. You can experience an eagle's eye view of southern Utah with both Skywalker Balloons and Palledin Balloon Excursions. Their hour-long flights take customers over St. George, the Arizona gorge, Snow Canyon State Park and Zion National park.
Jan Howes, an employee of Palledin Balloons, said hot air ballooning is a fun and safe experience for college students.
Scared of heights? Don't worry, there's still a way for you to enjoy this experience.
Howes said: "Just don't look down during the initial rise… Wait for your body to adjust; just look out at the hills until you're ready."
Tours are offered year round and cost around $250 per person. To reserve a spot, visit their website for Skywalker Balloons or call 435-632-0222 for Palledin Balloons.