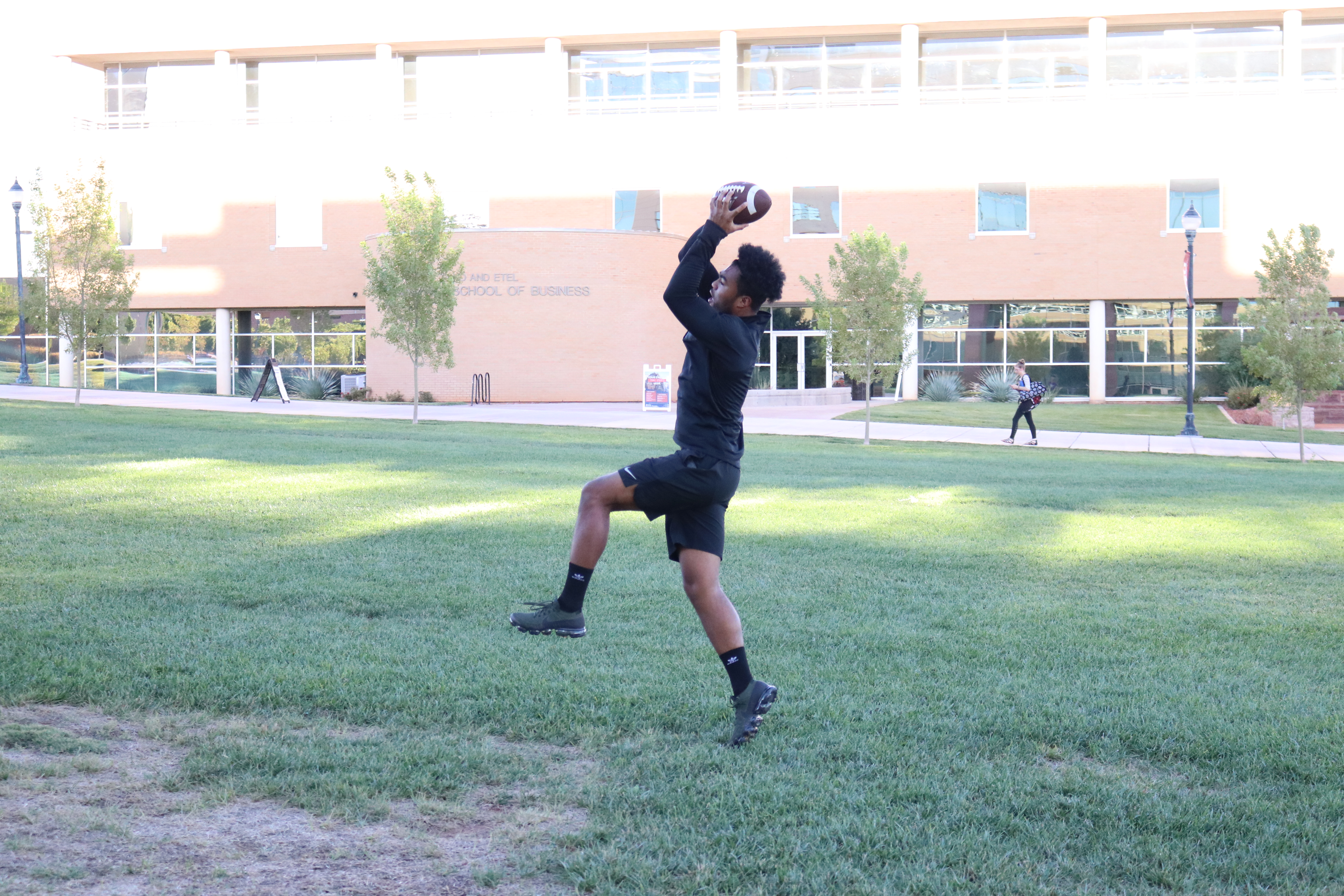 Damon Lorelle Thomas ll, a junior nursing major from Tooele, catches the ball at the Jeffrey R. Holland Centennial Commons Field playing flag football. Intramural sports is one way to compete with friends during the academic year. Photo by Madison Anderson.
---
Students can now register for intramural sports at Dixie State University, a program that offers a year-round opportunity to be involved on campus.
DSU offers a variety of intramural sports including flag football, basketball, softball, sand volleyball, soccer, pool, ping pong, video games and more.
By participating in intramural sports, students can compete with classmates on a more relaxed schedule that the NCAA cannot provide. Lily Reinhold, a senior exercise science major from Salt Lake City, knows how intense college athletics can be.
"I played soccer at Westminster [College], and had no time for anything else," Reinhold said. "Last year I played intramural soccer at DSU and was able to do anything and everything else."
Practices are optional and scheduled within the team created. This level of flexibility allows students to enjoy team sports without them interfering with academics or other aspects of the student's personal lives.
To be eligible to play, participants must be a current DSU students or employees and have their ID card at every event, as well as register online. A current DSU collegiate athlete will not be permitted to play the same sport in intramurals. Respect of opponents, teammates and intramural staff is expected for all sports. After each game a sportsmanship grade of A, B, C, D or F will be given to each team by the official. A 2.0 GPA to play in the regular season, and 3.0 to compete in the tournament.
Talia Stevens, a sophomore in general education from Ogden, said she appreciates the level of respect she's experienced playing DSU intramurals.
"I appreciate the referees taking time out of their personal lives to make the game real," Thomas said. "Everyone understands that at the end of the day they're trying to do their job and we're here to have fun, before getting too caught up in the competition."
Rules for each sport can vary. In coed flag football, games are played with four women and four men. If a team is playing with less than eight players, there may never be more men than women on the field.
The fall season begins with coed flag football, and teams consist of seven players but can play with five if necessary.
Damon Thomas, a junior nursing major from Tooele, has participated in two semesters of intramural flag football.
"I don't usually get involved in extra-curricular activities on campus," Thomas said. "I have attended three different universities in the last five years, but DSU intramural flag football was my first experience. It has opened my eyes and intrigued me to get more involved with my friends."
Thomas said although he has not played competitively since attending high school, he appreciates the opportunity to compete with his friends while surviving his intense academic schedule. It allows him to prioritize in a way that doesn't interrupt his success.
"My friends invited me to try, tried it, loved it, recommend it to anyone who enjoys playing sports and competing," Thomas said.
Students can register for flag football or any DSU intramural sport online.