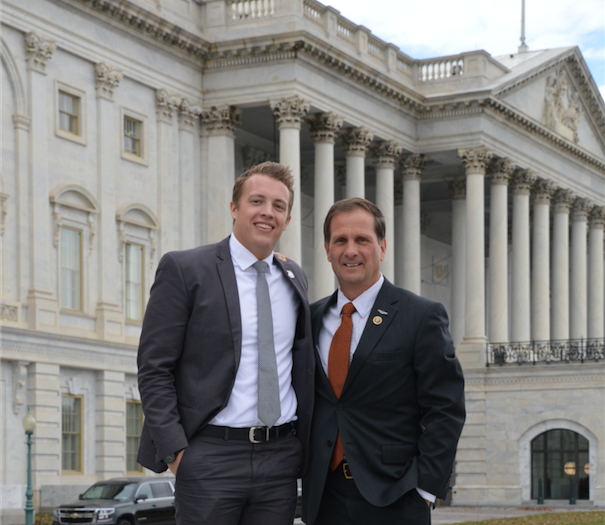 DSU alumnus Jenz Bunnell pauses for a picture with Congressman Chris Steward. Bunnell shadowed Stewart for a semester in Washington D.C. Photo courtesy of Jenz Bunnell.
---
Dixie State University Students are getting the opportunity to get an up close and personal look at the political process through an internship offered through the school.
In Spring 2016, DSU sent its first ever student to Washington D.C. as part of this offer. DSU Alumnus Jenz Bunnell was sent to shadow and represent Congressman Chris Stewart for a semester-long experience.
This internship is available to all major Utah colleges and universities. The application  requires students to submit a cover letter, a resume, a transcript, two letters of recommendation and a writing sample.
Politics and Public Affairs coordinator Henrie Walton said the interns have an "all-access pass to what's happening on Capitol Hill."
The internship requires participants to study the views of the congressperson or senator they're representing, draft speeches, give tours of Capitol buildings, and sit in on briefings.
"The briefings were always interesting," Bunnell said. "They would be on anything from bankers and businesses to Hillary Clinton's emails."
Bunnell said a majority of work given to the interns deals with constituent relations. The interns are trained in the views of the member they're representing, and then draft responses to emails and phone calls from their perspective.
"It surprised me how complicated the government actually is," Bunnell said. "There's so many steps to getting everything done."
Since Bunnell, two more DSU students have been awarded this opportunity. Braxton Kunde, a junior history major from St. George, is currently involved in the internship for the 2018 fall semester, representing  Stewart.
"[Stewart's] office is great about involving interns," Kunde said. "There was always something to do. I was always learning new stuff."
Once completed, the internship helped push Bunnell toward his desired career path of working for Goldman Sachs.
"The internship led me to where I wanted to be," Bunnell said. "I believe that's what truly set me aside. It made me stand out in this super competitive recruitment process."
Walton said he believes this internship leads to countless opportunities.
"This is something you can put at the top of your resume," Walton said. "You can get good grades, you can get that diploma, but if you don't have that real-world experience, you won't be able to market yourself as effectively."
Bunnell said he wants any students considering the scholarship to go for it.
"It doesn't matter what major you are; if you're interested in politics, being in this environment is extremely eye-opening. It's a great experience," Bunnell said.
Kunde said he believes this internship is the best way to further your political career at DSU.
"A lot of students think there's no way to get into politics because there's no political science program at [DSU]," Kunde said. "Just because there's no direct pipeline to the top, doesn't mean there's no way to get involved. Talk to people."
The internship is accepting applications for the 2019 school year from now until Nov. 20.
For more information, students can contact Henrie Walton at walton@dixie.edu or by phone at 435-879-4307.