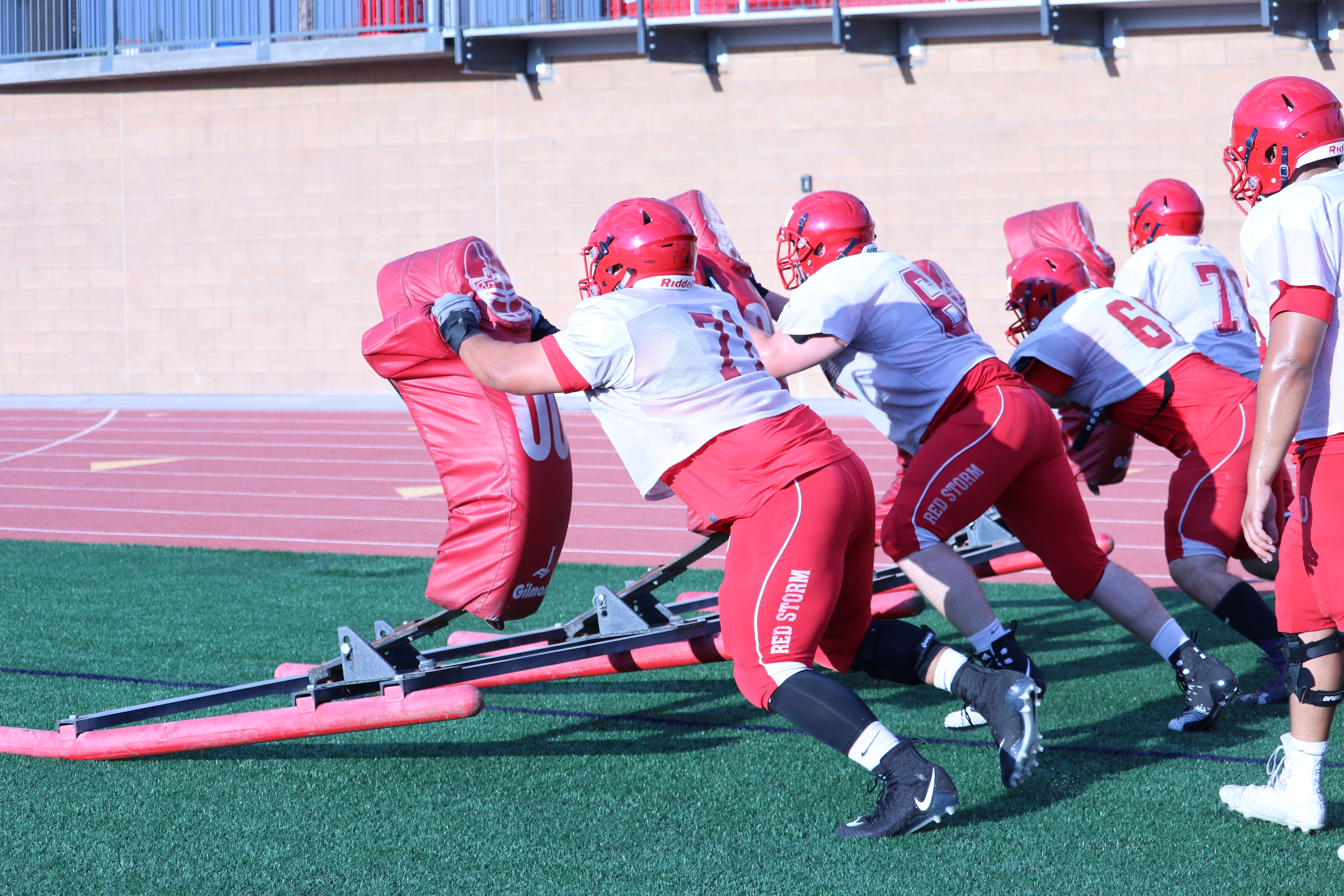 Photo by Madison Anderson.
---
Fall semester has just begun for most students, but for student athletes, preseasons are just wrapping up. Dixie State University student body enjoys the comrade and competition of football season early in the semester, all thanks to preseason preparation.
Players like Kasey Allison, a wide receiver from Las Vegas, Nevada, and Tanner Hammond, a quarterback from Bountiful, find themselves moved into appointed housing, ready to train over seven weeks prior to the beginning of the academic semester. Thirty-five men committed to DSU on National Signing Day, Feb. 7, and three new assistant coaches were hired three short weeks later.
Football camps hosted by the university began on June 2, and ran almost daily through the 19th in Utah, Nevada and California. These seven camps are a great opportunity to be noticed by DSU football coaching staff if the potential players had not been already.
These camps also assisted the newer coaches with integrating into the existing staff. In the last two years, 27 team members have signed directly from performance outcomes at said camps. In 2017, four men were signed directly after the camp in Las Vegas had ended by Head Coach Shay McClure. This leaves only three months of training to the newly created team and coaching staff.
By July, the team is created, and training officially begins. Intense workouts and long practices become a daily routine for the players. They are expected to make physical goals and accomplish them before kickoff, Sept. 1. One of the most influential occurrences according to Allison was the first official practice of the year
"We become close teammates almost immediately, especially within our positions," Allison said. "Not a single second is waste."
Allison said it only takes a few minutes to begin to feel pressure to be successful. Students can find out more about this years' fall student athletes and coaches by watching the Fall Sports Media Day on the Dixie State Athletics YouTube page. This includes a full preseason outlook of the current standings of DSU Football, and the standings of all fall athletic teams. DSU Football opens their season with their first game against Colorado State-Pueblo on Sept. 1.