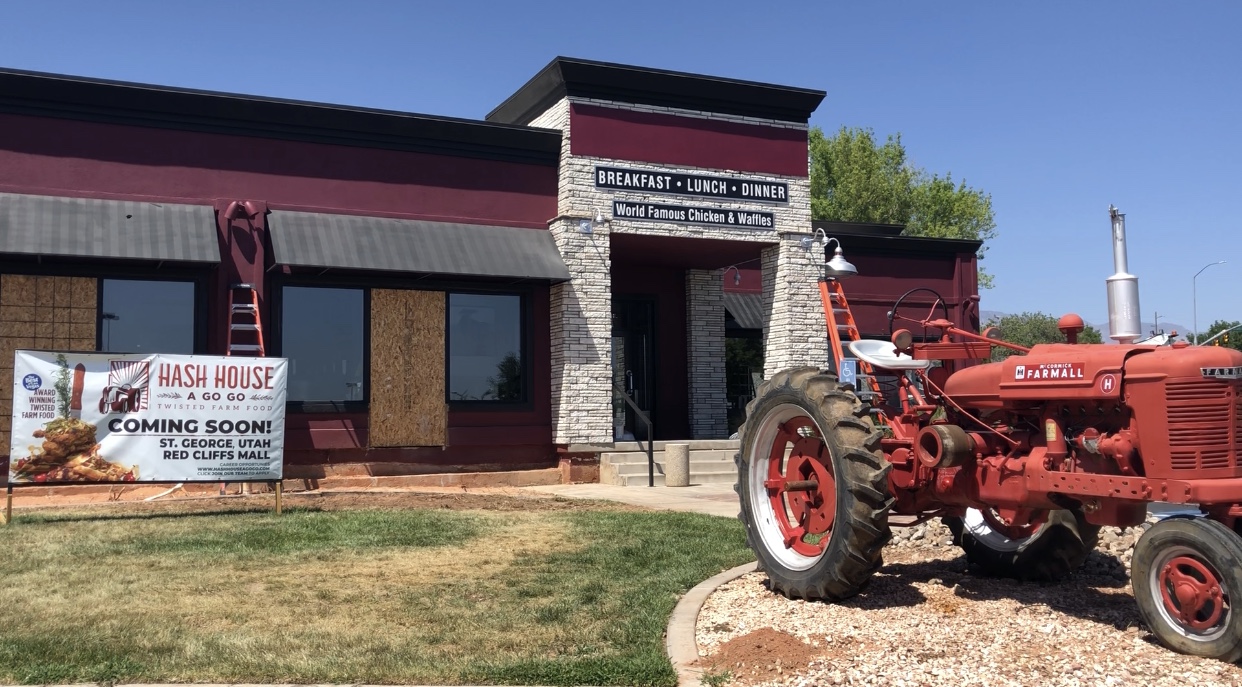 Hash House A Go Go under construction on Red Cliffs Dr. in St. George. Photo by Monique Chavez.
---
St. George is living up to its title as one of the fastest growing cities in the nation by continuing to add to its list of stores, restaurants and shopping centers.
The internationally recognized clothing store, H&M, will soon be open in Red Cliffs Mall. This addition will finally give all of the shopping connoisseurs in St. George another option when looking for new clothes.
H&M carries men's, women's, and children's clothes, so everyone in St. George can benefit from it. This is a great step for the shopping culture in St. George, and may potentially lead to the further development of more popular clothing stores.
Brandon Sieverts, marketing and property management associate for Red Cliffs Mall, said H&M is expected to be open by mid-October to early November. Sieverts said the store will be a great addition to St. George and expects it to bring more people to the mall and city.
The good news doesn't end there. Hash House A Go Go will also be opening in Red Cliffs Mall. For those who are unfamiliar with this restaurant, it originated in San Diego, California, and is commonly known for its various Las Vegas locations.
HHAGG refers to their menu as "twisted farm food," and their most popular dish is their sage fried chicken and waffles.
Joshua Fanoni and Kevin Seaton were managers at one of the popular Vegas Hash House locations but moved to Utah for the addition of the new St. George location. Fanoni said 70 employees have already been hired in St. George, and the restaurant's grand opening is set to be on Sept. 20.
"We're not just food, we're not just good service, we're an experience," Fanoni said. "We care about creating an atmosphere that you feel comfortable in and want to come back to."
Seaton said he and his wife had visited St. George in the past and loved the town, which made moving here from Vegas a nice surprise.
"The friendliness of the people that we've met has been well worth the trip in itself," Seaton said. "We are looking forward to being a part of the community and helping out wherever we can."
A new shopping center called Grapevine Crossing is also set to come near the St. George area. The center will be located on Exit 13 in Washington City off Washington Parkway. The construction of Grapevine Crossing is planned to begin in 2019.
Washington City Councilman Troy Belliston said: "The design and focus of the development is to mix public amenities throughout a retail commercial development. The businesses targeted for the project include restaurant, recreation, and experience-based business while also drawing patrons to the project with a strong grocery anchor."
The center is estimated to take five to seven years to complete. Although the wait will be long, there will be something long-term to anticipate throughout the many new developments to come.
New businesses create new jobs, and H&M and HHAGG have already been hiring. For those interested in a job at HHAGG, you can apply online. For those interested in H&M, they are accepting applications for a part-time sales advisor on their website.