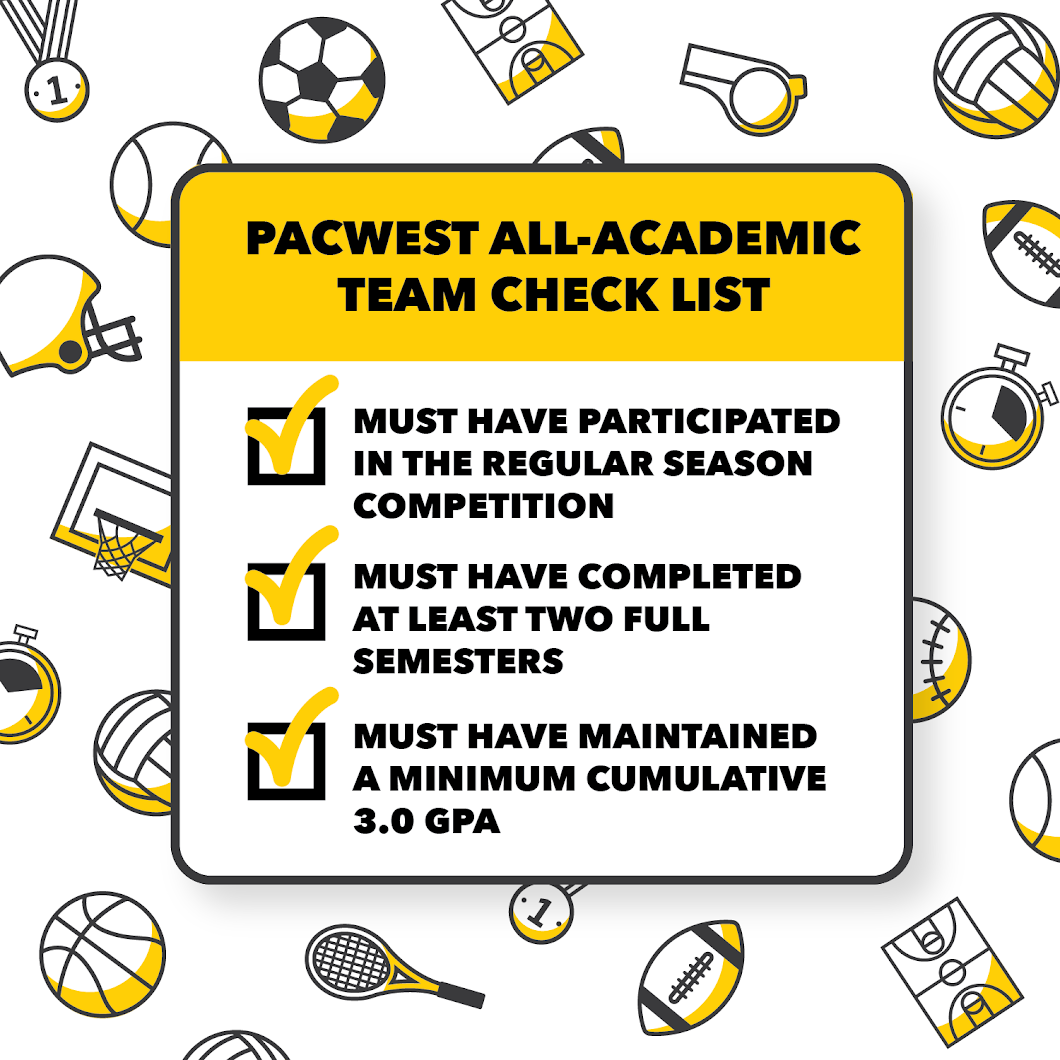 Graphic by Valerie De La O.
---
Several Dixie State University athletes make the PacWest and RMAC 2017-2018 All-Academic Teams.
Trailblazers had 148 student athletes make the PacWest All-Academic Team and eight students make the RMAC All-Academic Team.
The All-Academic Teams consist of students who participated in the regular season competition, completed at least two full semesters, and were able to maintain a minimum cumulative 3.0 GPA. DSU had 156 students make the list. Nichole Mertz and Gina Tedrow, from women's soccer, and Shandi Bastian, from women's track and field, maintained 4.0 GPAs during the 2017-2018 school year.
For A.J. Yergensen, a sophomore business administration major from St. George, academics are something he tries to always keep at the front of his mind.
"For me personally, I have always had a goal to be on the RMAC All-Academic team," Yergensen said. "And I always try to remember that goal." 
 Yergensen tries to put as much, if not more, effort into his studies as he does on the field, he said. 
Sophomore Kamie Hunter, a nursing major from Hooper, said:"It isn't always easy, but I have learned to organize my priorities and my time. I always try to stay on top of school first, so I have time to focus the rest of my time on soccer."
Hunter and Yergensen said having supportive coaches makes a world of difference. Hard work in the classroom translates directly to effort on the court or field, and having someone there to hold you accountable in both places helps them to stay on track, they say. 
"It makes it a lot easier to have coaches that make sure we put school first," Hunter said. "We have study hours during trips to away games, and this year we all have an app we use to check into our classes to make sure we make it to every class."
Many coaches require students to check in to classes and bring weekly grade reports to practices. Chris Pfatenhauer, the baseball head, said coaches try to recruit great students from the beginning.
"We preach the importance of completing school," Pfatenhauer said. "Getting a degree is paramount with our student-athletes."
Although competition is a huge part of the higher education experience for students and athletes alike, collegiate athletes are often held to a very high standard in the classroom, Hunter says. In addition to time spent in practices, many teams have their players meet with coaches outside of practice to discuss grades and several have mandatory study hall times throughout the week. 
"Our coaches are always saying that we are student athletes: Students first, athletes second," Yergensen said.