---
In light of Dixie State University being ranked one of the safest small colleges in the nation, DSU campus police is finally cataloging and updating its crime statistics through the end of 2015.
DSU was ranked the 26th safest small college in the nation by College Choice, an online college database for those looking for schools to attend. DSU scored best in its women's safety and anti-discrimination grades, earning 99 percent in both these categories. College Choice also gave DSU an 83 percent in general safety and a 78 percent for its party scene. The only other Utah college to make the ranking was Stevens-Henager College in Ogden, which clocked in at No. 7.
College Choice compared campus and city crime rates for the past three years when determining the rankings, including documented hate crimes, violence against women, and arrests made. The last time campus crime rates were reported on DSU's website was for the 2011-12 academic year.
Don Reid, director of campus police and security, said the lack of public records of crime on the university website was his mistake and the updated crime statistics should be posted online within the next few weeks. DSU campus police reports crime statistics to the FBI and Clery Act each year, and Reid said they are willing to share crime statistics with anyone who comes to their office and asks.
"The crime statistics aren't secret," Reid said. "We're just behind on getting them posted online."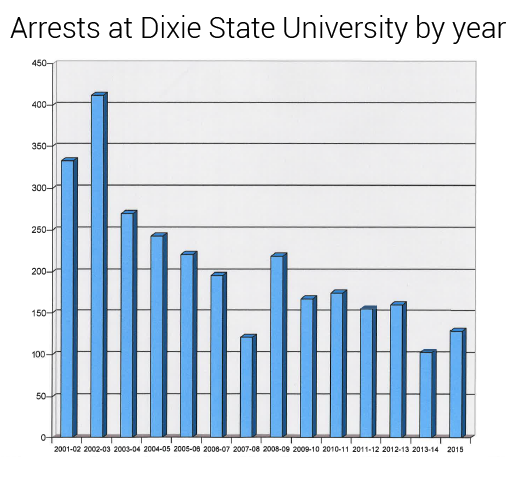 Why the lack in serious crime reported

Reid said in the past four years since DSU has been a university, there has been zero homicides or reported rapes. The last time there was a reported sexual assault was in 2013, when there were two reported sexual assaults. According to the National Sexual Violence Resource Center, one in five women and one in 16 men are sexually assaulted while in college. However, more than 90 percent of sexual assault victims on college campuses do not report the assault, according to the NSVRC.
"Statistics always show that rape is the most unreported crime," said Cindy Cole, director of Title IX at DSU. "Just because rape and sexual assault isn't documented as happening at DSU doesn't mean it doesn't happen here. [College Choice's women's safety grade] just reflects the reported sexual assaults."
Reid said part of the reason there are so few serious crimes on campus is because campus police crack down hard on smaller, less serious crimes.
"We have a philosophy that is actually written into our mission statement that we'd rather give a misdemeanor citation to a person for drinking underage at 8 p.m. than to have to come back at 1 a.m. to arrest that person for assault, DUI or something far more serious," Reid said.
Since DSU attained university status four years ago, Reid said security on campus has been more professional. He said additions in administration of a Title IX director and general counsel have helped promote and improve safety on campus. All campus police officers hired at DSU are now required to have college degrees, pass EMT training, and graduate from a police academy, Reid said.
"Research is showing that American police officers with college degrees are less likely to use excessive force, and they're much more attuned to cultural diversity," Reid said.
Reid said campus police officers are trained for active shooter situations and for cultural diversity.
However, Daneka Souberbielle, director of the multicultural diversity center, said she was hesitant in calling DSU a completely safe place for diversity because of the lack of reporting.
"I am not sure if College Choice's information is based on the absence of discrimination or the absence of reporting discrimination, which are two distinct issues," Souberbielle said.

Improving safety
Even though DSU made the list for being one of the safest small colleges in the nation, Reid said they are never perfect and are always looking for ways to increase safety. Especially with women's safety, Cole said education is key in improving safety.
"Talking more openly about sexual safety will hopefully improve sexual assault reporting at DSU," Cole said. "I try to always have my door open to anyone who needs to talk."
Cole said she talks with student-athletes, First Year Experience classes, and meets with students in her office to talk about and spread awareness about sexual assault and safety. There will also be incentives with prizes and drawings for an iPad this semester for students to complete an online safety training through Safe Colleges, Cole said.
Faculty and staff have already been required to complete the Safe Colleges training since the beginning of last semester, but this year, Cole said she hopes more students will take the trainings.
Reid said some of the ways DSU could improve safety is having more police officers on campus and being able to guarantee 24/7 protection. Reid said they'd ideally have five to six officers on campus at all time.
"No matter how many officers we have, you have a better chance as an individual of guaranteeing your safety than I do, and I'm the one who will come running when something happens," Reid said. "We can guarantee five minutes response time to anywhere on campus, but when seconds count, police are minutes away."